Existing Dispatch Centers
Railroads in and around Michigan are controlled by the following dispatching centers:
Adrian & Blissfield group - These lines are dispatched from A&B corporate offices in Westland. They include the Adrian & Blissfield, Jackson & Lansing, Charlotte Southern, Lapeer Industrial and Detroit Connecting.
Amtrak - The CN line that Amtrak uses from Pontiac to West Detroit is controlled by CN. The line from West Detroit to Dearborn by Conrail Shared Assets. The Amtrak line from Dearborn to Porter is controlled by the Antrak dispatcher in Chicago. From Porter west by Norfolk Southern.
The Amtrak line from Grand Rapids to Porter, IN is controlled by the CSX Calumet City dispatch center (160.23).
The Amtrak line from Port Huron to Battle Creek, MI is controlled by the CN dispatcher (160.59)
Ann Arbor Railroad - The Ann Arbor Railroad from Toledo to Osmer (north of Ann Arbor) is controlled by the operator at Hallet Tower in Toledo. From Hallet to Diann is controlled by ABS. This is a WATCO line.
Canadian National - Canadian National lines in the lower peninsula are controlled by train dispatchers in Chicago. Most of these lines are CTC.
CN lines in the Upper Peninsula are controlled by train dispatchers at Stevens Point, Wisconsin. None of these lines are CTC, all are "dark" territory.
Canadian Pacific - The CP Detroit-Windsor tunnel is controlled by CP disipatchers in Canada. Other than that, CP uses trackage rights in Michigan and their trains are contolled by dispatchers from the owner railroads including Conrail Shared Assets, NS and CSX. The tunnel is controlled by CTC.
Conrail Shared Assets - Conrail Shared Assets dispatchers in New Jersey control lines in southeast Michigan, including Ecorse to West Detroit, West Detroit to Utica, west of the Detroit tunnel portal to Dearborn, the Junction Yard and Belt Line branches, and the line to Carleton to Melvindale. Most of these lines are CTC.
CSX - CSX lines in Michigan are controlled by dispatchers in Calumet City, IL (in the Chicago area). This includes the Union Belt, Delray to Porter, IN via Plymouth, Lansing and Grand Rapids; and Toledo to McGrew Yard in Flint. CSX also uses the CN via trackage rights from Kearsley (Flint) to Port Huron and is dispatched by CN. Most of these lines are CTC. Industrial trackage south of Port Huron and south of Sarnia, Ontario is operated under yard rules.
Great Lakes Central - GLC is controlled by a dispatcher at Owosso.
Indiana & Northeastern - I&NE is controlled by a dispatcher at Milford, IN.
Genesee and Wyoming lines in Michigan - These lines are controlled by a dispatcher in St. Albans, Vermont. They include the Grand Rapids Eastern, Huron & Eastern, Indiana & Ohio, Michigan Shore, MidMichigan, and Saginaw Valley.
Lake States Railway - Lake States is controlled by a dispatcher at Saginaw. A portion of the line from Mt. Morris to Saginaw is CTC.
Lake Superior & Ishpeming - LS&I lines from the mines north via Eagle Mills to the Presque Isle dock, and west from Eagle Mills to Ishpeming are dispatched by the control operator at Eagle Mills. A small portion of the line is CTC.
Mineral Range - The Mineral Range dispatches its line from Landing Junction in Ishpeming, west to Humboldt. This appears to be a contracted dispatch service, source unknown.
Norfolk Southern - NS lines in Michigan are dispatched by their Dearborn dispatching center (in the offices across from Ford World Headquarters in Dearborn). This includes River Rouge to Toledo, Melvindale to Montpeilier, OH (added in 2014), and the Amtrak line from Dearborn to Kalamazoo. Most of these lines are CTC. In early 2018 NS announced that all of their regional dispatch centers would be relocated to Atlanta, Georgia.
Watco lines in Michigan - Grand Elk Railroad runs from Elkhart, IN north to Grand Rapids. Dispatching not known at this time. The Ann Arbor Railroad is also a WATCO line. See above.
Rail dispatching systems and methods are constantly changing. If you know of changes, please email us at This email address is being protected from spambots. You need JavaScript enabled to view it..
Interlocking: North Kearsley, MI (Flint)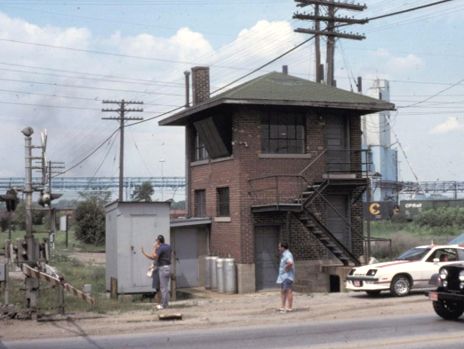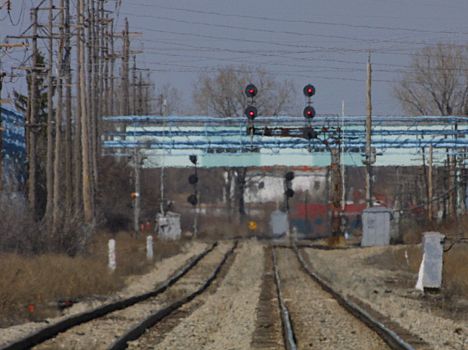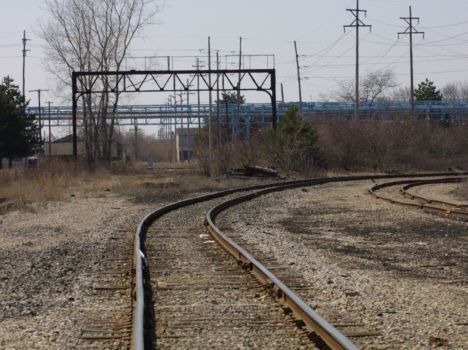 North Kearsley was an interlocking which was established when the PM built its Flint Belt Line across the original GTW main line to downtown Flint. A tower originally conrolled this crossing. When the CN removed the line through downtown, the interlocking was removed, however a junction with the PM remains for interchange with the CSX and for CSX trackage rights to Port Huron and Sarnia.
Photo info/credit: Top, a photo of Kearsley Tower (at North Kearsley) near Flint in 1977. [Charles Geletzke Jr.] 2nd photo, looking north on the CSX towards North Kearsley in 2003. The tower has been removed. Signals are still in place as if the interlocking was still in place. 3rd photo, looking west on the CN line which formally went to downtown Flint (now removed). Note the old signal bridge which controlled crossing the former PM Flint Belt Line. The track north continues to the northfound PM, which the CSX still uses from McGrew Yard to Port Huron via CN trackage rights. [Dale Berry]
From Doug Hefty: When I worked at Kearsley tower back in 1970-71, we referred to the Flint Sub as "the diverted line." We controlled both the Flint Sub and "Old Main" crossings with the C&O from the tower. The C&O also had its own "Old Main" through downtown Flint, with the "main" passing Kearsley tower often referred to as "the Flint Belt.".
Station: Onaway, MI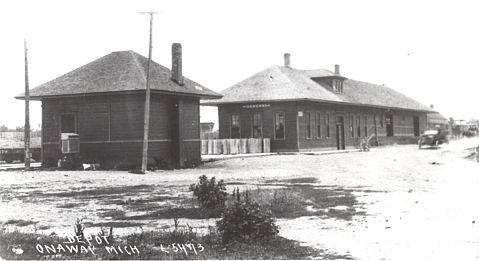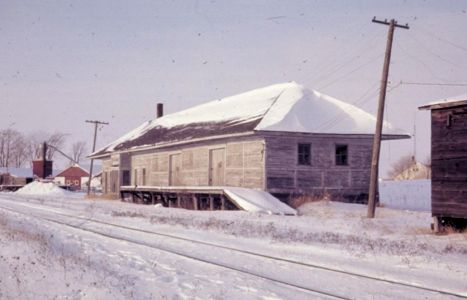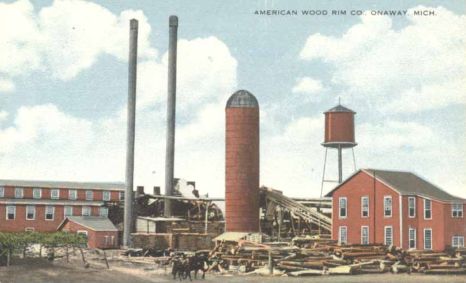 Onaway was first settled about 1882 and called Shaw. A village was platted called Onaway in 1886. The town was incorporated as a village in 1899 and became a city in 1903. [MPN]
Onaway was served by two railroads. The major road was the Detroit & Mackinac railroad which came through here from Alpena enroute to Cheboygan. The D&M had many forest branch lines around the turn of the century. It also built a branch from here north to a gravel quarry near Black Lake.
The second road here was the Onaway & Northern which was a short line which ran north and south of the D&M. The O&N brought hardwoods in from the forest to the American Rim Co. and other industries in town. It reportedly used "dummy" locomotives, which are small switchers which hauled a tank of water over the boiler.
American Wood Rim used hardwood to make steering wheels and tire rims for the early auto industry. It put Onaway on the map as "The Town That Steers The World". The plant burned down and Onaway immediately lost about half its population.
Photo Info/Credit: Top, the D&M depot and freight house at Onaway. [Dale Berry collection], 2nd photo, a winter view of the depot in 1969. [Charles Geletzke Jr.]. 3rd photo, a postcare voew of the American Wood Rim Company in Onaway.
April 29, 1903. Fire threatening. The New York Times reported that forest fires threatened the destreuction of the city. "In every direction the woods are ablaze." Citizens fought the flames to keep them from the lumber yards and plant of the Lobdell & Bailey Manufacturing Company, the town's principle employer. High winds from the southwest prevailed. Log trains were kept busy all night bringing in people rescued from the fire along the track. The smoke is so dense as to be suffocating and the sun's rays glow dimly through it, casting a yellow shadow. Burned cinders and charred embers fill the air. Unless night falls tonight, the result will be serious. [NYT-4/30/1903]
---
External Article: The History of Onaway