Location: Detroit, MI - Junction Yard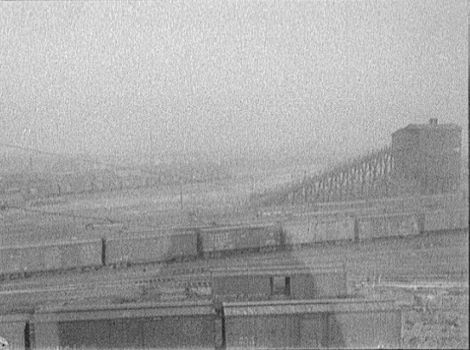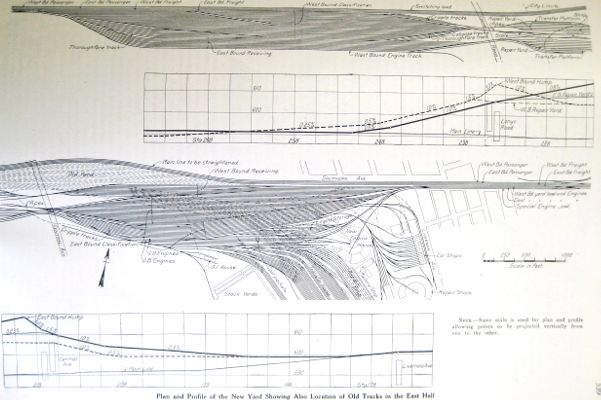 Junction Yard was a large Michigan Central classification yard on the west side of the City of Detroit. It was along the south side of MC's main line (Detroit to Chicago), running approximately from Livernois Avenue i9n Detroit to Wyoming Avenue in east Dearborn. The Junction yardmaster tower was near Wyoming Avenue, and the Livernois yardmaster was at Livernois Avenue.
Parts of this yard had different names (i.e. Livernois Yard) with dedicated yardmasters. This yard had a westbound hump operation at Lonyo Road, was 2.25 miles long, or even longer if you consider the advanced departure yard which extended west to Town Line at Greenfield Avenue. Another eastbound hump was located at Central Avenue, which dumped cars into Livernois Yard.
Photo info: Top, This photograph, taken around 1900, shows Michigan Central's Junction Yard, which was located along their main line between Livernois and Wyoming Avenues. Though the quality of the photograph is poor, it does show an old style coaling station. Cars full of coal were backed up on the ramp and then dumped into the building and then ultimately into the tenders or adjacent locomotives. [Library of Congress collection]. 2nd photo, a map of Junction Yard in 1914.
---
Notes
Location: 42o19.141'N / 83o08.818'W.
---
Time Line
1880. The MC builds a brick engine and boiler house at Car Shops in Detroit, with a new Corliss 87-horse power engine and boilers. Due to an inadequate supply of water, the railroad lays an 8-inch iron pipe from the river to the shops, a distance of 3.25 miles. Water from the river is pumped to the shops, thus insuring not only an ample supply, but greater protection against fire. [MCAR-1880]
1883. Tramps in the vicinity of the railroad yards have become very numerous and have on several occasions grossly insulted and threatened several of the watchmen, and on Thursday night one of them shot at the watchman in the Junction railroad yard. The constables united and made a raid on them, capturing eight, who were sentenced respectively to thirty and ninety days in the House of Correction. When sentenced one of them threatened to take the life of Justice Shields when he was released. [DFP-1883-0606]
1884. Thomas Somerville, a young man 17 years old picked up a railroad torpedo on the track at the Junction yards yesterday and not knowing the nature of the object attempted to open it, using a piece of iron to assist him. The torpedo opened and the young man had a hole blown in one hand and a part of two fingers taken off the other. He had come to Detroit two weeks ago in search of work. [DFP-1884-1111]
1898. July 26. Big Ice House Burned. 10,000 tons of ice was melted in the big fire a the Michigan Central Junction yard last night. The Star Elevator also burned. There was no insurance on the ice or building. [HPAL-1898-0726]
1929. MC completes a car retarder installation at West Detroit. This includes 431 classification tracks, two towers, 17 retarders, 35 power switches and 435 switch signals, 31 power skates. Manufactured by USI&S. [RSC-1930]
1950. According to a map provided in 1950 by the Motor City Traffic Club, there were the following yards within the Junction Yard complex:
Southbound Yard - 399 car capacity
Southbound Stock Yard - 171 car capacity
Southbound Transfer Yard - 236 car capacity
Old Westbound Yard - 656 car capacity
Eastbound Classification Yard - 1,255 car capacity
Eastbound Receiving Yard - 572 car capacity
Westbound Classification Yard - 2,316 car capacity
Westbound Receiving Yard - 724 car capacity
Advance Departure Yard - 507 car capacity
Bibliography
The following sources are utilized in this website. [SOURCE-YEAR-MMDD-PG]:
[AAB| = All Aboard!, by Willis Dunbar, Eerdmans Publishing, Grand Rapids ©1969.
[AAN] = Alpena Argus newspaper.
[AARQJ] = American Association of Railroads Quiz Jr. pamphlet. © 1956
[AATHA] = Ann Arbor Railroad Technical and Historical Association newsletter "The Double A"
[AB] = Information provided at Michigan History Conference from Andrew Bailey, Port Huron, MI