Former Dispatching Operations
The use of dispatchers became important after the telegraph was brought to railroads in the 1850's and became common after the Civil War. Prior to dispatchers, trains were controlled by schedules (time tables).
The physical location of the dispatcher in the early days depended on the telegrarph
Ann Arbor Railroad
Early on until 1981 the railroad was dispatched from Owosso. In 1981, control of the track from Osmer (north of Ann Arbor) south moved to the Michigan Interstate (later the reconstituted Ann Arbor Railroad) operator at Hallett. In 2019 dispatching of the line from Hallett to Osmer was transferred to the Watco dispatcher when Hallett closed.
Boyne City, Gaylord & Alpena
Dispatcher was located at the Boyne City headquarters and handled the main line east to Alpena.
Canadian National
See Grand Trunk Western for the lower peninsula. The upper peninsula was controlled by Stevens Point, WI north dispatcher including the Manistique, Newberry, L'Anse, Ore, Marinette, Iron Mountain and Pembine Subdivisions (former Wisconsin Central routes). A CN central dispatcher, also at Stevens Point, controlled the White Pine subdivision from 0700 to 1500 Monday through Friday.
Conrail (Consolidated Rail Corporation)
This operation took over dispatching operations from Penn Central, and little was changed from the NYC, PRR and Penn Central operations. See those categories below. For current Conrail Shared Assets lines today, see Existing Dispatch Centers.
Chesapeake & Ohio
See Pere Marquette.
Chicago & Canada Southern
The C&CS dispatcher was at Slocum Junction, near Trenton. He dispatched their main line from Grosse Isle to Fayette, Ohio (via Dundee, Petersburg and Morenci), and the C&CS line between Toledo and Detroit. After the purchase of this line by the MC and truncation of the main line between Dundee and Grosvenor, dispatching functions were transferred to the MC in Detroit.
Chicago & North Western
The C&NW in Michigan was dispatched out of Green Bay, WI and Escanaba, MI at various times. [CNWPD2] The line from Watersmeet west via Ironwood to Ashland was dispatched out of Ashland, WI.
Copper Range Railroad
The Copper Range dispatcher was located in Houghton, likely in the depot/office building. [ETT-COPR-1933] The dispatcher controlled the main line from McKeever to Calumet via Houghton, and a number of branch lines.
CSX
CSX moved all dispatching to a central facility in Jacksonville, FL. The AW desk controlled lines west of Trowbridge to Porter, IN and branches to Fremont, Ludington and Manistee. The AX desk controlled lines from Toledo north to Midland, and the Detroit to Trowbridge line via Plymouth. The BX desk controlled the Toledo Terminal and the Lincoln Secondary from Carleton to NS Bridge in Melvindale.
Detroit & Mackinac Railway
The original D&M was dispatched from two locations. One in East Tawas which controlled the south division between North Bay City and Alpena, as well as branches. The second dispatcher was located at Alpena Junction, at the rear of the roundhouse. This included their main line and the Valentine Lake Branch (old Alpena & Northern). Both of these operations were confirmed by a 1902 D&M timetable. A 1911 timetable indicated that these were dispatched "by telegraph" except that the Rose City branch was dispatched "by telephone". The D&M purchased the Au Sable & Northwestern which according to timetables was controlled elsewhere, possibly by the Au Sable operator. All dispatching operations were consolidated to Alpena at some point. They were moved to Tawas in the 1990's after sale to Lake States Railway, and then to Saginaw.
The Detroit, Bay City & Alpena also had a dispatcher at Lake May, Jct. in Alcona. He dispatched only for the branch to May Lake.
Detroit & Toledo Shore Line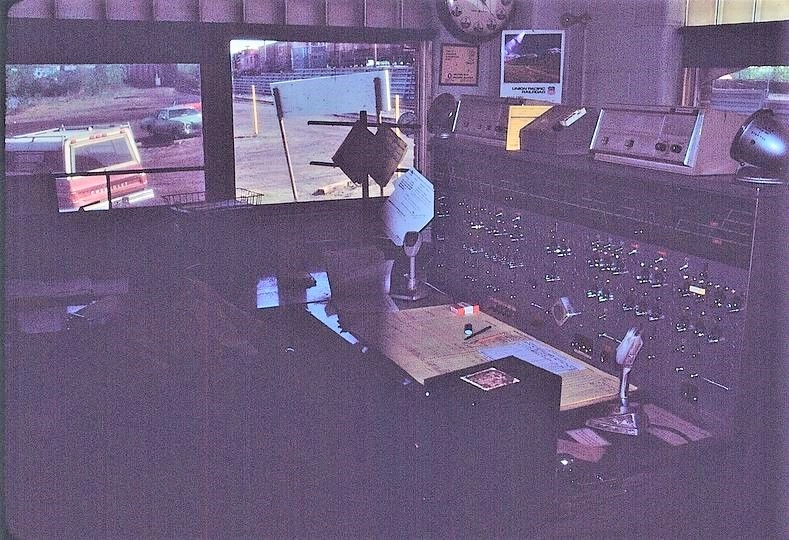 The D&TSL dispatcher was located at Lang Yard offices near Toledo.
Photo Info/Credit: The D&TSL dispatcher desk at Lang Yard around 1980. This dispatcher controlled the Shore Line between Toledo and Detroit. [Charles Geletzke Jr. photo]
Detroit, Toledo & Ironton Railroad
Prior to Ford ownership, it appears that DT&I (and predecessor) lines in Michigan were dispatched from facilities in Tecumseh. During part of this period, the DT&I dispatcher controlled the LS&MS line from Tecumseh to Dundee on which the DT&I had trackage rights. After Ford ownership in the 1920's, dispatchers were located at DT&I's office building in Dearborn.
Detroit Ypsilanti, Ann Arbor and Jackson Railway (E)
The dispatcher for this line - running between Detroit and Jackson (including a branch to Saline) - was located in Ypsilanti, along with the superintendent's office and the power house. [MCR-1903]
Detroit United Railway (E)
The dispatcher was located at Royal Oak Junction for their lines to Pontiac, Farmington, Wayne, and Flint in 1902.
Duluth, South Shore and Atlantic
Most Michigan lines were controlled by dispatchers in Marquette.
Escanaba & Lake Superior
Originally dispatched from offices in Wells. Later moved to Channing after takeover of MILW lines north of Green Bay.
Fort Wayne & Jackson
The dispatcher for this line, south from Jackson, was located in Jackson in 1880, likely in the yard office south of the MC main line. [DFP-1880-1110]
Grand Trunk Western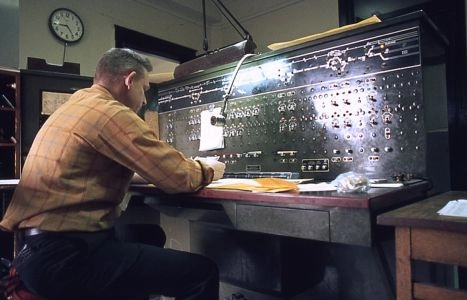 Photo Info: A photo of the GTW dispatcher in front of his CTC machine at Durand in 1969. [Doug Leffler photo.]
Originally GTW was dispatched by local dispatchers. A Battle Creek West Dispatcher (located in the depot) handled the South Bend Subdivision main line and the Kalamazoo Subdivision from Pavilion to the north side of Kalamazoo. The Battle Creek East dispatcher handled the Flint subdivision from Battle Creek to Port Huron. The Detroit Dispatcher handled the Grand Rapids, Saginaw, Holly (Detroit to Durand), Mount Clemens (Detroit to Port Huron), the Cass City, Romeo, Greenville, Jackson and Muskegon subdivisions.
From at least 1935 to at least 1974, the GTW had a dispatcher at Pontiac Yard, who dispatched the Holly subdivision, and probably other lines which radiated from Pontiac such as the Air Line to Jackson. In 1974, the CTC which covered the Holly Sub from M.A.L. Junction (in Pontiac) north to Durand was controlled by the GTW Pontiac dispatcher.
These dispatchers were consolidated and moved at some point to the 2nd floor of Durand Union Station and then in 1971 to Pontiac Yard.
At some point, they were again moved to corporate offices in Troy. In Troy, TD-2 controlled the Mt. Clemens, Holly and Shoreline subdivisions. TD-3 controlled the Flint subdivision from Battle Creek to Port Huron (and the entire Bessemer & Lake Erie). TD-4 controlled the South Bend and Elson subdivisions from Battle Creek to the Chicago area.
This area needs additional research.
Indiana & Ohio
Dispatching was moved from GTW to Cincinnati, OH when the I&O was formed. Unknown status.
Jackson & Battle Creek interurban railroad
The dispatcher for this line was located at their shops at Albion. [MCR-1903]
Manistique Railway
The dispatcher was at Seney for this line. (news reports).
Michigan Traction Company
In 1902, the dispatcher for this line appears to be located at Kalamazoo. [MCR-1903]
Lake Shore & Michigan Southern
See the New York Central. At various times, the Lake Shore had dispatchers located in Elkhart (controlling the line from White Pigeon to Grand Rapids), White Pigeon (controlling the same branch to Grand Rapids) and Hillsdale (controlling many LSMS branches in Michigan). During much of the NYC era, Michigan lines were controlled from Toledo (Old Road) or Hillsdale (other Michigan branch lines). The dispatchers in Hillsdale were located in an office building east of the Hillsdale depot. The building still exists and is used by the Indiana & Northeastern.
Lake Superior & Ishpeming
LS&I dispatchers were in Marquette. During the 1960's, lines of the LS&I, DSS&A and Chicago & Northwestern were consolidated and dispatched by the DSS&A in Marquette, much of it using CTC. The CTC machine was later transferred to the LS&I control operator at Eagle Mills.
Manistee & Northeastern
The M&NE dispatcher was located in Manistee, at least through 1941. [M&NE timetable]
Milwaukee Road
Most Michigan lines in the Upper Peninsula were dispatched from Channing until the 1930 when the jobs were abolished the dispatching was moved to Green Bay. [GB]
Mineral Range
Newspaper articles indicate that the Mineral Range was dispatched from Calumet at least from 1916-1919.
New York Central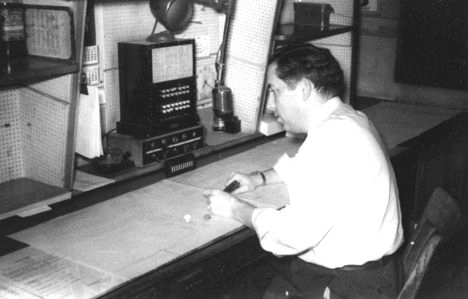 Photo Info: H. E. Smith dispatches the NYC Middle Division at Jackson in 1952. [Al Smith Collection]
The NYC had six main dispatching centers covering Michigan and nearby areas.
Bay City. Covered Saginaw to Mackinaw City, branch lines. Lines in Saginaw were automatic block system in later years. Others were dark territory. Dispatcher was located at the Bay City East Side station.
Chicago East. Covered Chicago east to Porter and Elkhart
Detroit and Detroit Yard Dispatcher. Covered Alexis (Toledo) north to Detroit and Saginaw. Also a Detroit Yard dispatcher who covered Windsor to Town Line (Dearborn) and YD (River Rouge) to North Yard (north Detroit). Dispatchers located at Michigan Central station.
Hillsdale. Dispatched most old LS&MS lines in the first (south) tier of counties, including the Monroe Branch, Fayette Branch, Jackson Branch, Lansing Branch, Fort Wayne Branch, and White Pigeon to Grand Rapids Branch. Did not dispatch the Old Road (which was dispatched by Toledo). Dispatcher located at the Division office building, east of the NYC depot at Hillsdale.
Jackson East and West. Jackson east dispatcher covered from Town Line (Dearborn) to Jackson, and the branch from Jackson north to Saginaw. Jackson west dispatcher covered main line from Jackson to Niles and branches including the Air Line and Grand Rapids branches. Originally located in an office building at Jackson Jct. (yard area) they were moved to Jackson's depot in the 1960's. The Air Line was converted to CTC in the 1950's to handle increased high speed freight traffic from Jackson to Elkhart Terminal.
Toledo East, Toledo West and Toledo Yard dispatchers. Toledo East main line handled Vickers east to Berea and other branch lines. Toledo West handled the main line Nasby west to "B" Elkhart and the Old Road from Vulcan (Toledo Terminal) via White Pigeon to "B" Elkhart. Once the Michigan Air Line branch installed CTC from Jackson to "B" Elkhart, the Toledo dispatcher handled the manual block territory of the Old Road as far west at White Pigeon. Both main line segments changed from 3-4 track automatic block signals to mostly 2-track bi-directional CTC in the 1950's.
Other lines needing research: Cincinnati Northern line from OH to Jackson, and the Benton Harbor Branch from Indiana into Benton Harbor.
Norfolk Southern
After NS purchased ownership of Conrail with CSX, they took over operation of the Conrail Dearborn dispatchers covering most Michigan lines. The old Wabash line continued to be dispatched from Fort Wayne until it was moved to NS Dearborn dispatchers in 2014.
Norfolk Western Railroad
See Wabash Railroad. Montpelier, OH.
Pennsylvania Railroad
Southeast Michigan was dispatched from Toledo, including the line from Bucyrus, OH to Galena (Toledo) and the Carleton to Lincoln Yard (Lincoln Park) branch. Their Fort Wayne, IN dispatcher controlled lines north from Indiana to Mackinaw City, and other branch lines in Michigan. This ended sometime after the Penn Central merger. Needs researching.
Pere Marquette (including Flint & Pere Marquette)
The Pere Marquette had dispatchers in Detroit, Grand Rapids and Saginaw, historically associated with the three major railroads which merged in 1899 to become the Pere Marquette. Needs additional research.
In 1898, the Flint & Pere Marquette had dispatchers in Saginaw and Port Huron. The Chief dispatcher was in Saginaw. The Port Huron dispatcher likely handled the two lines north towards Saginaw. [ETT-1898]
In 1903, the PM line from Detroit to Grand Rapids was dispatched from Plymouth. [DFP-1905-0505]
In 1880, the F&PM had a dispatcher at East Saginaw. [DFP-1880-1110] 1898, the F&PM had dispatchers in Saginaw and Port Huron.
In 1946, it was noted that the PM had a dispatcher located at Waverly (near Holland), who controlled the main line from Porter, IN north to Lamar interlocking near Grand Rapids. The dispatcher likely ran his own CTC panel covering west to St. Joseph, and another operator at New Buffalo operated a similar panel from St. Joseph to Porter. [RSE-1946-12]
Rapid Railway (E)
Their electric line from the Detroit city limits to Port Huron and branches via Grosse Pointe and Algonac were dispatched by telephone from their offices in Mount Clemens. [SRJ-1902-1004]
Soo Line
Michigan lines were dispatched from Gladstone, MI.
Tuscola & Saginaw Bay
T&SB took over state-owned rail lines in central Michigan, including most of the Ann Arbor north of Osmer (Ann Arbor) and the old GR&I/PRR line from Cadillac to Petoskey. These were dispatched from the office at Owosso. The entire operation became the Great Lakes Central.
Wabash Railroad
Dispatched from Montpelier, OH, from Delray to Montpelier.
Note: Additional research is needed for many of these lines and myriad of other lines in Michigan. If you have any additional research to contribute, please send it to This email address is being protected from spambots. You need JavaScript enabled to view it..