---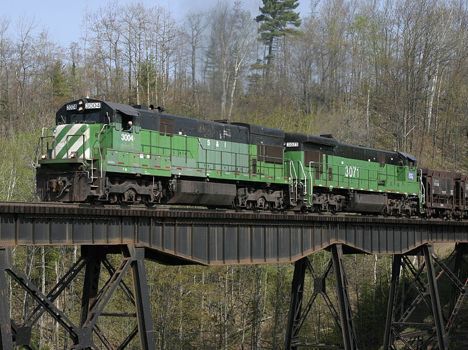 Lake Superior & Ishpeming Railroad - Cliffs Natural Resources
The Lake Superior & Ishpeming (LS&I) is primarily a taconite hauling railroad which takes carloads of taconite (processed iron ore) pellets from mine to boat loading facilities at the Presque Isle dock on the north side of Marquette. LS&I also provides interchange of ore with the Canadian National for shipping out of the Port of Escanaba, as well as all-rail movements to a steel plant in Sault Ste. Marie, Ontario and occasionally Indiana.
The LS&I line is split into two lines, one from Eagle Mills Yard in Negaunee to the Empire and Tilden mines in Palmer. The other line goes from Eagle Mills Yard to the dock in Marquette. LS&I has trackage rights on the CN from Negaunee to the Republic area via Ishpeming.
The LS&I was originally owned by three mining companies 100 years ago, but is now owned completely by Cliffs Natural Resources. Cliffs owns railroads north of Duluth, Minnesota as well as others around the world. The company owns a large capacity ore loading facility at Presque Isle.
Website: Cliffs Natural Resources
Photo: LS&I 3004, the Hill Job, on the Dead River Trestle near Negaune. 2003 [Tom Carello]
---
News Feed from Google: Cliffs Natural Resources