Railroad: Chicago, Kalamazoo and Saginaw Railway Company
The Chicago, Kalamazoo & Saginaw was formed in 1889 and built a line from downtown Kalamazoo northeast to Woodbury and a connection with the Pere Marquette. The line was never extended to Saginaw. In 1901, the line was extended south to Pavilion which was a connection with the Grand Trunk Western.
---
Built → Chicago Kalamazoo and Saginaw Railway → Parts to New York Central and Grand Trunk Western
Purchased: Part of the DT&M from Richland to Hooper in 1930.
Operated independently for 57 years.
Became: New York Central in 1930. Penn Central in 1968 and Conrail in 1976.
Reference: [MRRC]
---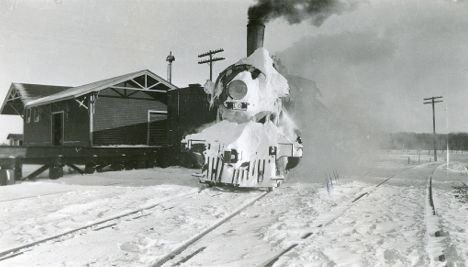 Photo Info: CH&S No. 10 arrives at Woodbury full of snow. Date unknown. [Doug Leffler collection].
Notes
The CK&S railroad began with an idea to build the narrow gauge Kalamazoo, Lowell and Northern Michigan railroad in 1872. No rails were laid and the project failed in the Panic of 1873.
The CK&S served many industrial facilities both north and south of Kalamazoo.
Time Line
1883. Interest was renewed however the line was diverted away from Lowell and the name was changed to the CK&S. Construction was begun by the Kalamazoo and Hastings Construction Co. in 1886. By July, 1887 a track of 19 miles was completed going north from Kalamazoo to the southern edge of Barry County. Regular service to Hastings was started in 1888. In September, 1889, service was extended to Woodbury.
1889. Service was extended south from Kalamazoo to Pavilion, making a total route of 56 miles. There were spurs to industry north and south of downtown Kalamazoo and a 6-stall roundhouse was built there in 1901. A roundhouse was also built at Woodbury.
The early railroad had a 6-day per week schedule with two daily passenger trains. Mixed trains (passenger and freight) were used south of Kalamazoo to Pavilion. The railroad carried 109,432 passengers in 1909. 35% of freight on the line was coal. The railroad switched about 70 freight cars daily with the Michigan Central in Kalamazoo and the Pere Marquette in Woodbury.
1902. The general offices and passenger depot at Kalamazoo were partially destroyed by fire. These have been rebuilt and enlarged. An 80' addition was made to the freight house. [MCR-1902]
1902. SNAPSHOT. The CK&S employs 79 people, including 11 station agents, 4 engineers and firemen, 3 conductors and 4 other trainmen. They have 8 section foremen and 17 section hands. Four employees are classified as switchmen, flagmen, watchmen and telegraph operators. All crossings (DT&M at Richland Jct., MC at Kalamazoo, MC at Hastings and LSMS at Kalamazoo are protected by interlocking and derailing switches, Union Switch & Signal or Gavit S & S patterns. They have 79 highway crossings, three of which are protected by flagmen. They operate five locomotives. Westinghouse brakes on cars and passenger cars are heated by steam from the locomotive. Five highest category of freight handled by tonnage: coal (28%); fruits and vegetables (13%); other commodities (10%); cement, brick and lime (8%) and lumber and forest products (8%). The company uses American Express at their stations, and they own 50 miles of their own telegraph line. [MCR-1903]
1906. The CK&S came under control of Vanderbilt interests, being portioned 660% to the Michigan Central and 40% to the Lake Shore & Michigan Southern.
1910. The part of the line from Pavilion Jct. to Pavilion was leased to the GTW. In 1930, it was leased wholly to the MC along with other railroad properties around the United States.
1915. The CK&S operated a side coal business until this was disallowed by the Interstate Commerce Commission. The coal operation was transferred to the E.M. Sergeant company.
1915. The railroad was an early adopter of dispatching by telephone, instead of telegraph. Each station had a crank operated telephone and there was also a phone at the superintendent's residence. The Michigan Central purchased the CK&S in 1915 but continued to operate it independently.
1930. The CK&S purchased part of the former DT&M (then an MC line) between Richland and Doster which was operated as a branch line. The CK&S became a part of the Penn Central and then Conrail.
1934. Passenger trains were discontinued in 1934. Tracks from Hastings north to Woodbury were removed. The line was folded into the New York Central, and then to Penn Central in 1968.
1937. The CK&S main line was abandoned between Hastings and Woodbury. The branch between Delton and Richland Jct. was removed in 1942. The line between Kalamazoo and Richland Jct. was removed in 1978. A portion of the line south to the GTW to Pavilion Jct. continues to be operated by CN as yard trackage off their main line.
1970. The tracks south of Kalamazoo were taken over by the Grand Trunk Western and the line is used to reach the Fisher Body Company. [HCKS]
---
Timetable below is from the Official Guide for 1908.