Railroad: Chicago, Milwaukee, St. Paul and Pacific Railroad Company
The Milwaukee Road was a newcomer to the Upper Peninsula when it was built to give competition to the Chicago & North Western from the Wisconsin state line north to Champion in 1887. The railroad extended west from Channing to Ontonagon by building and purchasing the Ontonagon & Brule River railroad in 1890. The railroad also built a line from near Channing (Kelso Jct.) to Crystal Falls in 1890 and extended it to Iron River in 1914.
---
Chicago Milwaukee & St. Paul → Chicago Milwaukee St. Paul & Pacific (1928-1980) → Escanaba & Lake Superior
Purchased: In 1928, the lines of the Chicago, Milwaukee & St. Paul Ry.
Operated for 52 years.
Became: In 1980, sold to the Escanaba & Lake Superior railroad.
Reference: [MRRC]
---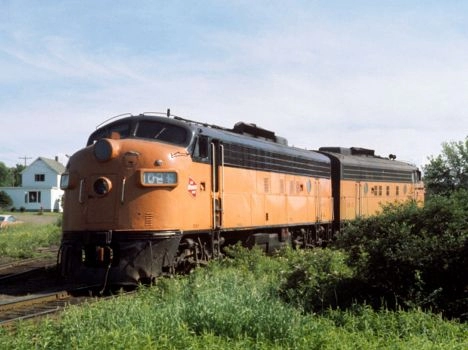 Photo Info: Two Milwaukee Road units await their next assignment at Ontonagon in 1975. [Bob Wilhelm photo]
Notes
The Milwaukee Road also had numerous branch lines to mines in the Menominee and Marquette iron ranges. For a period of time early in the 1900's, the railroad had trackage rights on the Escanaba & Lake Superior from Channing east to Escanaba (Wells) for hauling ore, and also operated an ore dock near Wells.
After the 1960's, the railroad cut back a number of its ore hauling lines. In 1980, what was left was purchased by the Escanaba & Lake Superior, as well as the State of Michigan (EL&S operator). The line continues today.
---
Time Line
1906. November. The CMStP&P issues a mailing card promoting Upper Peninsula hunting. [RG-1906-1123:142]
1926. May 1. The CMStP&P is ordered to be sold by the federal court. [RR]
1977. December. The Milwaukee Road files for bankruptcy in federal district court in Chicago. [LSJ-1984-0911]
1984. The Soo Line has submitted a $290 million bid to purchase the 3,100 mile core rail system of the bankrupt Milwaukee Road. Soo Line is the fourth bidder for the track. Grand Trunk Corp., Chicago & North Western Transportation Co. and Chicago Milwaukee Corporation, parent of the Milwaukee Road, already have filed bids. A court hearing on the proposal will be held January 30, 1984. The Soo Line would pay $40 million in cash for the Milwaukee Road's rail assets, valued at$498 million, and would assume most or all of the bankrupt line's outstanding debt of $250 million. [LSJ-1984-0122]
1984. September. The ICC has recommended that a federal judge approve the Soo Line Railroad's $570.6 million bid for the financially troubled Milwaukee Road. The ICC said the four-member commission panel which considered the matter voted unanimously Monday that the Soo Line's bid be accepted over those of three other railroads. In its bid, the Soo Line said it would pay $168.5 million in cash, which would include $148 million for the Milwaukee Road's assets and $20.5 million to reimburse employees for deferred wages. The bid also calls for the Soo Line to take over certain of the Milwaukee Road's liabilities, raising the total value of the bid to an estimated $570.6 million. The ICC said the bids of the GT and the Chicago Milwaukee Corp. were unacceptable. It was unable to agree on whether to recommend the bid of the fourth suitor, the C&NW Transportation Co. The commission's findings now go to a federal court in Chicago that has been overseeing the Milwaukee Road's reorganization since it filed for bankruptcy in December, 1977. [LSF-1984-0911]
1984. October. The C&NW increases its offer in the bidding war with Soo Line for the bankrupt Milwaukee Road. The new bid of almost $367 million, was an increase of almost $211 over it soriginal bid and included an offer to assume about $4420 million in debts facing the Milwaukee Road. The Soo Line responded by saying "Our position has been that the bidding was over on April 6". [DFP-1984-1011]
1985. February. A federal judge Friday approved the sale of the bankrupt Milwaukee Road to the Soo Line railroad, whose $570 million bid was the lower of the two offers. U.S. District Judge Thomas McMillan said he based his opinion on what is best for the public interest, indicating that sale to the C&NW Transportation Co. - which bid $210 million more - would have reduced competition of many routes. [LSJ-1985-0209]
Bibliography
The following sources are utilized in this website. [SOURCE-YEAR-MMDD-PG]:
[AAB| = All Aboard!, by Willis Dunbar, Eerdmans Publishing, Grand Rapids ©1969.
[AAN] = Alpena Argus newspaper.
[AARQJ] = American Association of Railroads Quiz Jr. pamphlet. © 1956
[AATHA] = Ann Arbor Railroad Technical and Historical Association newsletter "The Double A"
[AB] = Information provided at Michigan History Conference from Andrew Bailey, Port Huron, MI