Railroad: Cleveland, Cincinnati, Chicago and St. Louis Railway Company, The
Known as the " Big Four", the CCC&StL operated two lines in Michigan. One was the Michigan Division line from Goshen, Indiana north through Niles to Benton Harbor, a distance of about 32 miles and built in 1882. This line was built by Big Four predecessor Cincinnati, Wabash & Michigan. It served until 1942 when the southern portion of the line between Goshen and Niles was abandoned. The remainder of this line served until 1982 under Big Four, Penn Central and Conrail owners.
The second line into Michigan was from Jackson south to Franklin, Ohio via Bryan, Ohio. This line was built in 1888 by Big Four predecessor Cincinnati, Jackson & Mackinaw between Ohio and Addison Junction in Lenawee County. This is where the line combined with the combined with the east-west Michigan & Ohio railroad ( Dundee west to Allegan). In 1896, the line was finally finished to Jackson from Addison Jct. This route continued to be operated by successor roads Cincinnati Northern, Big Four and New York Central companies until it was removed in 1976 near the beginning of Conrail.
---
Various → Big Four → New York Central Railroad → Abandoned

Acquired: In Michigan, Cincinnati Wabash & Michigan in 1892, Cincinnati Northern in 1902
Operated in Michigan for 38 years.
Became: New York Central system - leased in 1930, then Conrail in 1976 and abandoned.
Reference: [MRRC]
---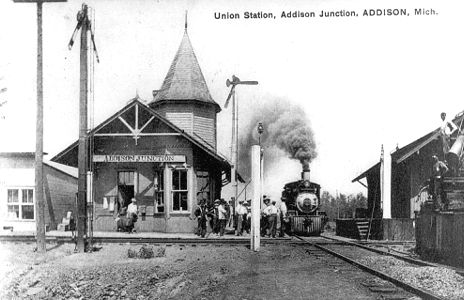 Photo Info: The Union Station at Addison Junction in Lenawee County, with an approaching train.
---
Notes
---
Time Line
1882. Road is opened for use between Goshen and Benton Harbor (CW&M Ry) 35.14 mile main line, 9.18 sidings and spurs.
1902. The railroad uses 52-67 lb. rail in the Benton Harbor area. [MCR-1903]
1902. SNAPSHOT. This road was affiliated with the Vanderbilt family of roads. This railroad crosses over the Milwaukee, Benton Harbor and Columbus railroad two miles south of Benton Harbor. They also crossed over the Michigan Central main line at Niles. 8 stations in Michigan. Employed 143 people in Michigan. [MCR-1903]