Railroad: Coe Rail, Inc.
Coe Rail purchased part of the Grand Trunk Western Jackson branch, between Wixom and West Bloomfield Township in 1984. The line was named after its original owner. Coe Rail operated a dinner train between Walled Lake and the end of the branch in West Bloomfield. The line was later renamed Michigan Air Line railroad, after the original owner of the Jackson branch in the 1880's. In addition to the dinner train, the railroad served a plastics company and defense contractor in Walled Lake. The line was abandoned in 2011 and 2012.
---
GTW → Coe Rail → Abandoned
Purchased: From GTW inn 1984 (from Wixom interchange east to West Bloomfield Township)
Operated for 27 years.
Abandoned: About 2011
Reference: [MRRC]
---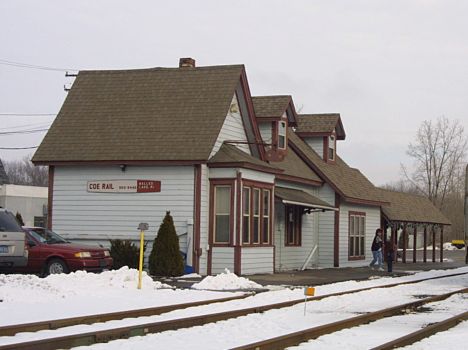 Photo Info: A 2002 photo of the Coe Railroad depot in Walled Lake. This is a remodeled version of the GTW depot. [Dale Berry photo]
---
Notes
Editors comment: I rode the Coe Rail dinner train the the 1980s from Walled Lake to West Bloomfield and return. The train's maximum speed was about 5 mph. It pulled through West Bloomfield directly behind $500,000 homes at dusk and you could see into people's windows. I wondered what it was like to live in a wealthy subdivision and see dozens of people looking into your windows from a train car 30 feet away. Dale Berry.
---
Time Line