Railroad: Grand Trunk Western railroad
The Grand Trunk Western was a reorganization of the Chicago & Grand Trunk railroad and various lines in Michigan between 1900 and 1930. It was owned by Canadian National railroad interests and ultimately absorbed by the CN. The GTW operated main lines from Port Huron to Chicago, as well as from Port Huron to Detroit, and Detroit to Durand. The railroad also absorbed the Detroit & Toledo Shore Line from Detroit to Toledo, and the Detroit, Toledo & Ironton, ultimately selling that but retaining the line from Trenton to Flat Rock.
---

Various → Grand Trunk Western railway → Canadian National railway.
Operated for 102 years.
Incorporated: 1900
Became: Public identify changed to CN in 2002. Corporation still exists.
Reference: [MRRC][Wiki]
---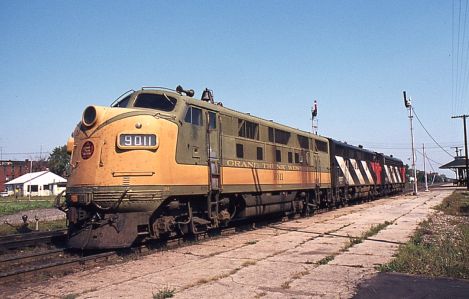 Photo Info: Grand Trunk Western 9011 pulls light power through Durand in 1968. [Doug Leffler]
---
Notes
---
Time Line
1900. Acquired Port Huron to Chicago on incorporation.
1903. SNAPSHOT: The railroad operated 44 stations in Michigan. They employed 123 engineers, 127 firemen, 105 conductors and 225 brakemen, 17 baggagemen, 573 laborers (section men), 9431 shopen and 117 yardmen. The GRTW operated 120 locomotives, 20 passenger and 19 baggage/express cars. 198 box cars, 1 stock car, 73 platform cars and 61 conductor's way cars. The top five categories of freight hauled were: grain (15%); merchandise (12%); miscellaneous commodities (9%); dressed meats (8%); and livestock (6%).
1905. Acquired 50% of Detroit Terminal.
1907. Control of Chicago & Kalamazoo Terminal.
1910. Control of Pontiac Oxford and Northern.
1912. Control of Detroit & Huron.
1928. Consolidated most lines.
1929. Lease of Cincinnati, Saginaw & Mackinaw. Bought in 1943.
1955. Consolidated Muskegon Ry. & Navigation.
1976. Bought lines from Penn Central.
1981. Consolidated Detroit & Toledo Shore Line.
1983. Consolidated Detroit, Toledo & Ironton.
2002. GTW identify withdrawn. Operated system wide as Canadian National or CN.
---
Books
Evening Before the Diesel, by Charles Foss
Grand Trunk Western in Color Volume 1, by Jerry Pinkepank
Grand Trunk Western Power In Color Volume 1, by Stephen Timko
Grand Trunk Western Power In Color Volume 2, by Stephen Timko
---