Railroad: Michigan Interstate Railway Company
The Michigan Interstate railroad (operating as the "Ann Arbor Railroad") was created in 1977 to operate State of Michigan owned lines between Toledo and Owosso (on former Ann Arbor railroad trackage). In 1982, the contract was cut back to serve only lines from Toledo to Osmer (just north of Ann Arbor). [MRL]
---
Ann Arbor railroad → Michigan Interstate Railway → Ann Arbor Acquisition Corp.
---
Operated: 11 Years
Operation begun: 1977 - from State of Michigan, Toledo to Ann Arbor.
Conveyed: October 7, 1988 - to Ann Arbor Railroad (new). Then to Watco.
Reference: [MRRC][Wiki]
---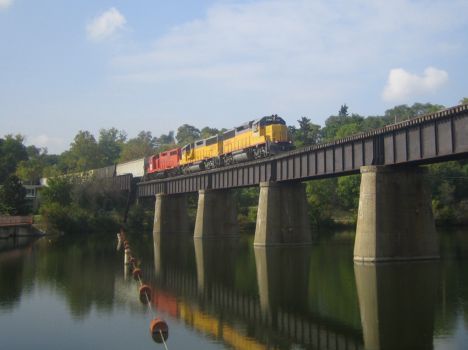 Photo Info: The Ann Arbor railroad rolls over the Huron River Bridge in downtown Ann Arbor, for a meet with the TSBY railroad at Osmer. 2005. [Dale Berry photo].
---
Notes
The actual line of demarcation between the Ann Arbor railroad and state-owned lines is along Plymouth Road on the north side of the City of Ann Arbor. This gives the AARR full control over operations in the City. The interchange point with the Great Lakes Central, current operator of the lines north, is a two-track yard at a location known as Osmer, which is between Warren and Joy roads in Ann Arbor township.
---
Time Line
1977. Michigan Interstate operates the former Ann Arbor railroad from Toledo to Osmer (Ann Arbor), designated by the State of Michigan the owner of the line.
1988. October 7. Line conveyed to the (new) Ann Arbor Railroad (Ann Arbor Acquisition Corporation). The line is later sold to Watco.
Bibliography
The following sources are utilized in this website. [SOURCE-YEAR-MMDD-PG]:
[AAB| = All Aboard!, by Willis Dunbar, Eerdmans Publishing, Grand Rapids ©1969.
[AAN] = Alpena Argus newspaper.
[AARQJ] = American Association of Railroads Quiz Jr. pamphlet. © 1956
[AATHA] = Ann Arbor Railroad Technical and Historical Association newsletter "The Double A"
[AB] = Information provided at Michigan History Conference from Andrew Bailey, Port Huron, MI