Railroad: Norfolk Southern Corporation
The Norfolk Southern railroad purchased the lines of the Norfolk & Western railroad in Michigan in 1980. This included the former Wabash line from Detroit to Montpieler, Ohio as well as spurs around Detroit and Delray, and the former DT&I between Page and Tecumseh in Lenawee County from the DT&I. In 1999, the railroad acquired parts of Conrail in Michigan, including the main line from Detroit to Kalamazoo and from River Rouge to Toledo. It also continues to own along with CSX what remains of Conrail as a terminal railroad in metro Detroit.
---
Norfolk & Westerm Railroad → Norfolk Southern → existing
---
Purchased: 1980 - from Norfolk & Western railroad. Also purchased part of Conrail in 1999.
Operated in Michigan: 42+ Years - continuing
Operations Ended: NS sold the former Michigan Central main line between Town Line and Kalamazoo to Amtrak around 2017.
Reference: [MRRC]
---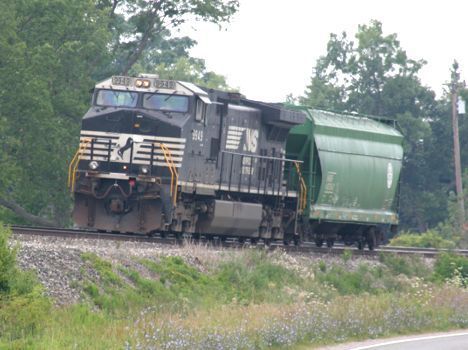 Photo Info: NS train 38J waits for a signal at CP Lake, just east of Chelsea in 2007. [Dale Berry photo].
---
Notes
---
Time Line