Railroad: Wisconsin Central, Limited (new)
The Wisconsin Central railroad (new) was organized in 1987 and acquired property owned and operated by the Soo Line Railroad. In 1997, it also purchased operations of the C&NW lines in Michigan from the Union Pacific. In 1997, the WC was sold to the Union Pacific railway and the Michigan operations were spun off to the Canadian National railway.
---
Soo Line Railroad → Wisconsin Central (new) → Union Pacific Railroad
---
Bought: 1987 - Michigan lines of the Soo Line Railroad. Controlled at incorporation by the Wisconsin Central Transportation Corporation.
Operated: 12 Years.
Sold: Date unknown, to Union Pacific, and then to CN in 2001.
Reference: [MRRC]
---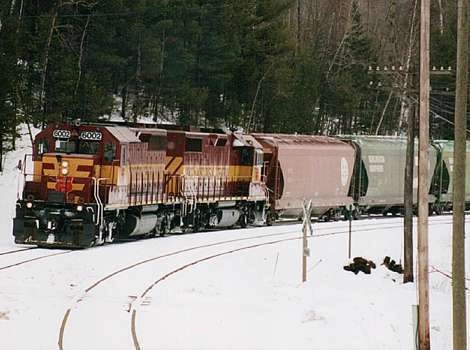 Photo Info: Wisconsin Central 6002 leads a train north of Eagle Mills in 2002. [Tom Carello photo].
---
Notes
---
Time Line
1987. The Wisconsin Central purchases the assets of the Soo Line railroad in the upper peninsula. [MRL]
1987. October 11. Wisconsin Central Railway freight trains have begun rolling through Michigan's upper peninsula on nearly 2,000 miles of routes formerly operated by the Soo Line Railroad Company. Service to the region was restored last week, shortly after Chicago-based Wisconsin Central Ltd. purchased the routes from the Soo Line for $122 million. About 400 former Soo Line employees joined WC as a part of the transaction, completed October 11. More jobs will be added as service is expanded and improved over active routes, Marquette trainmaster Clinton Jones said. [SJHP-1987-1020]
1990. The WC purchases the remaining track of the LS&I between Munising Junction and Munising. [MRL]
1991. The WC line from Wisconsin to Ironwood and Bessemer (former Soo Line) was leased to a new corporation known as the Wisconsin & Michigan railroad. This was 6.8 miles in Michigan. The lease was terminated in 1995 when the new W&M went into receivership. [MRL]
1996. The 2.6 mile Dead River branch in Marquette is abandoned. [MRL]
1997. WC purchases C&NW lines in the upper peninsula. This includes Menominee to Escanaba, Powers to Antoine, and branches to Empire Mine, Cascade Jct. to Palmer and Ishpeming including the Tilden Mine, branch to the Tracy Mine and the Niagara Branch. [MRL]
1999. The WC abandons the old DSS&A line between Munising Junction to East Yard in Houghton, as well as the lead to the Marquette ore dock. They also abandon the former Soo Line main line between Hermansville and Larch.