Railroad: Wabash railroad
The Wabash railroad was created in 1881 to consolidate the Detroit, Butler & St. Louis in Michigan and other lines in the midwest and Ontario, Canada. In Michigan, it owned 76 miles of rail between Delray and the Ohio State Line (near Morenci). It had 44.23 miles of spurs and sidings in Michigan.
This line leased the Detroit Union Depot and Terminal Association tracks and Union Depot to Delray (4.06 miles). It also leased use of the Ann Arbor Railroad from Milan to the Ohio State line (25.2 miles) giving it a route to Toledo from the north.
The railroad was reorganized several times and became the owner of the Ann Arbor and DT&I railroads for a time. In 1964, the Wabash was purchased by Norfolk & Western and later combined into the Norfolk Southern railroad. This railroad was also part of the partnership of the Union Belt of Detroit.
---
Detroit, St. Louis & Western → Wabash Railroad → Norfolk & Western
---
Operated in Michigan: 72 years.
Chartered in: 1889
Consolidated: 1889 - Detroit, State Line & Wabash; Wabash Western; and other non-Michigan companies. Also leased the Detroit Union Railroad Depot & Station; and joint control with others of the Fort Street Union Depot.
Control: 1925 - of the Ann Arbor Railroad.
Control: 1928 - by the Pennsylvania Railroad.
Leased: 1961 - to the Norfolk & Western. PRR relinquished control to the N&W in 1970.
Control: 1963 - of the Ann Arbor Railroad turned over to the Detroit, Toledo & Ironton.
Reference: [MRRC]
---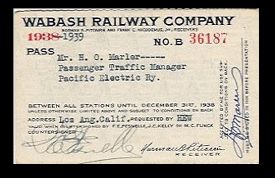 The Wabash Railroad started with a construction railroad known as the Detroit, State Line & Wabash, and eventually extended from Buffalo, NY on the east, through southern Ontario, Canada, and then from Detroit to St. Louis, MO. The railroad had other important branches from Toledo to Chicago, and from Chicago southwest.
Car ferry operations transported rail cars over the Detroit river from a port near the Fort Street Union Station (on the jointly owned Union Belt of Detroit). The Wabash's main locomotive roundhouse was just east of Delray on the Union Belt, and their main freight yard in what is now known as Melvindale, west of the Rouge River.
The Wabash was merged into the Norfolk & Western Railway in 1964.
---
Time Line
1903. Henry K. McHarg of New York was a director of the Wabash, and also owned the Detroit & Mackinac railroad. This set off speculation that the D&M would become part of the Wabash, which was not practical and did not happen. [MCR-1904]
1903. SNAPSHOT. The Wabash operated 32 stations in Michigan (out of a total of 725 stations). The five top categories of freight carried (by ton) were: coal (30%); miscellaneous commodities (15%); grain (14%); lumber (5%); and merchandise (6%). They owned 534 locomotives (system), and several thousand cars.
1920. The Wabash railroad serves 48 industries in Detroit with 42 sidings and a car capacity of 453 cars. They have 5 sets of team tracks which hold 156 cars and four freight houses. [DWT-1920]
October 23, 1926. The Wabash awards a contract to build a second main line track from Lima Junction, OH to Britton, MI, 21.6 miles. [RR]
1928. The Pennsylvania railroad acquires substantial stock in the Wabash but the ICC does not allow them to take control. [TSD]
1930. The Pennsylvania railroad is ordered to relinquish control of the Wabash railroad. [ENR-1930-1211:941]