Station: Harrisville, Michigan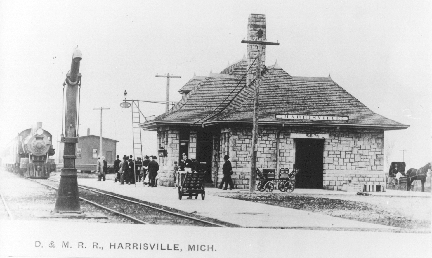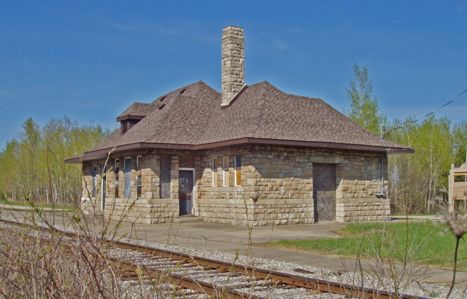 Harrisville is located along the Lake Huron Shore, halfway between Tawas City and Alpena. It is the county seat for Alcona County. Originally bypassed by the Detroit, Bay City & Alpena for an inland route via West Harrisville, the DBC&A later changed their route closer to the lake and Harrisville began receiving rail service in 1901.
Photo info: Top, a postcard view shortly after the depot was built. 2nd photo, this is a photo of the restored depot in 2002 [Dale Berry]
---
Notes
Harrisville had a water tower across from the depot with a standpipe for filling locomotives (see photo). Remnants of the tower exist today.
According to local lore posted at the depot, the D&M made its first regularly scheduled passenger run into Harrisville on Sunday, December 15, 1901. The cut stone station was completed in January, 1902. That first passenger train, the southbound mail number 10, ran on a new stretch of track from Black River to Lincoln Junction, including Harrisville and other towns along the shore, rather than the inland route via Lincoln (then West Harrisville).
The depot at Harrisville was a busy place. A 1906 timetable shows that four southbound trains and three northbound trains arrived and departed daily (for Bay City, Alpena and Cheboygan). For those that could afford automobiles at the time, the trip look two days, including stops for sleep along the way. On March 31, 1952 the final D&M passenger train passed by the station.
The depot may have been the only witness to one of Harrisville's unsolved murders. In March, 1915, a section man for the D&M found a pocket knife and wallet while on his way to work at the section shed at Harrisville. A "rather large" pool of blood was located between the main and east side track and the body of Henry Pyne was found near the Washington Street crossing, some 400 feet north of the depot. An investigation followed and Pyne's brother was accused of the crime but no trial ever occurred and files do not indicate that anyone was apprehended.
---
TIme Line
1901. Harrisville. April 25. Supt. Luce and Engineer Waterman of the D&M railway were here Wednesday, ad at a public meeting agreed to change their route and extend the roadbed here provided a right of way is given through the county, a distance of about 27 miles. [PHDH-1901-0425]
1904. The D&M southbound freight train No. 14 was wrecked as it was approaching the yards last night at midnight. A heavy rain visited this section last evening and caused a washout a half mile north of the depot. The train contained thirty-two cars nearly all loaded and was pulled by the road's new and most powerful engine, No. 29. As it was a very dark night the engineer was unable to see the washout, and when the engine struck the spot it was derailed and ran but a short distance before burying itself to the depth of three feet in the embankment. It then toppled over sideways. The boiler did not explode, but the engine was greatly damaged. Three refrigerator and three box cars were smashed into kindling. Engineer Al Nesbitt and Fireman Fred Markey escaped with bruises, and Conductor James Leonard was cut about the face. This is the third wreck for the D&M here within two years. The work of clearing the track is being carried on rapidly, but it will be a couple of days before it will be clear for traffic. [DFP-1904-0606]
1927. This station was staffed with an operator during the day shift. [ETT-1927]
---
Industry:
Johnson Seed Co. (D&M) 1910
J. Van Buskirk Planning Mill (D&M) 1910
G. L. Cowell Saw Mill (Pre-railroad on lake) 1887 - 75,000 board feet per 10 hours