Details

Hits: 4613
Station: Otter Lake, MI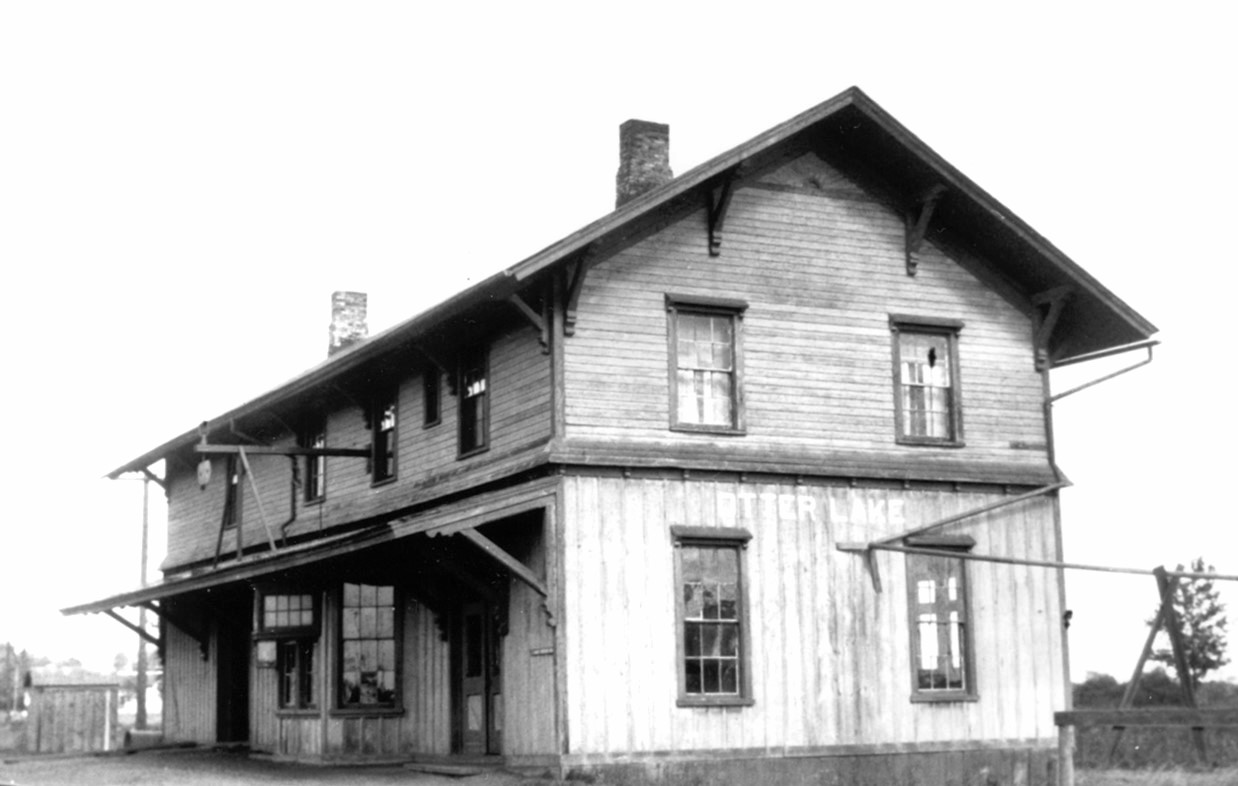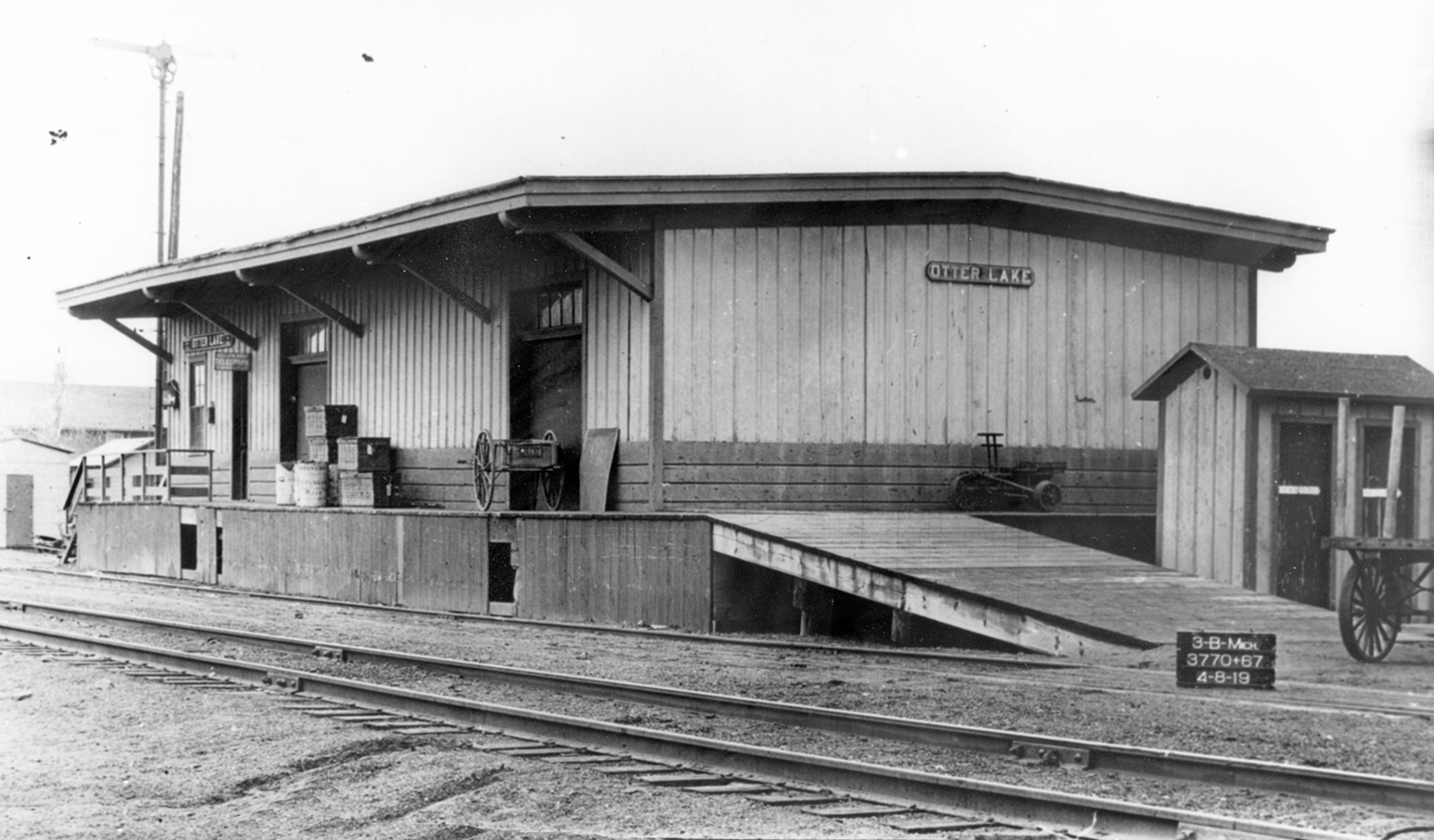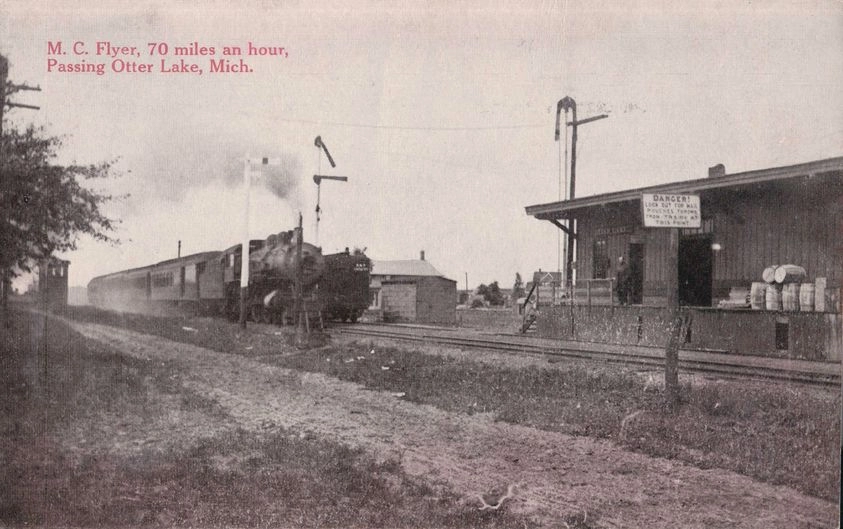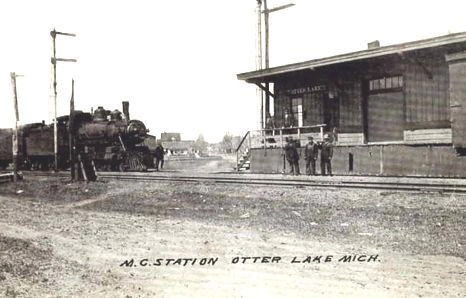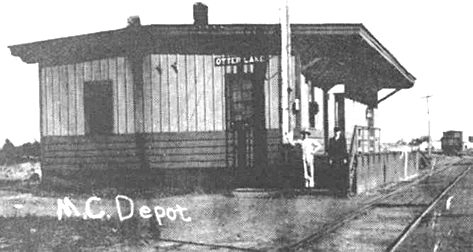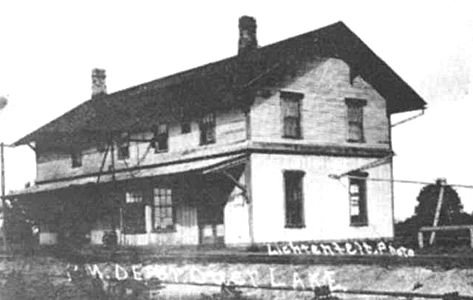 Otter Lake was settled around 1838 by the pine lumber firm of Page & Benson. It became a station stop around 1874 when the Pere Marquette came through. The town became a village in 1883. [MPN] Otter Lake was in the very northwest corner of Lapeer County.
Otter Lake was a crossing of the Pere Marquette branch line between Flint and Fostoria in Tuscola County, and the Michigan Central's Bay City branch from Detroit to Bay City via Saginaw. Both railroads had an interlocking tower here to protect the crossing.
Photo info: Top, an early photo of the PM Otter Lake depot. Note the railroad signal box on the side of the depot. [CMUL]. 2nd photo, a railroad valuation photo of the MC freight house at Otter Lake in 1918. [CMUL]. 3rd photo, a postcard view of the "MC Flyer" passing through Otter Lake at 70 mph. Note the semaphore signals and the tower in the background. [Joel Hershoren collection]. 4th photo, the Michigan Central depot at Otter Lake with a train nearby. Note the train order board at the depot as well as the interlocking signals to the left. [Alan Loftis collection]. 5th photo, another shot of the same depot. [Charlie Whipp collection]. 6th photo, the larger Pere Marquette depot at Otter Lake. [Alan Loftis collection]
---
Notes
The Pere Marquette branch line through here was later pulled up. Part of this branch became the right-of-way for the Huckleberry Railroad in Genesee County.
Charlie Whipp mentions that Otter Lake was used for ice production and the ice was shipped to other parts of Michigan for home refrigeration. The largest ice houses in Otter Lake were located on the Pere Marquette and it was big business for them at that location. Over the years, thousands of tones of ice were shipped out of Otter Lake, as well as there being a large sawmill complex in town.
"From the photo, it appears that the PM station was a 'housing & lights' agency, where the agent lived on the second floor of the building and took a slightly smaller salary because he had rent and heat figured into his salary", Whipp says.
---
Time Line
1887. The "junction house" at Otter Lake is destroyed by fire. [Livingston Daily Press-1887-0424]
1898. The F&PM had a 25 car passing track in Otter Lake. [ETT-1898]
1908. The Pere Marquette "Huckleberry" passenger train, which has been stuck in a drift for six days near Otter Lake is still stuck. The shortage in food supplies is said to be becoming alarming. [DFP-1908-0207]
Bibliography
The following sources are utilized in this website. [SOURCE-YEAR-MMDD-PG]:
[AAB| = All Aboard!, by Willis Dunbar, Eerdmans Publishing, Grand Rapids ©1969.
[AAN] = Alpena Argus newspaper.
[AARQJ] = American Association of Railroads Quiz Jr. pamphlet. © 1956
[AATHA] = Ann Arbor Railroad Technical and Historical Association newsletter "The Double A"
[AB] = Information provided at Michigan History Conference from Andrew Bailey, Port Huron, MI