Station: Monroe, MI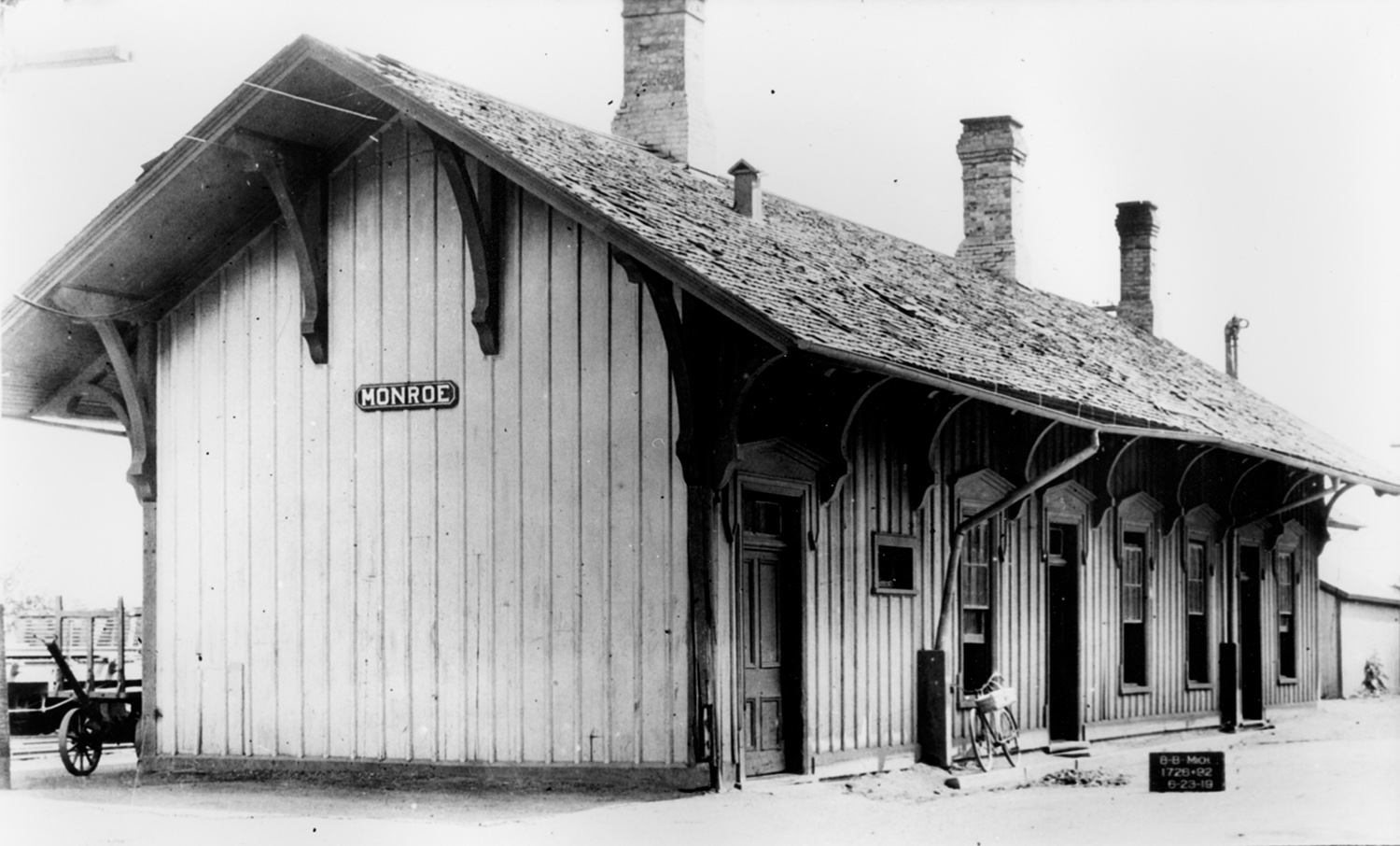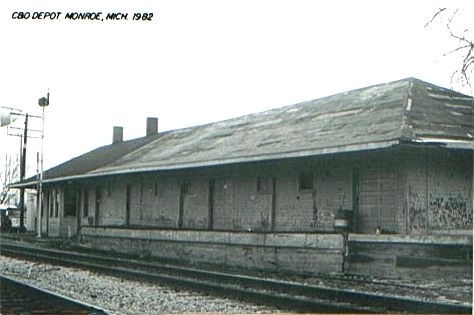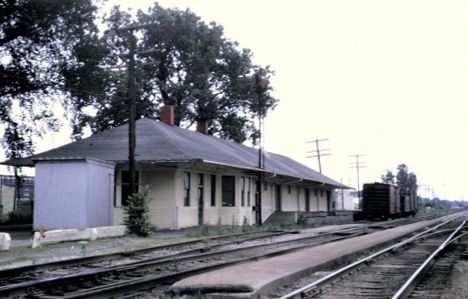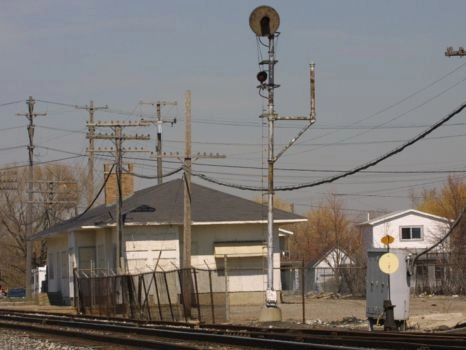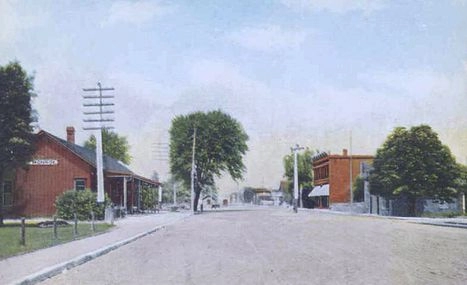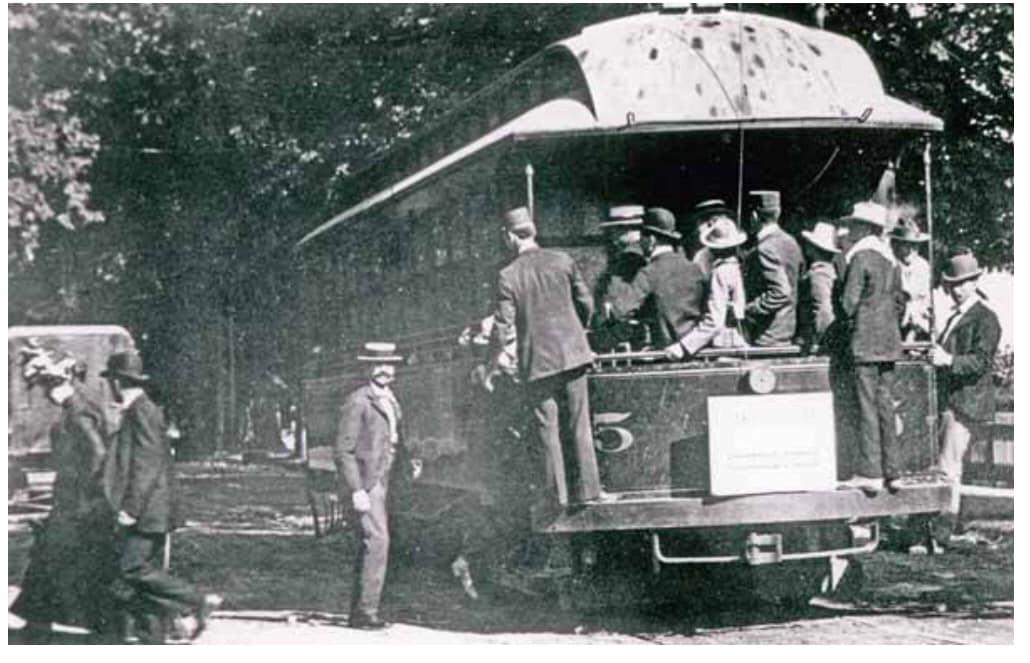 Monroe was settled about 1780 near the mouth of the Raisin River as it emptied out into Lake Erie. This was the third permanent community in the Michigan Territory. It was incorporated as a village in 1827 and a city in 1837. [MPN]
Monroe had four north-south railroads. The Lake Shore & Michigan Southern from Toledo to Detroit and the Michigan Central from the same two locations closely paralleled themselves and eventually came under single ownership. Another line, the Detroit & Toledo Shore Line ran along the MC line, parallel from Lang Yard in North Toledo to Dearoad Yard in River Rouge. The Flint & Pere Marquette ran south to here from Flint via Plymouth, Wayne and Carleton. For a few years, it connected with the Lake Shore using their line to Toledo. Later, it built its own line along the western city limits south to Toledo via Erie and Alexis.
The east-west line through Monroe was actually one of the earliest railroads in Michigan. It ran from the docks near Lake Erie and along First Street (crossing all of the north-south lines) and then heading west to Adrian and beyond.
An interurban railroad also built north from Toledo to the Detroit area passing through Monroe during the 1890's through the end of interurban operations in the late 1920's.
Photo Info: Top, a 1919 railroad valuation photo of the Michigan Central depot at Monroe. [CMUL]. 2nd photo, the Chesapeake & Ohio railroad depot at Monroe in 1982. 3rd photo, another view of the C&O depot in 1972. [Charles Geletzke Jr.] 4th photo, the Detroit & Toledo Shore Line depot (now CN) at Monroe in 2003. [Dale Berry]. 5th photo, a postcard view of the Lake Shore & Michigan Southern depot at Monroe. [Alan Loftis collection]. 6th photo, the interurban street car loads east of Elm Avenue in Monroe headed for Monroe Piers, in 1902.
---
Notes
---
Time Line
1903. D&TSL facilities. The D&TSL had an agent's office, roadmaster's office and carpenter's repair shop built here of wood in 1903. They built a freight depot and platforms in 1905, also of wood. The railroad also had a 50,000 gallon water station here, described as a wood tub on a steel tower. [DTSL-1922]
1905. The PM builds two new standpipes and pit at Monroe. [PMAR-1905]
1917. The NYC (southbound main) had a water station here.
1917, The MC had an agent-operator here at their depot around-the-clock. [TRT]
1926. September 2. A head on collision on the interurban Detroit Monroe & Toledo Short Line kills ten and injures 36. ICC Report [PDF]
June 24, 1930: The Michigan Public Utilities Commission allows the NYC to discontinue use of a flagman at Monroe Street. [MPUC-1930]
1951. Monroe is widely known for its paper products and for its nurseries. The first nursery was started in 1847 by I. E. Ligenfritz. Today this organization has 1,400 acres of nurseries, and markets around a million and a half trees annually. Nurseries are along the C&O tracks just south of Monroe.
2016: The former D&TSL depot at Monroe (now under CN ownership) is destroyed by fire on July 12th.
---
Industry
River Raisin Paper Co. - (xxxx ← 1947 → xxxx)
Weis Manufacturing Co. - (xxxx ← 1947 → xxxx)
Wilder & Strong - (xxxx ← 1947 → xxxx)
Bibliography
The following sources are utilized in this website. [SOURCE-YEAR-MMDD-PG]:
[AAB| = All Aboard!, by Willis Dunbar, Eerdmans Publishing, Grand Rapids ©1969.
[AAN] = Alpena Argus newspaper.
[AARQJ] = American Association of Railroads Quiz Jr. pamphlet. © 1956
[AATHA] = Ann Arbor Railroad Technical and Historical Association newsletter "The Double A"
[AB] = Information provided at Michigan History Conference from Andrew Bailey, Port Huron, MI