Station: Rochester, MI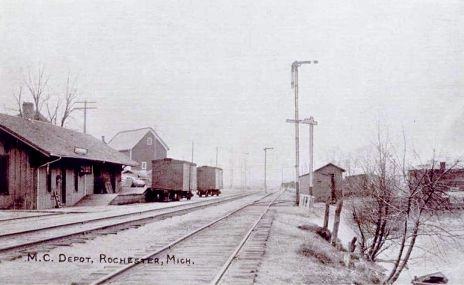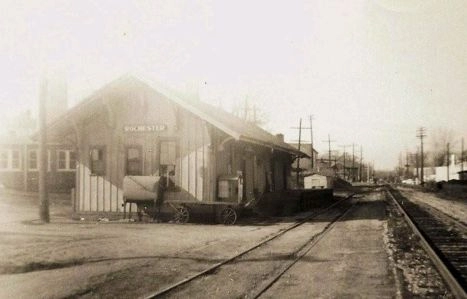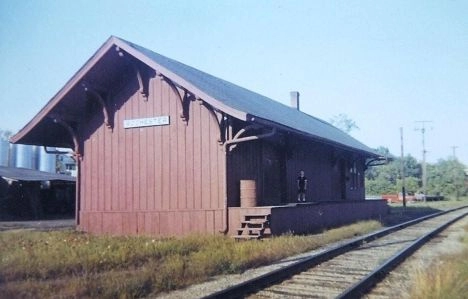 Rochester was settled about 1817 in eastern Oakland County. It became a village in 1869. [MPN]
Rochester was on the Michigan Central's Bay City branch and on the Grand Trunk Western's MAL branch about 10 miles east of MAL Junction in Pontiac. Rochester Junction was nearby where the two railroads crossed at grade. In later years, this crossing was controlled remotely by the operator at MC's passenger station.
Photo Info: Top, the Michigan Central depot at Rochester. The depot has a dual direction train order mast, and what appear to be older block signals in the background. [Alan Loftis Collection]. 2nd photo, another view of the depot taken in 1963. [Charles Geletke Jr.] 3rd photo, the Grand Trunk Western depot at Rochester in 1963 [Charles Geletzke Jr.]
---
---
Notes
Contribution from Charlie Whipp: Rochester was also the crossing of the Michigan Central Railroad and the DUR interurban railroad. The interlocking tower at that location, also known as Main Street Tower, was built in 1917 according to Railway Signaling Magazine. The interlocker was a mechanical machine with a 24-lever frame and 17 working levers. It was probably closed when the DUR Flint division was abandoned in April, 1931. Main St. stayed open for a while after the DUR closed down as a Western Union office. It also provided crossing protection at M-150. The Diamonds were in the middle of the street here. The Michigan Central had three tracks across Main St. and the DUR also had three. It must have made a lot of noise in downtown Rochester. The Main Street tower was a brick and wooden structure and there are several photos of this building in existence.
---
Time Line
1874. Sept. 15. The Pullman coach on the Detroit & Bay City railroad was discovered to be on fire. The entire car was burned, except the trucks. No one was hurt. [PHTH-1874-0917]
1894. March 11. Trains Met with Terrible Force. With air brakes uncontrollable and help lessly unable to obey orders to await the extra northbound freight at this point, Michigan Central southbound freight, drawn by two Mogul engines, reared through here at 1:30 o'clock in the morning and rushed at the rate of sixty miles an hour, head on, into the northbound train, also a double-header, on the high overhead bridge just south of town. No one was killed. The four huge engines, meeting at terrific speed, literally telescoped themselves, and then fell to the bottom of the embankment, thirty feet beneath, dragging several cars from both trains after them into the ditch.. [PHTH-3/11/1904]
1917. The MC had an agent-operator here around-the-clock. [TRT]