Station: Vassar, MI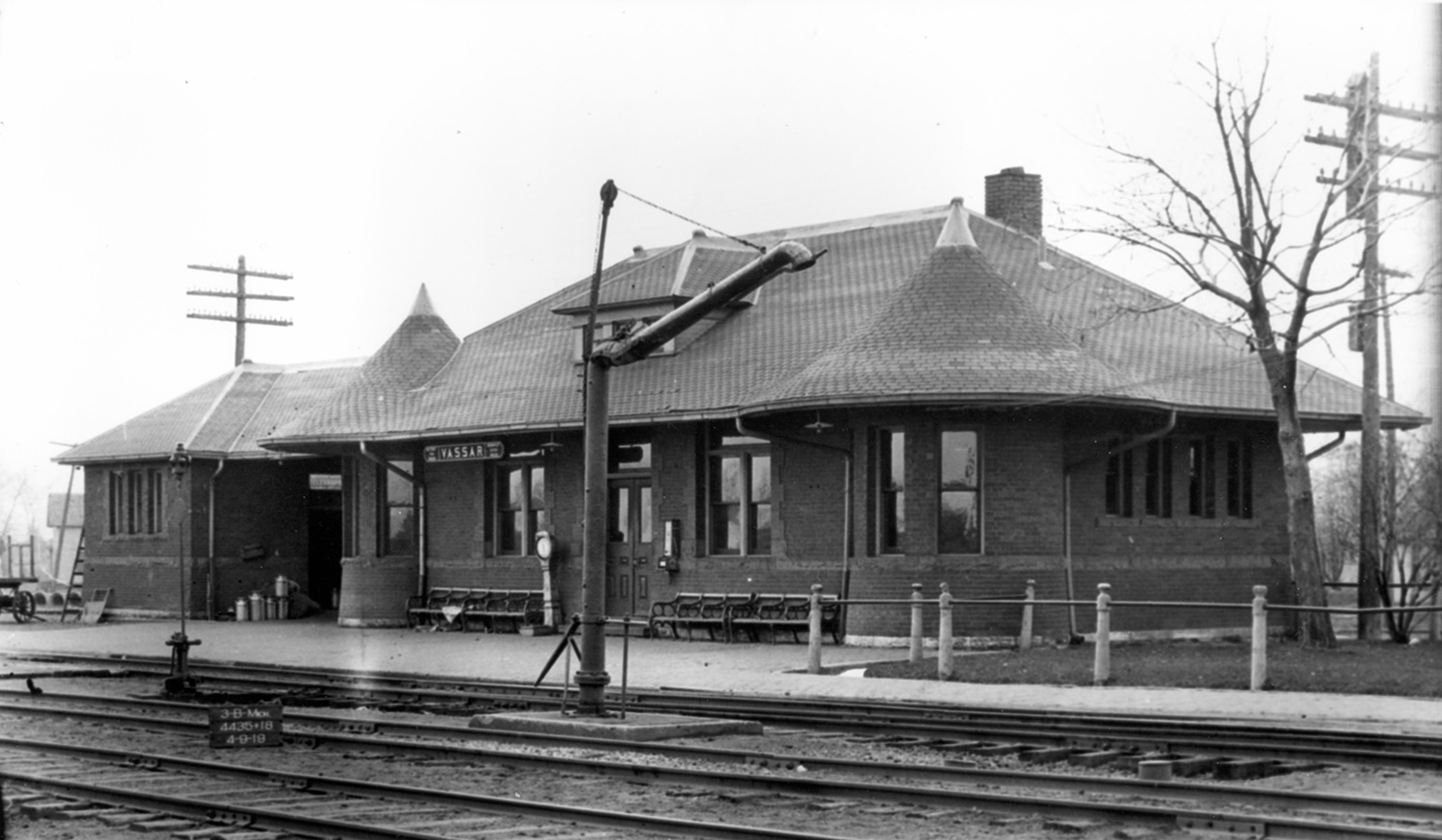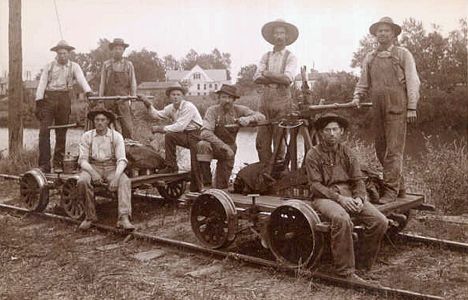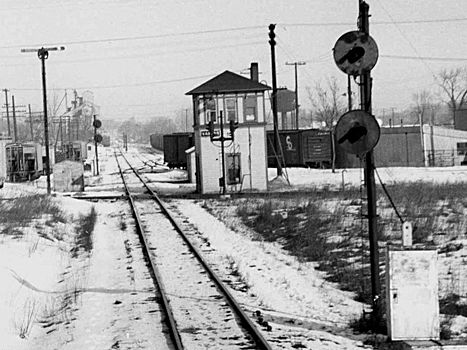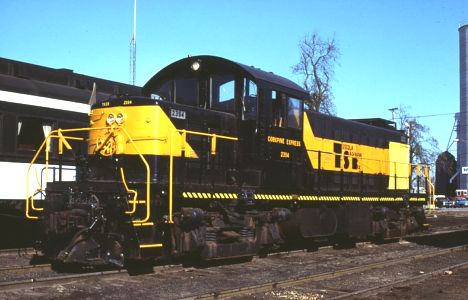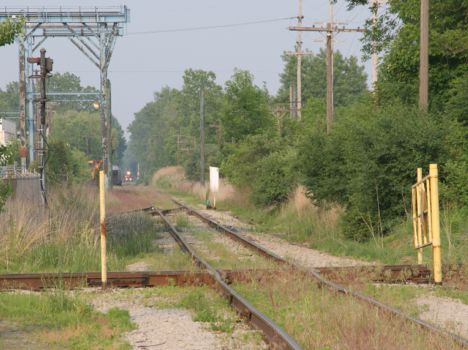 Vassar was settled about 1849 in southwest Tuscola County. The town became a village in 1871 and a city in 1944. [MPN] Vassar was the crossing of the Michigan Central's Bay City Branch (from Detroit) and the Port Huron & Northwestern (later PM) line running between Saginaw and Port Huron via Marlette. The lines, now operated by the Huron & Eastern, crossed here, controlled by an interlocking tower. The crossing is now protected by a gate. The MC also had a branch which left the main line northeast to Bad Axe via Caro and Bach.
Photo Info: Top, a railroad valuation photo of the MC Vasser depot in 1919. [CMUL]. 2nd photo, an early view of a Pere Marquette Section crew at Vassar. They maintained the PM line east and west of town. In the early 1900's. 3rd photo, this was taken by Ernie Novak, an engineer on the New York Central in 1955. The photo looks north from Ernie's train TB-10. The NYC line crosses the Pere Marquette at this location. A careful examination to the right of the tower shows the MC water tank and water standpipes are visible in front of the depot alongside the main line about 1/4 mile away. The train order board is set at "Stop" for TB-10 so that they can pick up "31" train orders for a meet with the afternoon passenger train out of Bay City/Saginaw. [EL Novak/Charlie Whipp collection]. 4th photo, Tuscola and Saginaw Bay (TSBY) 2394 is viewed at Vassar in 1978. The TSBY operated this section of state-owned railroad for a time. [Doug Leffler]. 5th photo, Vassar's gated crossing in 2007. An HESR train is approaching from the east. [Dale Berry]
Vassar Tower was the interlocked crossing of the NYC's Bay City Branch and the C&O's Saginaw to Port Huron (via Marlette) line. The tower was later automated and taken out of service. Now the crossing is controlled by a gate which is operated by train crews.
---
Notes
---
Time Line
1890. August 18. Saturday night about half-past 12 o'clock, while the section gang of the MC were returning from Denmark to Vassar on a hand car, they collided with a railroad velocipede on the south end of the bridge at Vassar, run by one "Lee", an agent of the F&PM railroad at Juniata. The result was that the foreman, John Erb, was thrown from the hand-car down a distance of thirty feet alongside one of the stone abutments, and was found with three ribs broken on his right side, and his face and arms cut terribly. The agent, Lee, riding the velocipede was also thrown down and but for the efforts of the other men on the hand-car he would have drowned. The velocipede was smashed to pieces. The agent on the F&PM was simply taking a ride on the Michigan Central tracks, and had no right there. Great sympathy is expressed for Erb on account of his injuries. [DFP-1890-0819]
1905. The PM builds new stock yards at Vassar. [PMAR-1905]
1909. Three passenger trains on the Michigan Central were stalled all night near Vassar owing to the floods that had washed out the tracks. The water in that section had risen four feet. [UVC-1909-0521]
1917, The MC had an operator-clerk here around-the-clock. [TRT]
Bibliography
The following sources are utilized in this website. [SOURCE-YEAR-MMDD-PG]:
[AAB| = All Aboard!, by Willis Dunbar, Eerdmans Publishing, Grand Rapids ©1969.
[AAN] = Alpena Argus newspaper.
[AARQJ] = American Association of Railroads Quiz Jr. pamphlet. © 1956
[AATHA] = Ann Arbor Railroad Technical and Historical Association newsletter "The Double A"
[AB] = Information provided at Michigan History Conference from Andrew Bailey, Port Huron, MI