Station: Pittsfield Junction, MI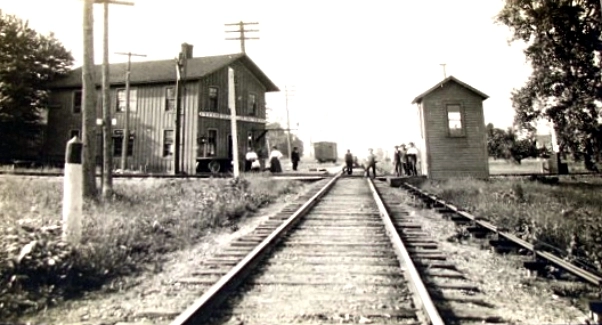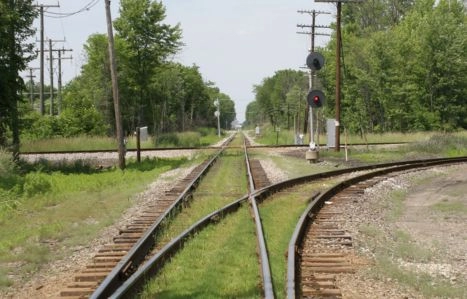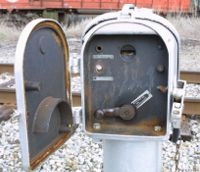 Pittsfield Junction was an interlocked crossing of the Ann Arbor railroad main line (Toledo to Frankfort) and the Michigan Central's Ypsilanti Branch ( Ypsilanti to Hillsdale) in Pittsfield Township. It was originally referred to as " Ypsilanti Junction".
Photo info: Top, an old photo of the crossing with a small interlocking tower and depot. 2nd photo, the interlocking/crossing at Pittsfield Jct. looking northbound on the Ann Arbor Railroad in 2006. 3rd photo, the interlocking control box at the crossing. [Dale Berry]
---
Notes
This location had a station at one time, but it is now an automatic interlocking with standard 2-head signals on the AA and dwarf signals on the former Ypsilanti Branch (which was been truncated from just east of the crossing to Saline). The junction had one wye track in the southeast quadrant which is now used by the Ann Arbor railroad to reach the Ypsilanti branch to service Saline industry.
Location: 42o12.672'N / 83o43.573'W.
---
Time Line
1900. This is a telegraph station on the Ann Arbor railroad. [OG-1900]
1903. The interlocker here was a Saxby-Farmer lever machine by US&S. [MCR-1904]
1914. The station at Pittsfield Junction burns. [MCR-1916]
1918. The AARR had a day station agent here, shared with the NYC. Each road paid the agent 50/50. [TRT]
1930. June 21. The Michigan Public Utilities Commission approves changes in the interlocking here as a result of installation of automatic block signals on the Ann Arbor Railroad between Milan and Ann Arbor. Mechanical semaphores will be replaced with searchlight signals, and detector bars will be replaced with electric track circuits. [MPUC-1930]
2016. The automatic interlocker here was removed, along with approach signals. They were replaced with double gates.