Interlocking: Detroit, MI - Milwaukee Junction Tower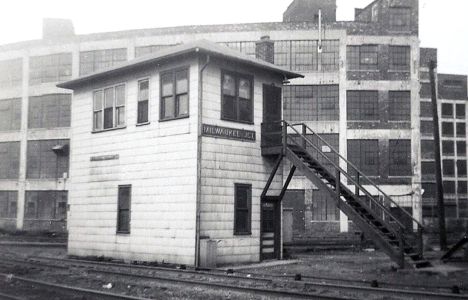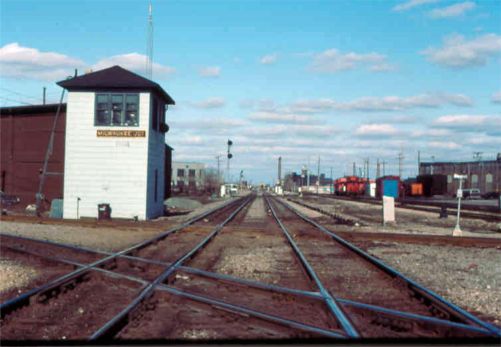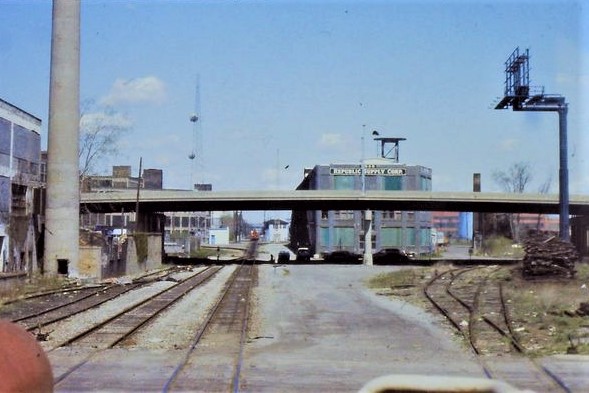 Milwaukee Junction tower controlled the crossing of Grand Trunk ( Detroit to Grand Haven cross-state line) and the crossing of the GTW wyes where they crossed the Michigan Central Bay City branch. This was a MC tower. The tower was one of the last closed in the Detroit area, finally eliminated in the early 2000's. As you can see by the interlocker model board, the GTW Mt. Clemens sub ( West Detroit to Port Huron) was not controlled except for the wye switches.
Photo info: Top, Milwaukee Jct. Tower in 1963 [Charles Geletzke Jr.]. 2nd photo, Milwaukee Junction looking north east along the Conrail line towards North Yard. To the right is the parallel GTW line go Mt. Clemens. Crossing from right to left is the GTW main line from the former Brush Street station towards Pontiac and Durand. 1984.
3rd photo, GTW 6403 enters the Shore Line subdivision from the Holly subdivision in the northwest quadrant of the interlocker. 1985 [Both, Charlie Whipp]. 4th photo, a view from the engineers seat looking northbound at the Milwaukee Jct. interlocking in 1991. On the left is the Gay toy factory and Republic Supply Co. (formerly American Can Co.) is on the right. The bridgeis East Grand Blvd. [Charles Geletzke Jr.],
5th photo, the model board in the Milwaukee Junction tower. It appears that as of 1997 when this was taken, the former Detroit & Milwaukee main line had been removed from the interlocking plant, though you can still see where it came through. [Charles Geletske Jr. photo].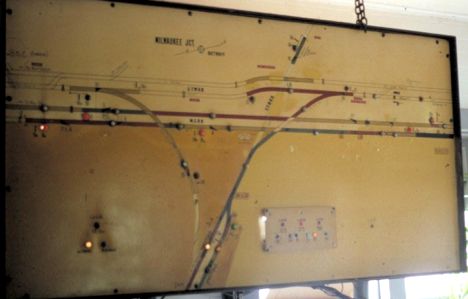 Location: 42o22.740'N / 83o03.443'W.
---
Notes
---
Time Line
1900. July 29. A train backs into a locomotive, killing one and injuring 10. [DFP-1900-0729]
1926. The MCRR reports that they have replaced dwarf semaphore signals with color light signals. [M{UCq-1926]