Location: Livernois Yard, Detroit, MI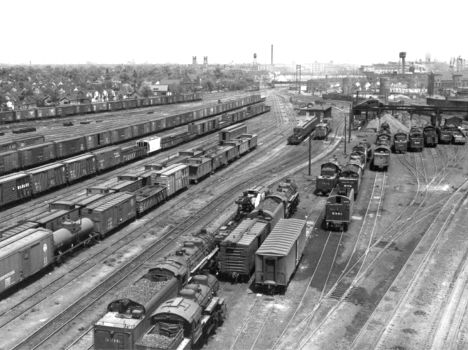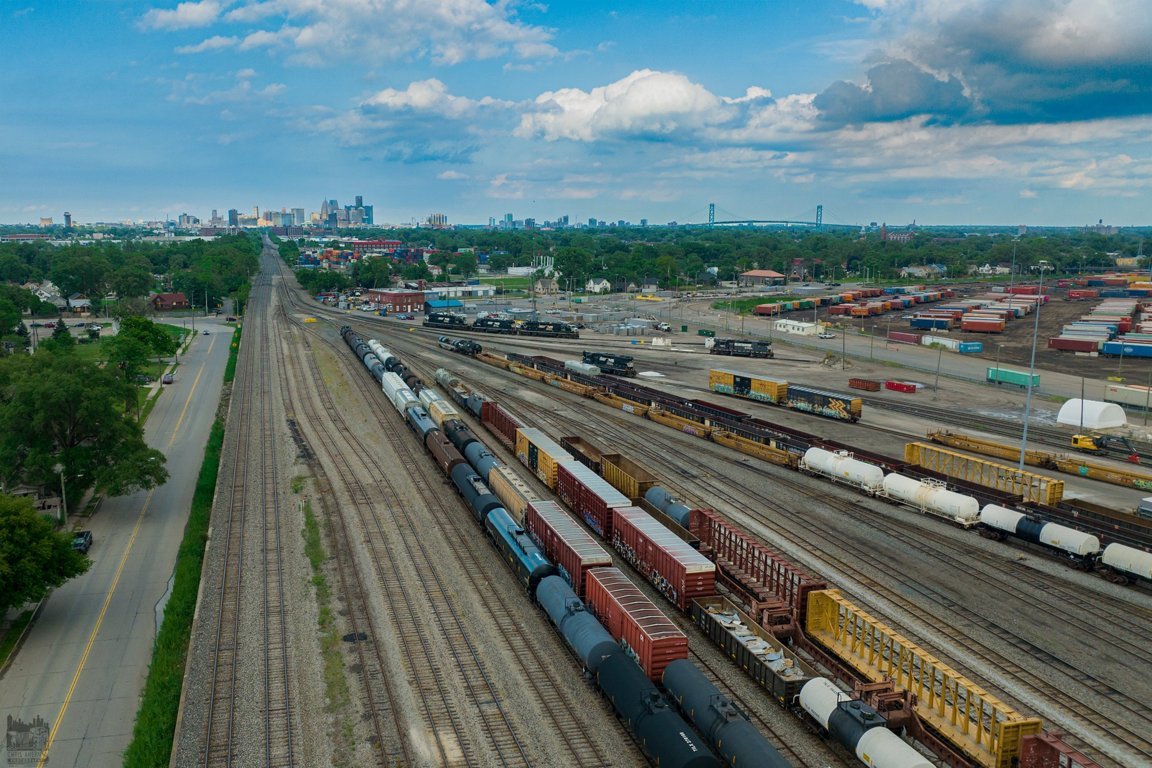 Livernois Yard is located along the Michigan Central main line (Detroit to Chicago) 1/4 mile west of West Detroit interlocking in Springwells Township. This was one of the early yards in the MC's Detroit terminal, predating 1880. At some point it was refered to as Junction Yard (named after Grand Junction a.k.a. West Detroit Junction) but in the mid-1900's Livernois Yard had a separate yardmaster and Junction Yard was west of Livernois Yard on the west side of the Central Avenue hump. Livernois Yard extended approximately from Livernois Avenue to Central Avenue in what later became the City of Detroit. The yardmaster building was located just west of the Livernois Avenue overpass.
Photo info: Top, the east end of New York Central's Livernois Yard in Detroit, showing part of the engine facility to the right. Beyond the yard in the distance is West Detroit tower. This was likely taken from the coaling tower. 1954. [Ernie Novak/Charlie Whipp collection]. Bottom, a 2020 overhead drone view looking east towards downtown. The brick building near the throat of the yard is the yard office, which was built during the NYC years. [Chris Ahern photo]
Two separate roundhouses were located here, along with a very large coalling facility and other shops.
Location: 42o19.420'N / 83o07.022'W.
---
Notes
---
Time Line
February, 1873. MC Works in Springwells
Energy is displayed at the site of the Michigan Central's new works. A side track furnishes the building material and the loaded cars give a business air to the place. The excavations for the building foundation have all been made, and the material is on the ground to commence work. The lowness of the ground is the only drawback, and to obviate this difficulty large drains, tunnel like, are in progress of construction. [DFP-1873-0218]
1902. A new coaling plant is installed at West Detroit. [MCR-1903]
Bibliography
The following sources are utilized in this website. [SOURCE-YEAR-MMDD-PG]:
[AAB| = All Aboard!, by Willis Dunbar, Eerdmans Publishing, Grand Rapids ©1969.
[AAN] = Alpena Argus newspaper.
[AARQJ] = American Association of Railroads Quiz Jr. pamphlet. © 1956
[AATHA] = Ann Arbor Railroad Technical and Historical Association newsletter "The Double A"
[AB] = Information provided at Michigan History Conference from Andrew Bailey, Port Huron, MI