Location: Town Line (Junction), Dearborn, MI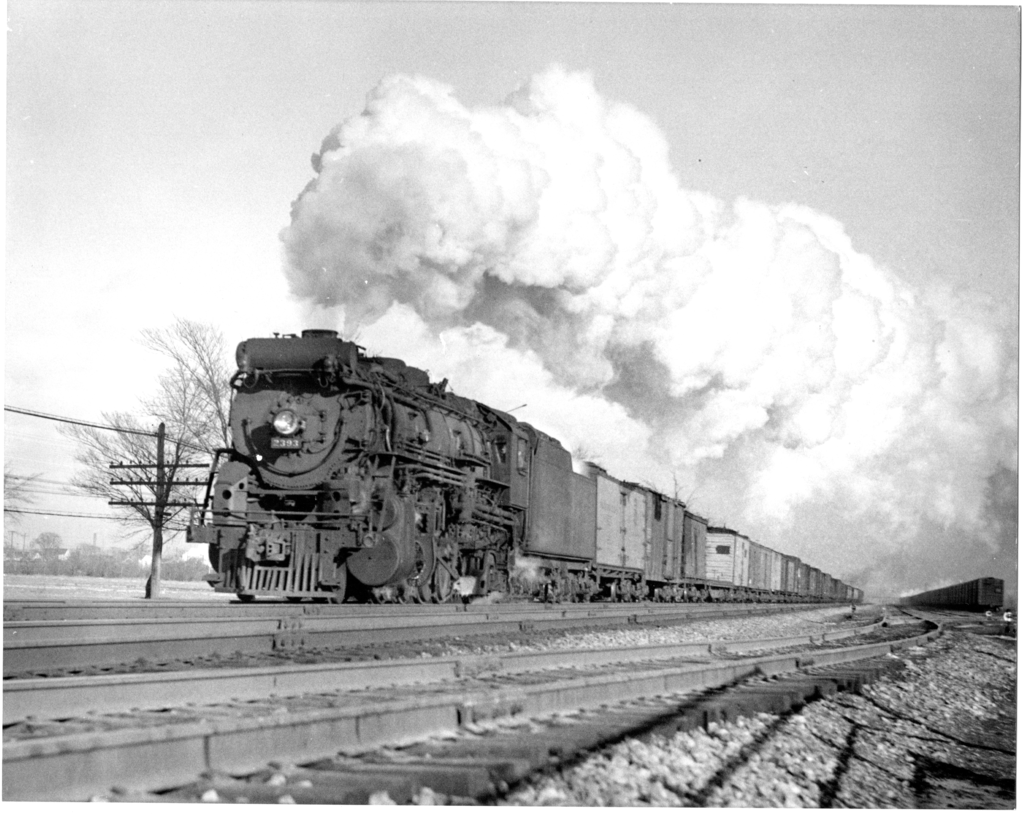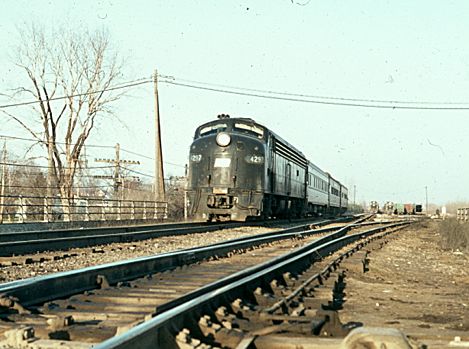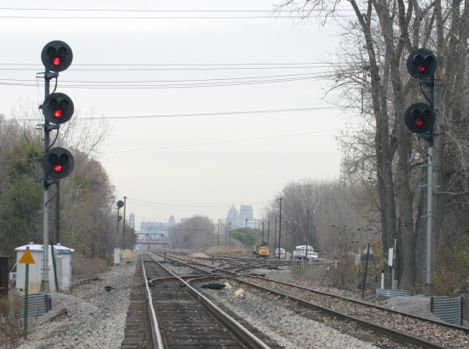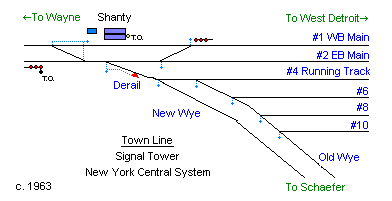 Town Line was identified as an unincorporated hamlet where the Michigan Central railroad crossed what later became Greenfield Road. The townsite has about six blocks of platted roads. A 1895 Silas, Farmer and Co. map of Wayne County shows that the MC had a depot here. (Note: This is about 20 years before the Town Line switch tender's office was moved here). [LOC] Town Line was thus named because it was the border of Dearborn and Springwells townships.
Photo info: Top, A New York Central freight highballs westbound on #1 track past Town Line. 1940's. [Robert Hadley photo]. Penn Central 4297, pulling Amtrak westbound passenger train No. 363, at Town Line in 1973. [Mark Dobronski] 2nd photo, a 2003 view of Town Line interlocking, looking east. [Dale Berry] 3rd photo, a drawing of the track diagram and signals at Town Line in 1963. [Dale Berry]
---
Notes
From a railroad standpoint, Town Line was located in east Dearborn, at the Greenfield Road underpass under the Michigan Central's Detroit to Chicago main line. Town Line was at the western edge of the MC's Detroit terminal. One of the jobs of the operator at Town Line was to interface between the Detroit Yard Dispatcher and the Michigan Division Jackson East Dispatcher for westbound trains leaving the yard and eastbound trains entering the Detroit terminal.
Town Line was created about 1914 when the Junction Yard branch was built north from Oakwood (in Melvindale area) along the west side of the Ford Rouge complex. At the Schaffer Road crossing of the Detroit, Toledo & Ironton, the Junction Yard branch split with two tracks going northeast to Junction Yard at Miller Road, and two tracks ("old" and "new" wye) going northwest to Town Line at Greenfield Road.
Town Line's telegraph letter was "J", which was also the call sign for the "J" signal station at Wyoming Avenue, the former west edge of Junction Yard. When the Junction Yard branch was built, "J" at Wyoming Avenue was moved to Town Line Road (later Greenfield Road) and given the name Town Line.
Unlike many other towers in the Detroit yard, Town Line was an operator-run tower, meaning that the operator received and distributed train orders. Greenfield Road may have also been named Town Line Road at one time.
Today, Town Line is remotely controlled by the Amtrak Michigan Line dispatcher.
The original "Tower J" was located right along John Kronk (Southern Avenue) mid-way between what is today Wyoming and Central avenues. Interestingly, Town Line acquired the telegraph call "J". [Mark Dobronski]
There are references footnoted in the 1897 and 1911 MCRR employee timetables to a location which is called "Dearborn east" [sic] without a milepost reference. This is likely a reference to the \junc;tion where the DD&D branch left the main line in what is now west Dearborn.
---
Time Line
1914. A blueprint shows a Tower "J", which was mid-way between Wyoming and Central Avenue in Detroit. (Note: At some point Town Line, which was at Greenfield Road, acquired the telegraph call "J". This would suggest that the towerman/operator at the original Tower "J" was moved to Greenfield Road at some point). The 1914 blueprints also show buildings at what is later known as Town Line.
1914. An early telegrapher's agreement dated in the 1910's shows only block operators stationed at Tower "J" but not Town Line.
1914. Blueprints indicate that the "old and new" wyes between what is now Rotunda Drive and Town Line were in place at this time.
1919. A valuation photo shows Town Line in its Greenfield Road location, with a "genuine MCRR" station sign reading "TOWNLINE".
1919. It appears that Town Line was built prior to 1919.
1920. On the Michigan Central, this is a telegraph station with no agent. The telegraph call sign is "J". [MCOAS]
1917. This station was staffed around-the-clock by operator/switch tenders. [TRT]
Bibliography
The following sources are utilized in this website. [SOURCE-YEAR-MMDD-PG]:
[AAB| = All Aboard!, by Willis Dunbar, Eerdmans Publishing, Grand Rapids ©1969.
[AAN] = Alpena Argus newspaper.
[AARQJ] = American Association of Railroads Quiz Jr. pamphlet. © 1956
[AATHA] = Ann Arbor Railroad Technical and Historical Association newsletter "The Double A"
[AB] = Information provided at Michigan History Conference from Andrew Bailey, Port Huron, MI