Interlocking: River Rouge, MI - Pleasant Street (YD) Tower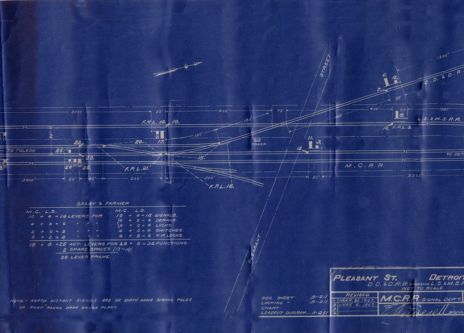 Pleasant Street Tower, also known by its telegraph call "YD", was located along the parallel Michigan Central and Lake Shore (Detroit to Toledo) lines, about 1/3 of a mile south of the Rouge River drawbridge. This interlocking tower controlled the Junction Yard connection with the main lines, as well as the entrance to the Marsh Track. YD was staffed by an MC operator. The small tower was replaced by a shanty in the 1970's. It no longer exists.
Originally, when the Lake Shore and Michigan Central lines were independent but parallel, the Junction Yard branch actually crossed the Lake Shore line to make its connection. This made Pleasant Street an actual "crossing". Around the turn of the 20th century, these lines (under Vanderbilt control) were operated as double track directional lines. The Junction Yard branch was also expanded to two tracks. But later, it was reduced again to one track and ultimately the Junction Yard branch connection was converted to junction switch and crossover operation.
Photo info: YD Tower, located at Pleasant Street in River Rouge. This photo, taken on February 8, 1955, shows the B&O #53, the Cincinnatian traveling south in the northbound lane approaching the tower, enroute to Ohio on NYC trackage rights. The 53 is powered by one of the B&O President-class streamlined Pacific's. The entire train, including these beautiful engines, were painted in the B&O's striking Royal Blue paint scheme. The B&O passenger trains operated out of MC station in Detroit, over the NYC to Toledo to connect with their own Toledo Division for the run to Cincinnati. B&O trains also operated out of Detroit via Deshler, Ohio to Baltimore, Washington DC, and Louisville, Kentucky. On the side track (at the right), is Ernie Novak's switcher. On the far left, an F-unit led freight train is proceeding around the curve northbound towards Schaefer Tower and Junction Yard. [Ernie Novak/Charlie Whipp collection]. 2nd photo, a copy of the 1907 blueprint for Pleasant Street and YD Tower. The right side of the blueprint is north towards River Rouge Bridge and West Detroit. The track going off to the upper right is what is now known as the Junction Yard branch. When this line was built, the branch was known as the Detroit, Dearborn & Delray branch which was a Michigan Central operation. As the branch entered the YD interlocker, it crossed the old Lake Shore & Michigan Southern line (later the southbound main line) at grade, and then merged with the Michigan Central line (later the northbound main line). [Michigan Archives]
---
Notes
Location: 42o16.652'N / 83o08.261'W.
---
Time Line
1912. The railroad commission approves reconstruction of the interlocking lant of the MCRR and LS&MS railways at River Rouge Pleasant Street. [MCR-1912]
1917, The MC had an operator towerman here around-the-clock. [TRT]
1925. The semaphore dwarf signals on the Marsh branch are changed to two-color light signals. [MPUC-1926]
1935: This tower controlled the junction/crossing of the Junction Yard Branch with the main north and south lines to Toledo. YD also controlled the junction to the Marsh Track, which led along the Rouge River Short Cut canal towards the Detroit River. [ MC Detroit Terminal Timetable No. 76]
1935: YD (Pleasant Street) communicated on Grade Lines 4 and 5 (1 long and 1 short). Also on grade line 4 was the Miller Road Yardmaster (2 long, 1 short), Livernois West Bound Hump Yardmaster (4 short), Livernois Westbound Train Yard Yardmaster (2 short), Schaefer Tower (3 long, 1 short), Victoria Avenue Tower (1 long), YD Tower (1 long, 1 short, also known as Pleasant Avenue Tower), and Town Line Telegraph Office (1 short, 1 long, 1 short). On Grade Line 5 was River Rouge Depot Yardmaster (2 long), Delray (3 short), Jefferson Avenue (1 long, 2 short), Rouge Drawbridge (4 short), West Detroit (2 short), YD Tower (also known as Pleasant Avenue Tower 1 long, 1 short).[ MC Detroit Terminal Timetable No. 76]