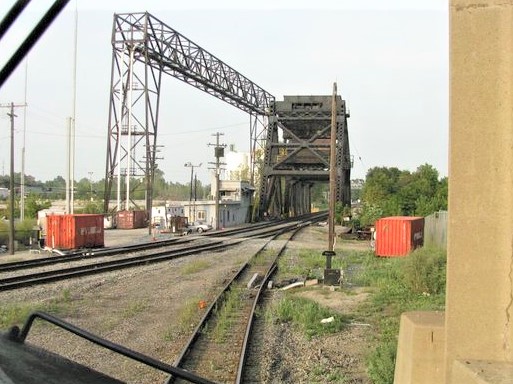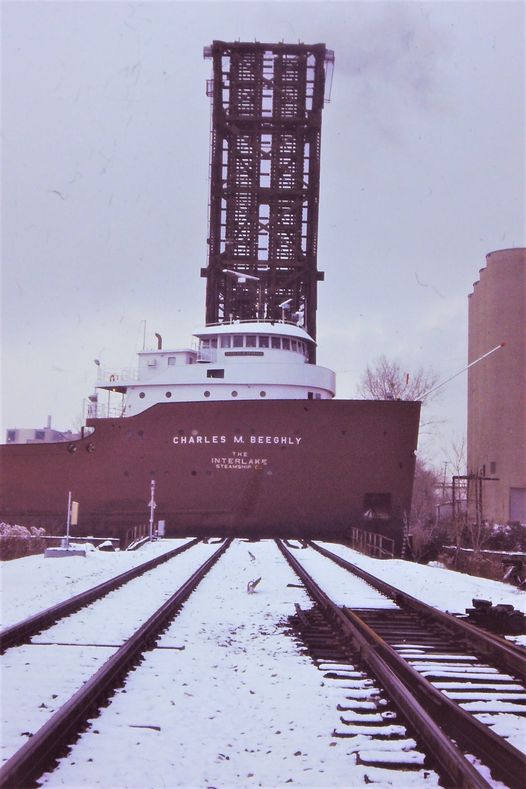 This bridge brings the Norfolk Southern over the Rouge River between Delray and Oakwood Yard (on the old Wabash line west to Montpelier). The bridge has an operator 24/7. It is a bascule design. The bridge was rebuilt by the Midwest Steel Company in 1982. Six switch engines stored at Oakwood Yard were placed on the bridge to keep the span down while the counterweight was disconnected and new beams were placed. From [Inside Track Magazine, 2/1982].
Photo Info: Top, this is a northbound view from a GTW freight which is about to cross the NS Rouge River Bridge in 2010. 2nd photo, CN train 384 waits northbound for the Charles M. Beeghly to depart down the Rouge River. [Both photos from Charles Geletzke Jr.]
The original swing bridge at this location was built in the late 1800's when the Wabash came to Detroit. The swing bridge was replaced around 1912 when the D&TSL was built and gained trackage rights over the river. The current bridge was build when the Short Cut Canal was widened for use by the Ford Rouge Works.
---
Time Line
Early 1920's. The Pennsylvania Railroad also began using the bridge in the 1920's. The bridge was originally built by the Wabash Railroad, along with the Detroit & Toledo Shore Line Railroad.
1926. Wabash has placed an order with the US&S Company for the material necessary to enlarge the electric interlocking plant at Rouge River Draw so as to include (grade) crossing protection between both the Wabash and the D&TSL with the Michigan Central and the interconnection between the Wabash and the Pennsylvania. This change involves the addition of a 19-lever section in the existing Type F electric interlocking machine; a track model (board) for the complete layout; 17 Model M switch layouts, 16 T signals, and six position-light signals, together with necessary relays, housings, etc. The railroad company will carry out the field work with regular signal forces. [RSG-1926-07]