Station: Wauseon, OH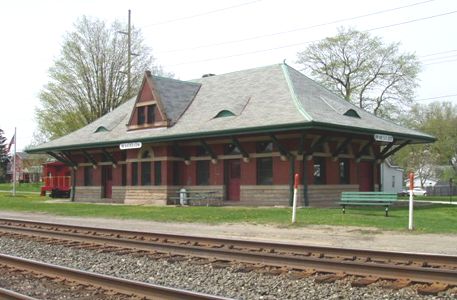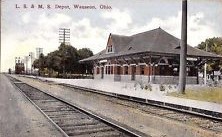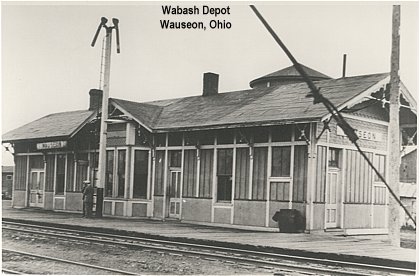 Wauseon, Ohio is a city in Fulton County. The town was platted in 1853 when the Michigan Southern (predecessor to the LS&MS) arrived in town. It was incorporated as a village in 1859 and became county seat in 1969 [Wiki].
Wauseon had three steam railroads, including the Lake Shore & Michigan Southern (later NYC/PC/Conrail/NS), Wabash railroad and the north-south Detroit & Lima Northern (later DT&I).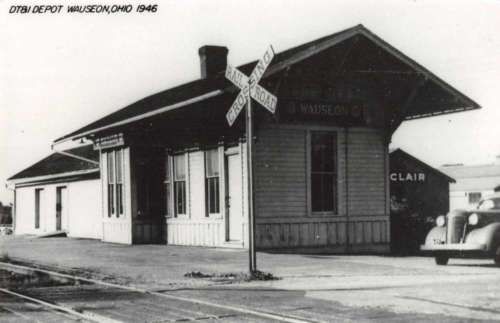 The interurban Toledo & Indiana Railway also crossed the DT&I line parallel to the NYC at the NYC interlocking tower.
The east-west Wabash line crossed the north-south DT&I line on the north side of town north of Oak Street. They had an interlocking tower there.
Photo info: Top, the NYC depot at Wauseon, Ohio. 2004. [Alan Loftis]. 2nd, a postcard view of the LSMS main line at Wauseon. 3rd photo, the Wabash depot at Wauseon. 4th photo, the DT&I depot at Wauseon. 5th photo, a map from about 1930 showing the crossing of the four railroads. [DT&I blueprint]
---
Notes
---
Time Line
1895. July 29. Train No. 37 of the Lake Shore & Michigan Southern was stopped by robbers near Wauseon on the night of July 23 about midnight and the express car was attached. The way safe was riffled and a little money secured, but six charges of dynamite failed to open the through safe and the robbers left without opening it. [RG]
1915. The LS&MS had a water tower at Wauseon. [NYCtt1915].
1918: The DT&I had an agent during the day at this location. [TRT]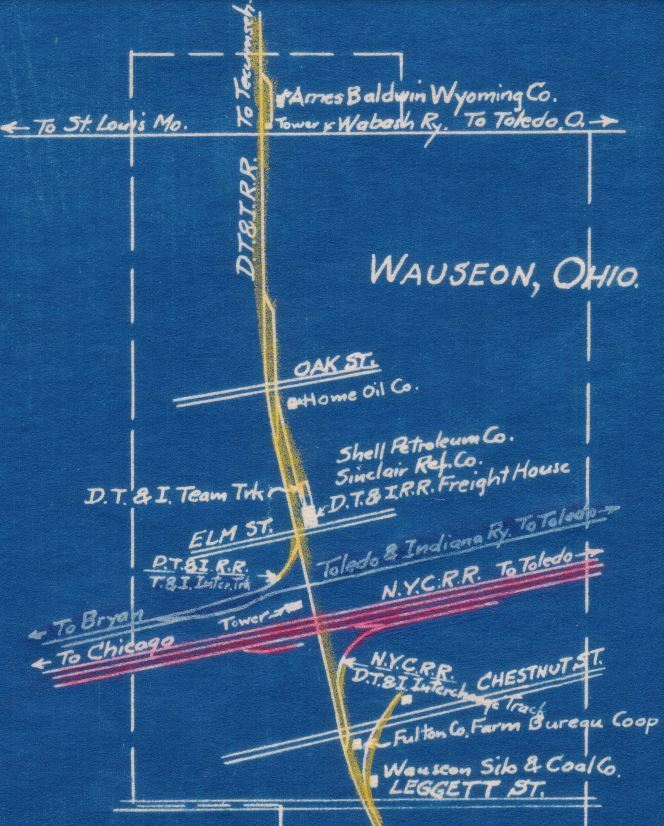 1930. The DT&I had a freight house on the east side of their track at Elm Street. They also had a wye to the electric railroad (NW quadrant) and with the NYC (SE quadrant). The DT&I served the Ames Baldwin Wyoming Co. (must north of the Wabash Tower), the Home Oil Co. at Oak Street, the Shell Petroleum Co. and Sinclair Refining Company just north of Elm Street, the Fulton County Farm Bureau Coop Association and the Wauseon Silo & Col Co. between Leggett and Chestnut Street on the east side of the DT&I line.
Bibliography
The following sources are utilized in this website. [SOURCE-YEAR-MMDD-PG]:
[AAB| = All Aboard!, by Willis Dunbar, Eerdmans Publishing, Grand Rapids ©1969.
[AAN] = Alpena Argus newspaper.
[AARQJ] = American Association of Railroads Quiz Jr. pamphlet. © 1956
[AATHA] = Ann Arbor Railroad Technical and Historical Association newsletter "The Double A"
[AB] = Information provided at Michigan History Conference from Andrew Bailey, Port Huron, MI