Interlocking: Alba Tower, MI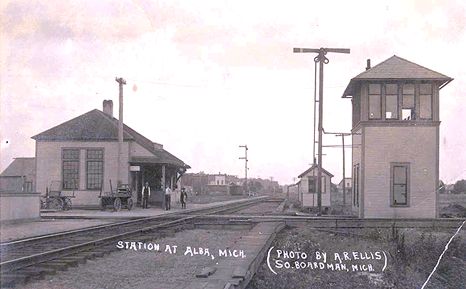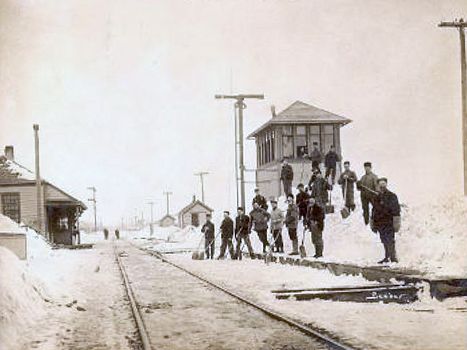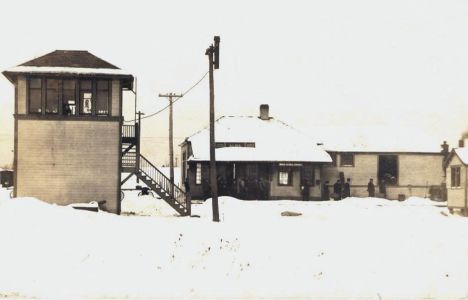 The interlocking tower in Alba was established around 1901, when the Detroit & Charlevoix Railroad entered town and crossed the north-south Grand Rapids & Indiana. This tower was likely removed after 1932, when the D&C was approved for abandonment by the Interstate Commerce Commission on August 26th.
According to reports, the foundation for the tower and depot still existed as of 2002, as well as the support blocks for the interlocking rods.
Photo info: All three photos show the interlocking tower and depot. [Alan Loftis collection]
---
Notes
---
Time Line
1902. A new interlocker ha been installed at Alba by the D&C. [MCR-1903]
Bibliography
The following sources are utilized in this website. [SOURCE-YEAR-MMDD-PG]:
[AAB| = All Aboard!, by Willis Dunbar, Eerdmans Publishing, Grand Rapids ©1969.
[AAN] = Alpena Argus newspaper.
[AARQJ] = American Association of Railroads Quiz Jr. pamphlet. © 1956
[AATHA] = Ann Arbor Railroad Technical and Historical Association newsletter "The Double A"
[AB] = Information provided at Michigan History Conference from Andrew Bailey, Port Huron, MI