Location: St. Joseph River Bridge, St. Joseph, MI - (CSX)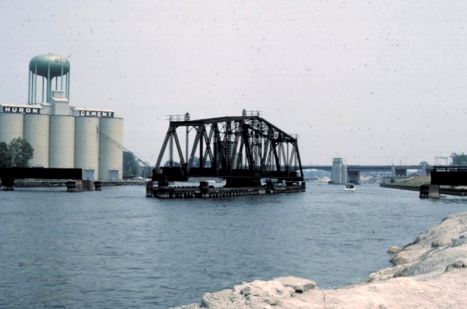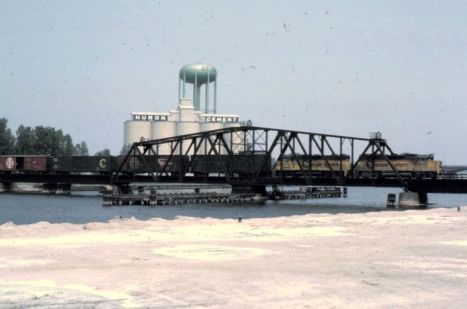 This swing bridge routes the CSX main line over the St. Joseph River in St. Joseph, MI.
Image Info: Both photos, the swing bridge under C&O ownership in 1977. [Charles Geletzke Jr.]
---
Notes
---
Time Line
1889. Thw West Michigan Railroad company is preparing to commence work on their new bridge over the river at St. Joe. It ewill haver a draew 231 feert long, resting on a stone pier, and when open will admit the passage of the largest boats that enter the harbor. [DFP-1889-0114]
June 22, 1904. The Pere Marquette has recently completed and put in service a new drawbridge across the St. Joseph River at St. Joseph, Michigan replacing an older span which had become too light for modern locomotives. The latter was built in 1887 by the Detroit Bridge &I Iron Works and was 231' 4" center to center of end piers, giving two 100 foot clear openings. Quick work was done in putting up the new structure, the old bridge having been withdrawn from service on February 28 and the new one swung into place on March 27. It was necessary to have the new bridge ready for the passage of boats when navigation opened, and the first large boat passed through the draw on the evening of March 28. The contract for the bridge was let December 20, 1903.
to provide for railroad traffic during the progress of the work, piles were driven for a temporary trestle in the north opening and a temporary draw span, to permit the passage of small boats, was put in the south opening. This span was made of two old 45 foot plate girder spans riveted together end to end with cover plates, and was placed on a turntable center resting on a pile pier. It was opened and closed by means of ropes leading to winches on the protection pier. Four or five movements a day were all that were required during the three weeks or so that this plan was in use. The old bridge having been swung around on the protection piers and the diagonals of the center panel taken out to permit he passage of trains, the steel work was taken down and the new structure erected on this pier. [RG-1904-0722-182].
1907. New facilities. The PM installed new signals and derails at the drawbridge. [PMAR-1907]