Station: Benton Harbor, MI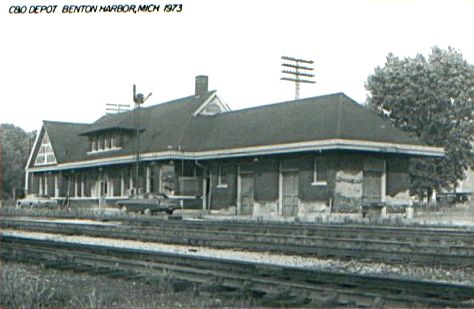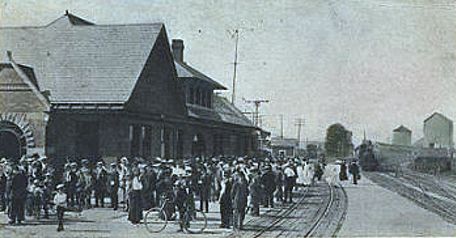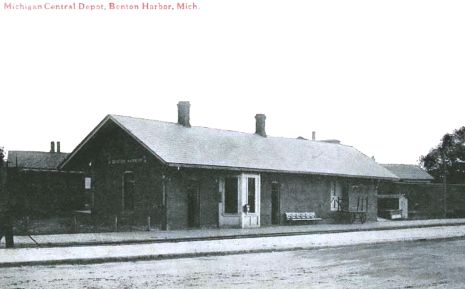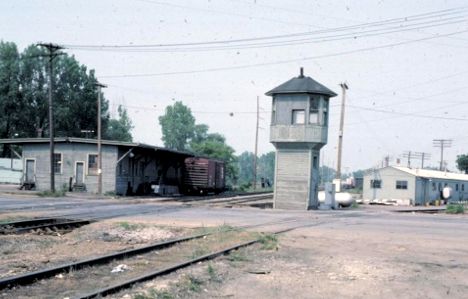 Benton Harbor was developed in 1860 in Berrien County. It became a city in 1891. Along with the neighboring City of St. Joseph, these two towns on Lake Michigan were a major industry hub in the region. Benton Harbor was home to the Pere Marquette main line between Grand Rapids and Chicago. Branch lines on the Michigan Central, Big Four and Pere Marquette also left for Galien, Niles and Buchanan respectively.
Photo info: Top, the C&O Depot at Benton Harbor. The train order semaphore indicates that Form 19 orders need to be picked up by the approaching northbound train. This is a 1973 postcard view. 2nd photo, the same station from the other direction in the 1920's. Note the water tower in the background. The structure to the right of the water tower may be a coaling facility. This postcard view referred to the station as a "union station", meaning it served more than one railroad. 3rd photo, the Michigan Central depot at Benton Harbor. The MC had a branch line into St. Joseph from South Bend. It crossed the M's main line at Galien. In 1901 the MC built a short branch line called the Benton Harbor Extension from St. Joseph into Menton Harbor [MRL, page 304]. [Alan Loftis Collection]. Bottom photo, the C&O Benton Harbor Freight House and nearby crossing tower in May, 1977. [Charles Geletzke Jr.]
---
Time Line
1873. The Chicago and Michigan Lake Shore Railroad (later PM) reported to the Michigan Railroad Commission that they had a 316 foot wooden drawbridge over the Paw Paw River at this location. They also had a 300 foot Howe Truss bridge over the Paw Paw River, known as Crossing No. 2 [MCR/1873]
1902. The railroad commission reports that the CCC&St.L station here is in very poor condition. [MCR-1902]
1902. The Big Four builds a new station in Benton Harbor which will be used as a "union" station. [MCR-1903]
1906. A new yard is built here by the PM, 16,000 feet of track. [PMAR-1906]
1908. Improvements. The PM built a new 8-stall roundhouse here. [PMAR-1908]
1911. The MC branch to Galien and South Bend operated two passenger trains each way, daily except Sunday.
1916. The railroad builds a 50' addition on their freight house here. [MCR-1916]
1918. The Big Four had an agent and an operator here on the day shift on their Michigan Division. [TRT]
1920. On the Michigan Central St. Joseph Branch, this location was a passenger, freight and express agency. Interline tickets are issued. F. Fitch is the agent. The telegraph call sign was "BF". [MCOAS]
1942, The PM had a 70' hand operated turntable at Benton Harbor. It was in place as of 1942.