Station: Battle Creek, MI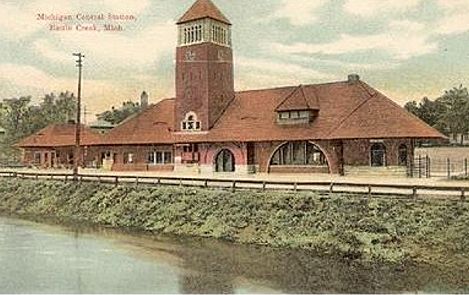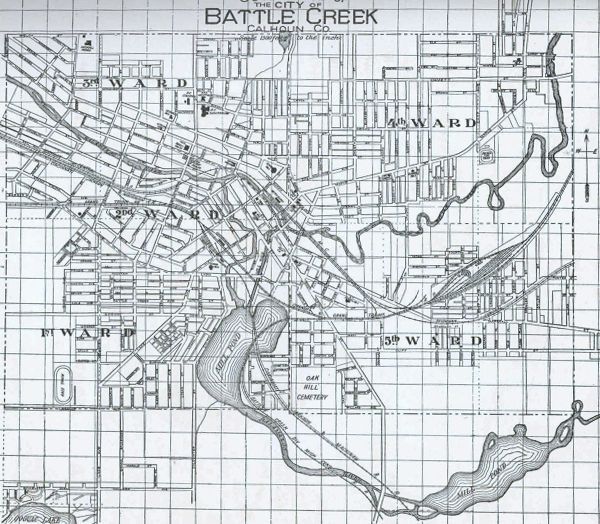 Battle Creek was settled in 1824 and platted as a village in 1836. It is located in western Calhoun County. It became a village in 1850 and a city in 1859. From a railroad perspective, it was the crossing of the Michigan Central's main line between Detroit and Chicago, and later the Grand Trunk Western crossed from northeast to southwest on their line from Port Huron to Chicago. A third railroad known as the Detroit, Toledo & Milwaukee came through here with their line from Allegan southeast to Dundee and through trackage rights to Toledo.
The first railroad to arrive in Battle Creek was the Michigan Central, arriving in 1845. It was extended west towards Kalamazoo in 1846. In 1869, the forerunner to the Grand Trunk Western built northeast towards Charlotte, and southwest towards Chicago the following year. In 1883, the Michigan and Ohio was built from Allegan through town to Dundee. This line went through several ownership and name changes and is most commonly referred to as the DT&M, or Detroit Toledo & Milwaukee. The last steam railroad to arrive in Battle Creek was the Michigan Central branch line to Goshen via Sturgis in 1889. Interurban lines also served the City.
Photo Info: Top, the Michigan Central station in Battle Creek in a postcard view. Bottom map [Charlie Whipp]
---
Time Line
1845. Michigan Central arrives from the east
1846. MC is extended west towards Kalamazoo
1869. The Grand Trunk Western is built to Charlotte.
1870. The GTW is built southwest to Climax, towards Chicago.
1883. The Michigan & Ohio (later DT&M) builds through town
1889. The MC builds a branch south to Sturgis
1920. On the Michigan Central, this is a passenger and freight agency. Interline tickets are issued. R. N. R. Wheeler is the passenger agent. G. A. Sykes is the freight agent. (Mr. Sykes is also the freight agent for Fort Custer). The telegraph call sign is "B". [MCOAS]
---
Industry
Nichols & Shepard Company. Makers of Threshers and Engines. (On GTW)