Location: Sturgeon, MI (Dickenson County)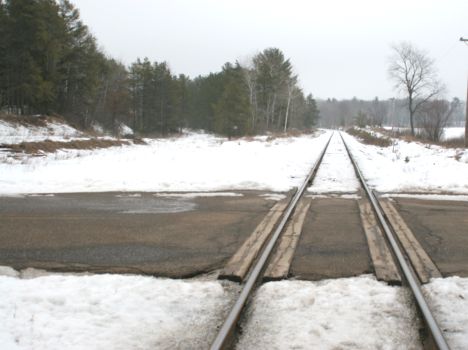 Sturgeon, in Dickenson County, was a location just east of Loretto where two seperate Chicago & Northwestern ore lines came close to each other. A "crossover" was established at this location, allowing loaded ore trains to use either route to Escanaba, and empty trains to use either route to Iron Mountain or Antoine.
Photo info: Top, a 2005 view of the CN Quinnesec subdivision looking east at Sturgeon. The abandoned route to the left (to the northeast) is the right-of-way of the C&NW cutoff to their ore line. Loaded ore trains usually used this line to the Ore Yard at Escanaba. To the right (with tracks) is the C&NW line to Powers and Escanaba. Empty ore trains came up this line which didn't have as many elevations as the nearby ore line. [Dale Berry]
---
Notes
---
Time Line
1903. The foundation work of the W. & M. bridge over the Sturgeon river, including the driving of the wing piles, has been completed; seventy-five piles being used. The superstructure will consist of a 125 foot Howe truss of modern design, and the timber used will be Washington fir. The bridge is designed to carry a 150-ton locomotive followed by a train, weighing 5,000 pounds per lineal foot.
Grading on the W. & M. has been resumed and contractor Marsch has nearly 100 men at work along the line. It is expected that the track laying crew will commence work in about three weeks. The Sturgeon bridge will be ready very shortly and the promise of the officials that there will be trains running into the city by the first of July will undoubtedly be made good. [CUR-1903-0418]
1918. The C&NW had an agent operator here on the day and afternoon shifts. [TRT]
Bibliography
The following sources are utilized in this website. [SOURCE-YEAR-MMDD-PG]:
[AAB| = All Aboard!, by Willis Dunbar, Eerdmans Publishing, Grand Rapids ©1969.
[AAN] = Alpena Argus newspaper.
[AARQJ] = American Association of Railroads Quiz Jr. pamphlet. © 1956
[AATHA] = Ann Arbor Railroad Technical and Historical Association newsletter "The Double A"
[AB] = Information provided at Michigan History Conference from Andrew Bailey, Port Huron, MI