Station: Channing, MI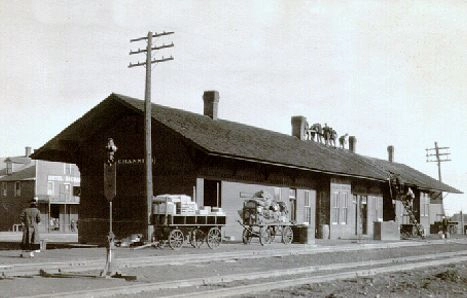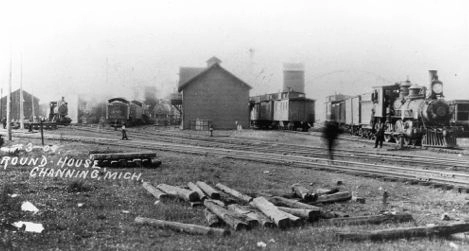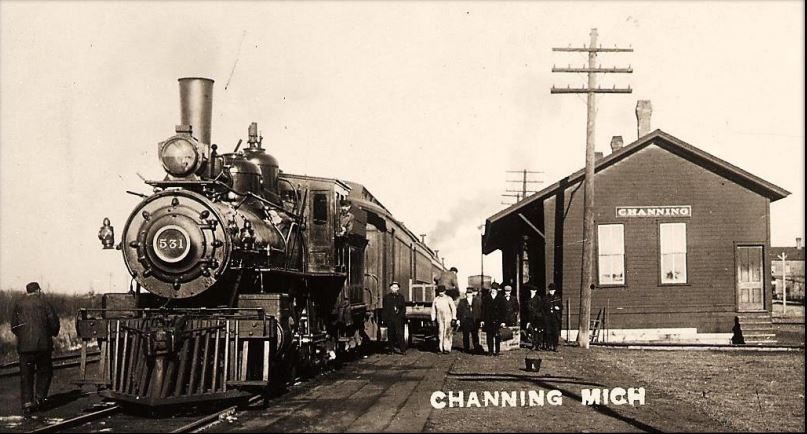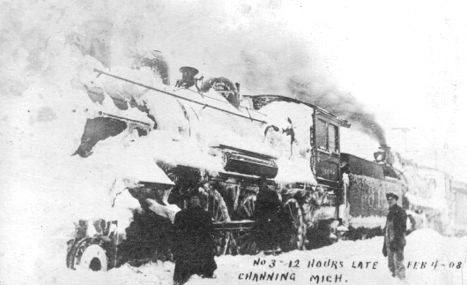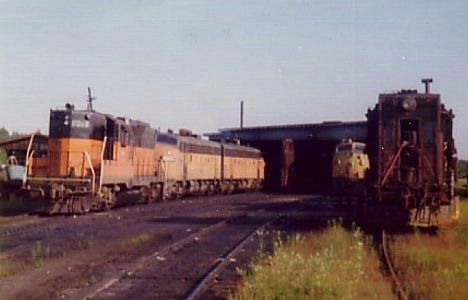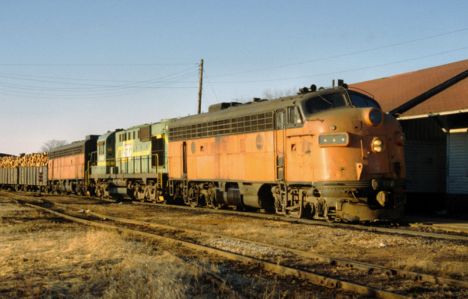 Channing is a village in northwest Dickenson County, and is a junction between two Escanaba & Lake Superior railroad lines. The town was settled in 1892 as Ford Siding, and changed to Channing when the post office was established in 1892.
The Milwaukee Road came through on their line from Iron Mountain to Champion. They established a branch line from here to Ontonagon, known as the "O&B" in 1894. Later, this branch served a second branch to Crystal Falls and Iron River. In 1900, the Escanaba & Lake Superior built there main line from here to Wells (near Escanaba). The E&LS line was used for about forty years with through trackage rights by the Milwaukee Road to reach their iron ore dock in the Wells area until a pooling arrangement was reached with the C&NW moving this traffic to other routes.
Photo Info: The Milwaukee Road station at Channing. Why is everyone on the roof? 2nd photo, the MILW engin house and yard at Channing. [Both, Greg Bunce Collection] 3rd photo, a CMStP&P southbound train at Channing loading passengers. [Dickenson County Library]. 4th photo, train No. 35 in a snow storm at Channing in 1908. [Mark Worrall Collection]. 5th photo, Milwaukee Road locomotives at the engine house in Channing in 1974. [Larry Gibson. 6th photo, MILW engines, along with a LS&I locomotie power an E&LS train at Channing, 1930. [Neil Plagens]
---
Notes
The Milwaukee Road had a water tower which was located on the east leg of the wye with the standpipe at the wye. The coal dock was next to it. [GB]
The Channing Depot and Roundhouse (Milwaukee Road) was built in 1888. [UPM]
The branch to Crystal Falls and Iron River was removed in 1969. The O&B route remains but has been truncated at Rockland. The E&LS line east continues to exist but does not serve customers. It holds storage cars for the E&LS at various locations.
The depot at Channing continues to exist and is used by the E&LS for dispatching its lines in Michigan and Wisconsin. They also have a yard here.
---
Time Line
1893. Agent Tamlin, of the St. Paul road, and a gentleman from Ontonagon have arranged to erect hotels at the above place. The round-house, which was destroyed by fire recently, is to be rebuilt at once. [RTR=1903-0819]
1896. August. One of the section men working on the C. M. & St. P. at Channing, named John Poronto, was killed at Channing by lightning Tuesday afternoon while engaged in lighting the switch lamps near the station. When found he was lying beside the track, his hair was singed and marks of the fatal stroke were upon his body. He leaves two families of children -- four grown up sons and a young wife and two small children. His remains were taken down on the C. M. & St. P. Wednesday evening to Coleman for interment. [RTR-1896-0808]
1902. The MILW makes extensive changes in the yard here, and builds a new machine shop. They also build an addition on the company's eating house at a cost of $2,800. [MCR-1902]
1911. January 21. Switchman badly injured. W. H. Orr a switchman in the employee of the St. Paul road at Channing was badly injured this morning while at work in the yards. He was helping to switch a café car of the Copper Range railroad the Miscowaubik, and was standing on the steps. He failed to notice a number of cars on the side track and as the café car passed them, he was struck and thrown under the wheels of the Miscowaukik. His right leg was cut off. A special train hurried him to a hospital at Iron Mountain. It is said his condition is serious and that he may not survive. Orr is a married man and lives at Channing. [CN-1911-0121]
1918. MILW had a station agent and operator here on the day shift, in addition to the dispatcher. [TRT]
1922 - August 15. STATE POLICE SENT TO CHANNING. Lansing, Aug. 15--A small detachment of state police, from the police pose at Negaunee, was ordered to Channing by Governor Groesbeck, last night. One man was reported wounded in disorders in connection with the railroad strike in Channing, Sunday. [Jackson Citizen Patriot, August 15, 1922]
1926. September 18. The CMStP&P lets a contract for a pumping station and other buildings at Channing. [RR]
Bibliography
The following sources are utilized in this website. [SOURCE-YEAR-MMDD-PG]:
[AAB| = All Aboard!, by Willis Dunbar, Eerdmans Publishing, Grand Rapids ©1969.
[AAN] = Alpena Argus newspaper.
[AARQJ] = American Association of Railroads Quiz Jr. pamphlet. © 1956
[AATHA] = Ann Arbor Railroad Technical and Historical Association newsletter "The Double A"
[AB] = Information provided at Michigan History Conference from Andrew Bailey, Port Huron, MI