Station: Sagola, MI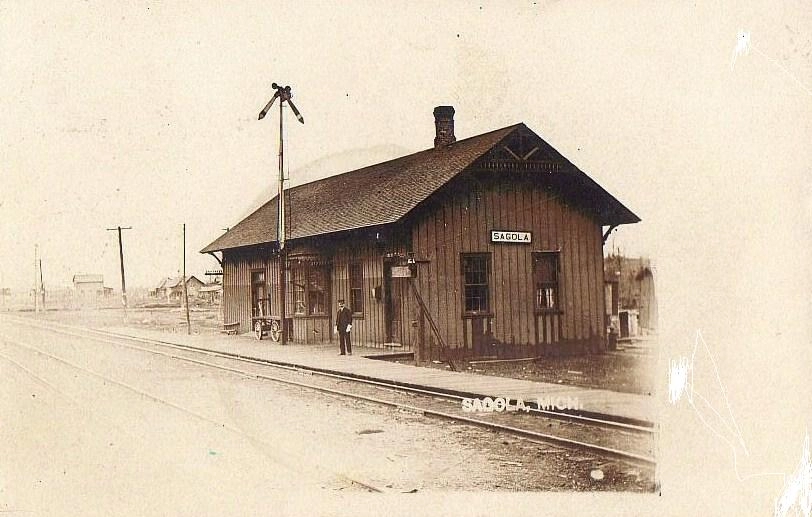 Sagola was a station on the Milwaukee Road railroad between Iron Mountain and Channing in Dickenson County. It is about five miles south of Channing.
The town was settled by the Sagola Lumber Company. Today, the Louisiana Pacific Corporation has a paper plant south of here, which receives rail service from the Escanaba & Lake Superior railroad.
Photo Info: The MILW depot at Sagola, in 1912.
---
Notes
---
Time Line
1890. The Laing Lumber Company mill is now cutting from 60,000 to 80,000 feet of lumber every 24 hours. The mill is provided with one band saw, a ten block shingle saw, lath making machinery and planing mill. The company owns about 15 million feet of pine tributary and there is plenty more available. The logs are hauled to the mill over the company's own railroad, a narrow gauge, three miles in length. To reach Sagola from Crystal Falls, one must first go to Iron Mountain and from there to the little town of an Indian name. The journey is about 8 1/2 hours. [DD-1890-0830]
1918. MILW had a station agent here on the day shift. [TRT]
Bibliography
The following sources are utilized in this website. [SOURCE-YEAR-MMDD-PG]:
[AAB| = All Aboard!, by Willis Dunbar, Eerdmans Publishing, Grand Rapids ©1969.
[AAN] = Alpena Argus newspaper.
[AARQJ] = American Association of Railroads Quiz Jr. pamphlet. © 1956
[AATHA] = Ann Arbor Railroad Technical and Historical Association newsletter "The Double A"
[AB] = Information provided at Michigan History Conference from Andrew Bailey, Port Huron, MI