Location: Traverse City, MI - PM Facilities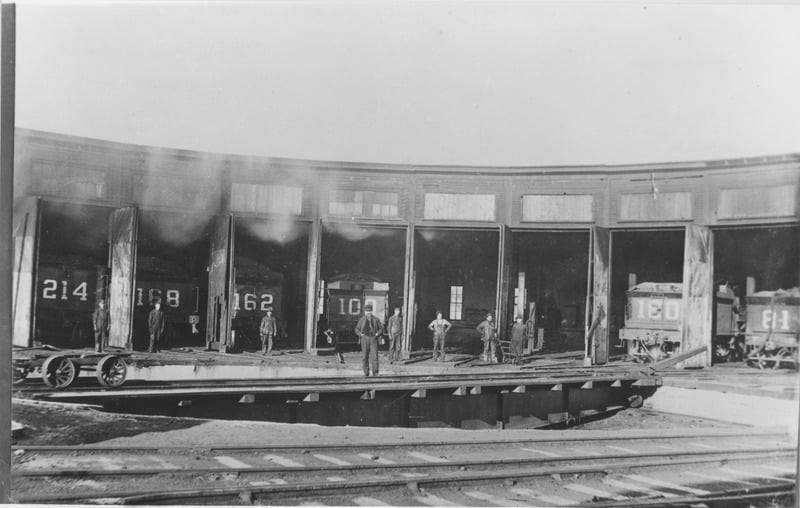 Traverse City was a significant terminal for the Pere Marquette railroad. The city was also an interchange point for the Manistee & Northeastern and the Grand Rapids & Indiana.
The PM had station and freight facilities here, as well as Boardman Yard (southwest side) and a siding to the Traverse City state hospital which received coal for heating and electricity which connected near Boardman Yard.
Photo Info: This is a photo of the Pere Marquette roundhouse from about 1913. [Traverse City Historical Society photo]
---
Notes
---
Time Line
1902. The PM builds a new coaling station at Traverse City [MCR-1903]
1908. The PM built a new 17-stall roundhouse and machine shop here. [PMAR-1908]
1942. The PM had a 65' electrically operated turntable at Traverse City as of 1942.
Bibliography
The following sources are utilized in this website. [SOURCE-YEAR-MMDD-PG]:
[AAB| = All Aboard!, by Willis Dunbar, Eerdmans Publishing, Grand Rapids ©1969.
[AAN] = Alpena Argus newspaper.
[AARQJ] = American Association of Railroads Quiz Jr. pamphlet. © 1956
[AATHA] = Ann Arbor Railroad Technical and Historical Association newsletter "The Double A"
[AB] = Information provided at Michigan History Conference from Andrew Bailey, Port Huron, MI