Story: Telegraph companies and railroads in Michigan
By Dale J. Berry, all rights reserved.
Railroads were first laid in Michigan about 1836 and all were single track operations with occasional passing sidings in towns along the way. Collisions were not a big problem because most new railroads had few locomotives and they did not run at the same time. At that time, railroads had more to worry about with poor track conditions causing derailments, and snakeheads in the track causing strap iron to spring up and injure or kill passengers. Speeds were low.
As business grew, railroads began to operate bi-directionally and they used schedules - insuring that trains going in opposite directions did not collide. Meeting points were scheduled at various towns along their line. This worked well, except when a train didn't show up at the prescribed time. Engineers and conductors either waited, or they continued on, carefully watching for the delayed train to appear. If that happened, then one train had to back up to the previous station to allow the meeting on a side track.
Keep in mind that there was almost no communications between terminals or stations along the way. These points were connected by horse trail (i.e. pony express) or stage coach trail at best and the town passing tracks were ten miles apart. The postal service, created in 1792, was reliable but very slow, taking days for mail to reach a neighboring town. From the very early days of railroads, it would be 50 years before the telephone was invented and radios were about 100 years in the future. There was simply no way to communicate along a railroad, except by word of mouth.
On the state-owned "Central line" and the subsequent Michigan Central, this lack of communication lasted for 17 years. Then came the telegraph which changed everything.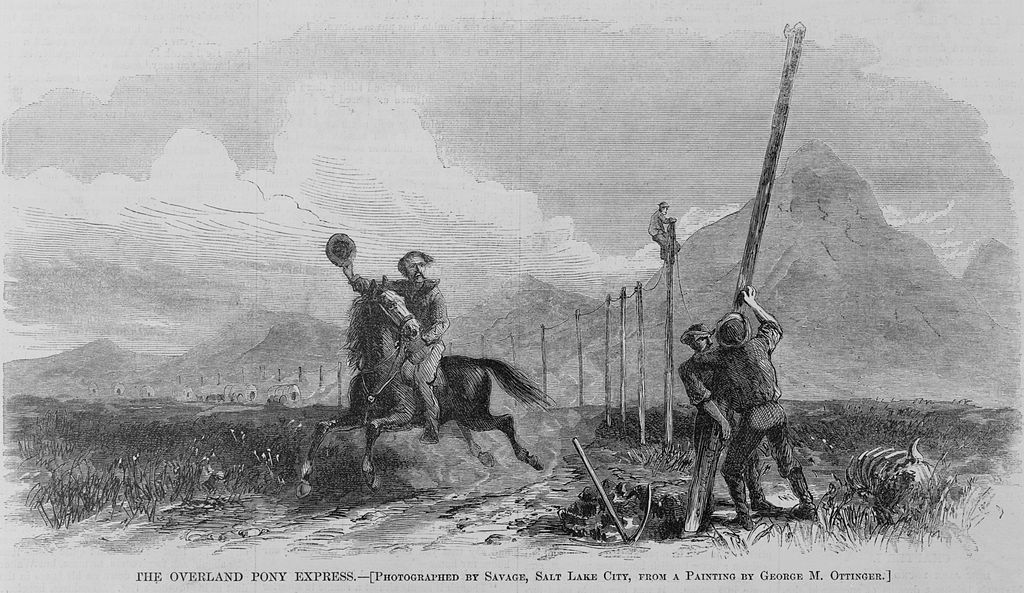 The Morse system, first invented about 1844, was first deployed here on the Michigan Central railroad in 1855. Connected by a single wire on poles along the tracks (using the ground to close the loop), station agents along the line could send other agents information about delays and requests to hold or send trains which were not meeting the schedule. "Blocks" were established and the train "order" was invented. Stations were equipped with signals to hold trains waiting for orders from a dispatcher who was charged with coordinating all of this over the telegraph. Station agents had to quickly learn "Morse Code" and learn all of the official abbreviations which were approved for use by the railroad to shorten each message. An example would be to substitute "C&E" for "Conductor and Engineer".
Commercial telegraph companies rapidly formed throughout the country to provide messaging services between cities and towns. The Associated Press was formed to relay newsworthy stories and stock prices from a central location (i.e. New York) to newspapers throughout America.
Railroads and telegraph companies quickly became dependent on each other. Telegraph companies needed right-of-way for their wires. They also needed a large work force of trained telegraphers in towns along the way. Railroads had these rights-of-way and they had telegraphers in each station. They were ahead in the training of telegraphers for every station in every town they served. They also had locomotives and cars which could assist the telegraph companies in the installation of poles and telegraph wire along their lines.
Railroads needed the telegraph companies for other reasons. By enticing the telegraph companies, the new wire and poles could be installed by the telegraph companies at very little cost to the railroad. Deals were struck.
Railroads provided - rights-of-way for the wire and agents to receive and send messages in every town they served.
Telegraph companies provided - poles, wire, installation and maintenance, property rental and fees paid to the railroad to handle messages in towns which could not afford full-time company telegraphers. Only the largest towns, such as Detroit and Grand Rapids could initially afford telegraph company dedicated offices.
In many cases, this relationship was a hybrid. Some wires were owned by the railroad and rented to the telegraph company. Other railroads exclusively used telegraph company wires along their lines.
On the larger lines, multiple "wires" were run between towns using the same set of poles. The larger railroads might "own" one or two of these lines for railroad business, while the telegraph company might own as many as 10-15 wires. As technology improved, the telegraph inventors created duplexers and the "quadruplexer" which used one wire for four separate messages at the same time.
This partnership between railroad companies and telegraph companies lasted for years, well past the invention of the telephone and into the 1950's. The vast majority of messages carried by telegraph companies were messages between businesses, or messages for the government. Personal messages made up less than 10% of the commercial telegraph business and were not common because of the cost. An individual message might cost the sender $10-$15 per message and in todays dollars that would translate to over one hundred dollars per message. Only the rich had enough money to send a telegram, or a "cable" as it might be known between continents.
One common message sent was by the government to inform a family of the death of their son in the armed forces - often in other parts of the world. To have a telegraph messenger appear at your front door during war time could be a devastating event for a family.
The financing of telegraph companies was similar to the financing of railroads in America. Both started small with local capital or a combination of local and eastern capital. Financial troubles were common and occurred with each business cycle panic. Small railroad and telegraph companies were bought out by larger companies, which became regional and national providers. Stocks were manipulated behind the scenes with almost no government oversight limiting insider trading.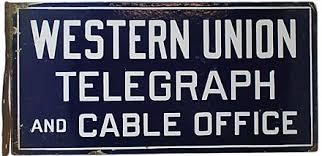 Michigan had a number of telegraph companies in the early days, including the American Union Telegraph Co., the Atlantic & Pacific Telegraph Co., the George W. Barsh & Company (along the MC's Air Line Division), the Montreal Telegraph Company (used along Canadian roads), the Northwestern Telegraph Company (in the upper peninsula), and the large Western Union Telegraph Company.
The largest telegraph company to survive all of this was Western Union (WU). Even as Western Union grew throughout the entire United States, start up companies would compete and then be absorbed by WU, making investors wealthy.
Most transportation historians are aware of the railroad competition by Cornelius Vanderbilt and Jay Gould. Vanderbilt and later his family controlled the New York Central and Harlem River railroad, including the Lake Shore and Michigan Central lines in Michigan and the Canada Southern in Ontario. Gould, at various times, controlled the competing Erie and Wabash railroad lines, the latter which came into Detroit. These factions manipulated stocks to absorb competitors and were ruthless at times.
What is not well understood, is that the Vanderbilt family and Gould also competed in the telegraph business. By 1870, Vanderbilt quietly bought control of the Western Union Telegraph company and Gould simultaneously invested in many of the WU's competitors, driving stock prices up and down, and settling on lucrative buy outs of the smaller lines by Vanderbilt's WU. [WUCO]
During this telegraph competition, the Vanderbilt family controlled railroads in most towns of the populated northeast, as well as in the midwest states of Michigan, Ohio, Indiana and Illinois. The family also owned or controlled the Chicago & North Western (reaching north and west of Chicago, including into Michigan's upper peninsula).
Railroad and telegraph companies existed for almost 100 years, even after the telephone was invented and refined. The Michigan Central, first used telephone to dispatch on their logging and branch lines, continuing with telegraph into the 20th century for sending messages along their main line routes. Installation of telephones on their main lines was established in 1908. Other railroads followed. [TSE-1908-9] Telegraphs improved as well, giving way to automatic "teletype" machines which could send freight train car lists between yards, freight agents, and accounting departments.
In 1879, the Michigan Railroad Commission asked railroads to begin reporting their relationship with telegraph companies. I suspect that the public was interested in having them regulate telegraph rates in Michigan, as rates varied widely as a result of competition and speculation.
Though this never happened, the railroad commission was later assigned duties of regulating telephone companies in the state, a function which ultimately overtook the attention of the commission as it evolved into the Michigan Public Utilities Commission and ultimately becoming the Michigan Public Service Commission in later years.
In 1879, thirty-three companies responded to the Michigan Railroad Commission with information about their relationship with telegraph companies:
Allegan & Southeastern (GR&I) - 11 miles of line owned by railroad company. Others were not noted.
Canada Southern Bridge Company - their lines were owned by Toledo, Canada Southern & Detroit railroad
Chicago & Canada Southern - 67.6 miles of line owned by railroad company
Chicago & Lake Huron - 232 miles owned of line by railroad company
Chicago & Northeastern - None reported
Chicago & North Western - None owned by railroad. 150 miles of line owned by Northwestern Telegraph Co.
Chicago & West Michigan - No lines were owned by railroad. Others not mentioned.
Chicago, Detroit & Canada Grand Trunk - None owned by railroad. Montreal Telegraph Co. operates 59 miles of telegraph lines along their road.
Chicago, Saginaw & Canada - 38 miles of line owned by railroad company. No others reported.
Detroit & Bay City - None owned by railroad. Western Union owns the line on main line and branches.
Detroit, Grand Haven & Milwaukee - None owned by railroad. Western Union owns 189 miles of line (double lines).
Detroit, Hillsdale & Southwestern - None owned by railroad. Western Union owns 65 miles on line along their right-of-way.
Detroit, Lansing & Northern - 197 miles of line owned by railroad. No others mentioned.
Flint & Pere Marquette - None owned by railroad. Western Union owns unspecified lines along railroad,
Fort Wayne & Jackson - None owned by railroad. 100 miles of line owned by Western Union.
Grand Haven - 58 miles of line owned by railroad. Western Union owns 13 miles of line on railroad's poles.
Grand Rapids & Indiana - railroad owns 401 miles of line. Atlantic & Pacific telegraph company owns 49 miles of their own line between Kalamazoo and Grand Rapids.
Grand Rapids, Newaygo & Lake Shore - 46 miles of line owned by railroad. No others noted.
Hecla & Torch Lake - None owned by railroad. No others reported.
Lake Shore & Michigan Southern - 1,973 miles of poles and 1,232 miles of line owned by railroad. 7,068 miles owned by Western Union.
Marquette, Houghton & Ontonagon - 73 miles of line owned by railroad. 63 miles owned by Northwestern Telegraph Co.
Michigan Airline (east) - None owned by railroad. 14 miles of line owned by Western Union telegraph company.
Michigan Central - 410 miles of main line poles owned by railroad. 223 miles of two-wire, and 194 miles of single wire owned by railroad. Western Union owns 6 wires of 223 miles each on main line for 1,338 miles of line. The railroad and Western Union jointly own 232 miles of poles and wires on the JL&S Division to Mackinaw. The George W. Barch & Company owns 104 miles of pole and wire on the Air Line division, 94 miles of line on the Grand Rapids division, and 40 miles of line on the South Haven division.
Michigan, Midland & Canada - None owned. No others reported.
Mineral Range - None owned or noted.
Northwestern Grand Trunk - Lines owned by railroad. Western Union does commercial business over railroad lines.
Pinconning railroad - 7 miles of telegraph owned by railroad. No others noted.
Port Huron & Northwestern - None owned by railroad. No other lines reported.
Saginaw Valley & St. Louis - None owned by railroad. Western Union owns 33 miles of line from Saginaw to St. Louis.
Toledo & Ann Arbor - None owned by railroad. American Union Telegraph Co, owns 46 miles of line.
Toledo, Canada Southern & Detroit (CS) - 55 miles owned by railroad. No others noted.
Toledo & South Haven - None owned by railroad. Western Union owns 9 miles of line.
Traverse City (GR&I) - 26 miles owned by railroad. No other lines reported.
---
Books
For an excellent book on this topic, please read Western Union and the Creation of the American Corporate Order, 1845-1893 by Joshua D. Wolff, ©2013 Cambridge University Press, New York, NY.
Bibliography
The following sources are utilized in this website. [SOURCE-YEAR-MMDD-PG]:
[AAB| = All Aboard!, by Willis Dunbar, Eerdmans Publishing, Grand Rapids ©1969.
[AAN] = Alpena Argus newspaper.
[AARQJ] = American Association of Railroads Quiz Jr. pamphlet. © 1956
[AATHA] = Ann Arbor Railroad Technical and Historical Association newsletter "The Double A"
[AB] = Information provided at Michigan History Conference from Andrew Bailey, Port Huron, MI