Car Ferry: Manistique
---
Railroad: Traverse City. Leelanau & Manistique railroad, then
Built/Acquired: 1903
Crossing: Lake Michigan - Northport to Manistique (then other routes)
End of Service:
Disposition: Sank in Manistique harbor in 190-8. Recovered and sold to Grand Trunk Western railroad; used Muskegon-Milwaukee.
Length:
Type:
---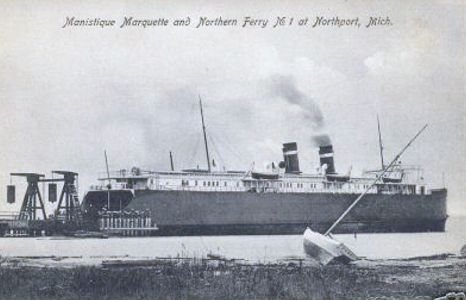 The Manistique was financed by the Traverse City, Leelanau & Manistique railroad for the purpose of shipping railroad cars between Northport (in the Leelanau Peninsula) and Manistique (in the Upper Peninsula).
The car ferry was completed in June, 1903 before the Northport docks were completed. As a result, it was short-term leased to the Ann Arbor railroad which used it between Frankfort and Manistique. In October, 1903, the ferry began service at Northport, a 75-mile trip, three times per week during the summer and less often during the other seasons. Around 1904, the ferry was transferred to a Ludington to Manistique route with the Pere Marquette Steamship Company.
In 1906, the Manistique returned to its Northport to Manistique route which lasted until January, 1908 when the ferry sank in the harbor at Manistique. The ferry was sold to the Grand Trunk Western and moved to Muskegon for service on a Muskegon-Milwaukee route.