Interurban Railways in and near Michigan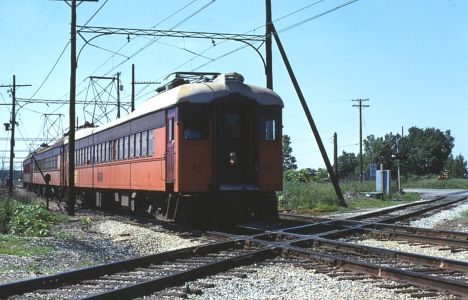 Photo Info/Credit: The South Shore commuter line in the 1970's. [Doug Leffler]
Interurban railroads came to fruition in Michigan after development of electrical transmission over distances and the invention of the electrical traction motor.
Steam railroad passenger tickets were pricy and those intercity trains did not stop at every local town or road along the line. Interurban railroads were able to lay lightweight rails along roadways and they stopped at most towns and crossings (except for 'limited' trains).
Interurban trains were typically very low cost. Instead of costly block station operators along the line, the engineman called in for orders at trackside telephone booths. Few of these railroads installed automatic block signal protection, even though they had a very high rate of head-on accidents.
Many interurban railroads were independents which over the years were ultimately consolidated into a handful of large railroads (or trusts). Most were bankrupt and gone by the 1930's. Detroit took over its street railroads by the 1920's.
At least one line, the Chicago, South Shore & Sound Bend was built by 1908 and lasted until 1989 when it was taken over by the Northern Indiana Commuter Transportation District. It is still known as the "South Shore Line" and operates from South Bend to Chicago via Michigan City, Indiana.