Railroad: Escanaba Electric Street Railway Company, The
---
Built → Escanaba Electric Street Railway → Escanaba Traction
---
Built: 1892
Operated for 17 years.
Became: Escanaba Traction in 1909.
Reference: [MRRC]
---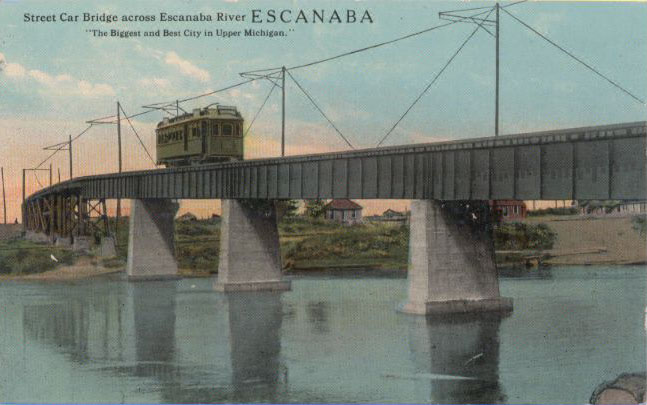 Photo info: A postcard view of the Escanaba Electric Street railway crossing the Escanaba River, in a postcard view. This substantial bridge, noted to be the biggest and best bridge in Upper Michigan, suggests that the road was well built for the era.
Notes
This was an electric railroad which was initially built from Escanaba to Wells. Horses were kept available as standby power in the early days before electric power ad reached a dependable status.
---
Time Line
1909. The company was reorganized as Escanaba Traction.
Bibliography
The following sources are utilized in this website. [SOURCE-YEAR-MMDD-PG]:
[AAB| = All Aboard!, by Willis Dunbar, Eerdmans Publishing, Grand Rapids ©1969.
[AAN] = Alpena Argus newspaper.
[AARQJ] = American Association of Railroads Quiz Jr. pamphlet. © 1956
[AATHA] = Ann Arbor Railroad Technical and Historical Association newsletter "The Double A"
[AB] = Information provided at Michigan History Conference from Andrew Bailey, Port Huron, MI