Railroad: Escanaba Traction Company
The Escanaba Traction Company was organized in 1909 to operate existing traction lines from Escanaba north, reaching Gladstone in 1911. This line was abandoned in 1932. MRL]
---
Escanaba Electric Street Railway. → Escanaba Traction Co. → Operations Ended
---
Reorganized: EES Ry. in 1909.
Operated for 23 years.
Became: Ended in 1932.
Reference: [MRRC]
---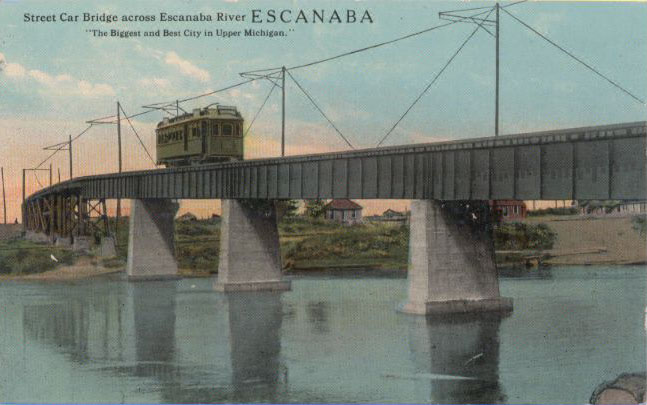 Notes
This was an electric railroad which was initially built from Escanaba to Wells. Horses were kept available as standby power in the early days before electric power ad reached a dependable status.
The greatest source of revenue from the Gladstone line was bringing workers to a chemical extract plant.
---
Time Line
1911. A branch of nine miles was built from Wells to Gladstone with a trestle over the Escanaba River.
1932. The company had lost most of its traffic to automobiles. When the franchise expired in 1932, the company closed operations.
Bibliography
The following sources are utilized in this website. [SOURCE-YEAR-MMDD-PG]:
[AAB| = All Aboard!, by Willis Dunbar, Eerdmans Publishing, Grand Rapids ©1969.
[AAN] = Alpena Argus newspaper.
[AARQJ] = American Association of Railroads Quiz Jr. pamphlet. © 1956
[AATHA] = Ann Arbor Railroad Technical and Historical Association newsletter "The Double A"
[AB] = Information provided at Michigan History Conference from Andrew Bailey, Port Huron, MI