Railroad: Pennsylvania Railroad Company, The
The Pennsylvania Railroad was established in 1846 and was one of the major railroad corporations in the eastern United States. It became known as "The Standard Railroad of the World" though by its end it was rather behind the standard both operationally and financially.
---
Various → Pennsylvania Railroad → Penn Central

---
Operated in Michigan: 100 years.
Incorporated: 1847
Control: 1868 - Grand Rapids & Indiana
Operated in Michigan for 100 years, including as the GR&I which it controlled.
Control: 1917 - Pennsylvania-Detroit railroad.
Merged: 1968 - into Pennsylvania New York Central Transportation Company. ( Penn Central)
Reference: [MRRC]
---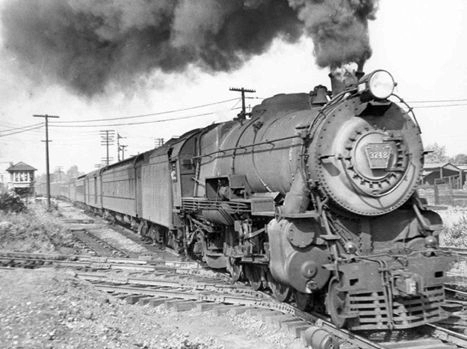 Pennsylvania Red Arrow passenger train approaches Detroit, passing Delray Tower and on to the Union Belt and Fort Street Union Depot, in the 1940's. [E.L. Novack photo, Charlie Whipp collection].
---
Notes
By 1868, the railroad controlled the Grand Rapids & Indiana railroad from Fort Wayne, Indiana into Michigan and ultimately to Mackinaw City. Around 1900, it began operating into Michigan through trackage rights and then in 1922 built its own line from Carleton to Detroit, and using Pere Marquette trackage rights between Alexis (OH) to Carleton. The railroad was also a partner in the Union Belt of Detroit, a joint terminal venture/railroad. The Pennsylvania joined Penn Central in 1968 which went bankrupt in 1970. It later became part of Conrail, and was broken up into segments into Norfolk Southern and CSX.
---
Time Line
1925. An injunction formerly brought by the Detroit Terminal railroad was dissolved allowing the PRR to complete construction of its new line from Toledo into Detroit. [HPAL-1925-0310]
1945. The Pennsylvania begins using two-unit diesels for the "Red Arrow" in Detroit. [MRF-1945-10]
1963. The Mackinac Transportation company has asked the ICC for permission to abandon its railroad car ferry service at the Straits because it cannot afford to repair its ferry. John Benson, of the Soo Line railroad which owns the company, said that the Coast Guard has condemned the boiler of the Chief and that repairs would cost more than a half million dollars. "It would take us a long time to recover that much money on our present revenues," said Benson. The Chief is an icebreaker and has maintained daily service across the Straits, serving the Soo Line terminal at St. Ignace and the Pennsylvania and New York Central railroad terminals at Mackinaw City. Benson added that the loss was inevitable with the building of the Mackinaw Bridge. "We have ben hurt real bad by bridge trucking", said Benson. [EDP-1963-1126]
1964. The Pennsylvania railroad would rather route traffic for the U.P. through Chicago, instead of up the former GR&I to Mackinaw City. [TCRE-1964-0923]
1965. October 1. ICC hearing Examiner Hyman J. BLond ruled that the lines could not abandon the service. The railroads vowed to appeal the ruling to the ICC's finance division. [TCRE-1965-1201]