Railroad: Conrail - Consolidated Rail Corporation
The Consolidated Rail Corporation, known as Conrail, was created by the United States Government in 1976 to acquire parts of the Penn Central, a failed railroad merger of the New York Central and Pennsylvania railroads. Conrail held many rail lines in Michigan as well as in the northeastern portion of the United States.
In 1997, Conrail was sold to CSX and Norfolk Southern and split up between the two parties. Conrail, which is now owned jointly by both roads, retained operations in metro Detroit as well as New Jersey to be operated seperately.
---
Penn Central Co. → Conrail → (part to) Norfolk Southern and CSX Transportation
---
Acquired: Part of the Penn Central in 1976.
Operated for 46 years, continues.
Became: Still exists as a terminal railroad in Detroit and NJ. Other parts to CSX, NS and the State of Michigan.
Reference: [MRRC]
---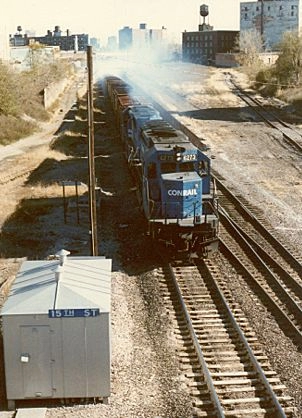 Photo Image: Conrail 6273 emerges westbound from the Detroit-Windsor Tunnel with train in the 1980's. [Dale Berry photo]
---
Notes
---
Time Line