Railroad: Penn Central Company
The Penn Central was created in 1968 by the merger of the Pennsylvania and New York Central railroads. It operated dozens of lines in the lower peninsula of Michigan. It quickly fell into financial trouble and entered bankruptcy in 1970. In 1976, the U.S. government transitioned Penn Central to successor Consolidated Rail Corporation ( Conrail), and many lines in Michigan were abandoned, purchased by the State of Michigan or others.
---
Various→ Penn Central → Conrail (Consolidated Rail Corp.)
---
Renamed: 1968 - Pennsylvania New York Central Transportation Company.
Operated: 8 Years
Conveyed: 1969 - rail operations to Penn Central Transportation Company.
Bankruptcy: 1970 - declared.
Conveyed to: 1976 - to Conrail
Reference: [MRRC]
---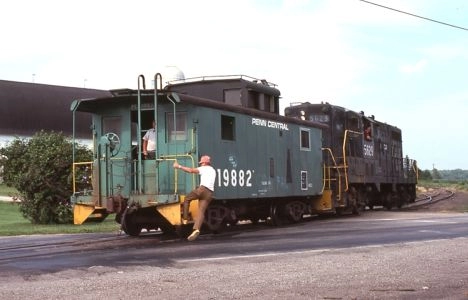 Photo Info: Conrail's Clinton Local is photographed at Lenawee Junction in 1977, shortly after the reorganization by Penn Central. [Doug Leffler photo]
---
Notes
---
Time Line
1968. The Penn Central was created through the merger of the New York Central and Pennsylvania railroads.
1970. The PC declares bankruptcy.
1976. The lines of the Penn Central were conveyed by Congress to the Consolidated Rail Corporation, known as Conrail. Other lines were included.