Station: Traverse City, MI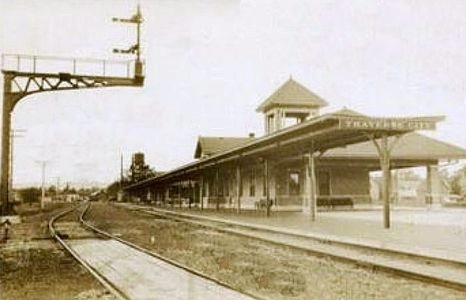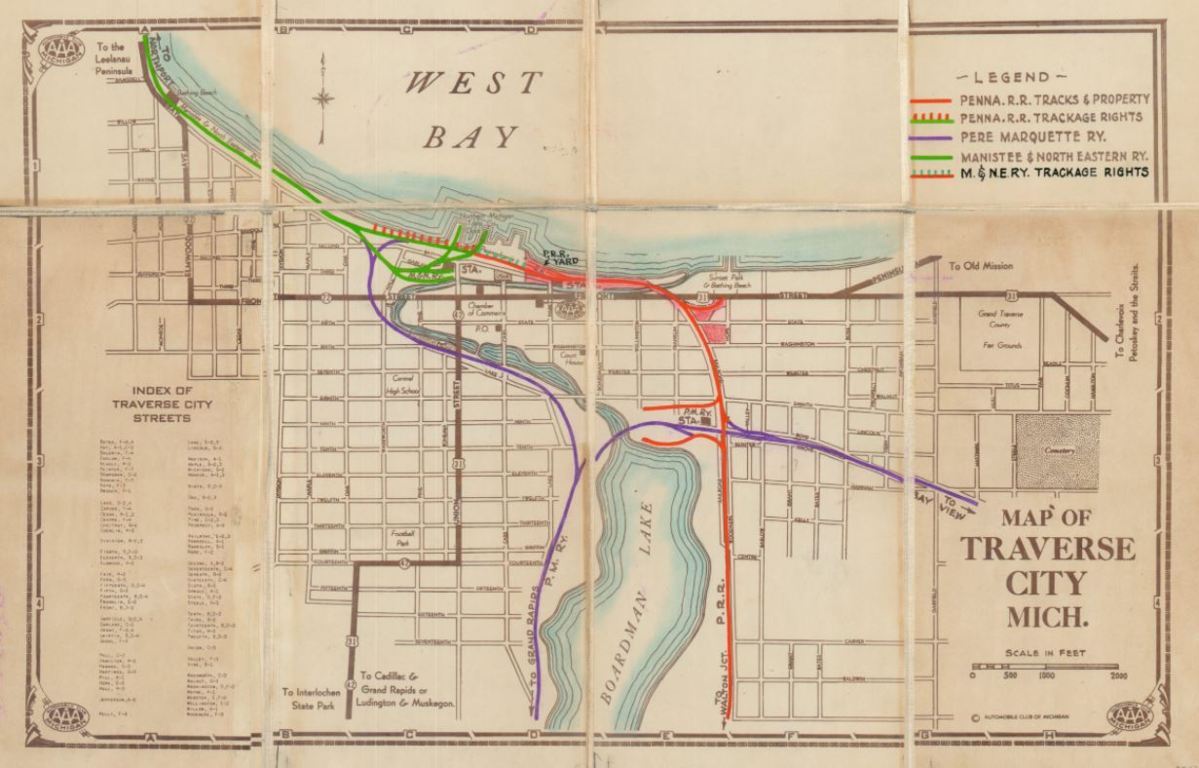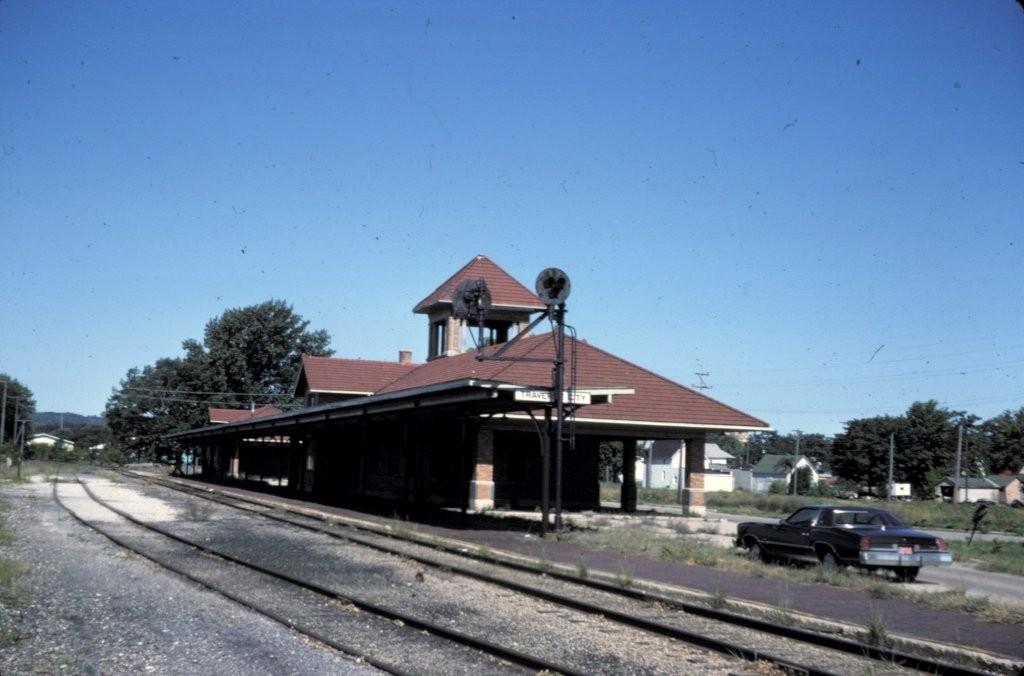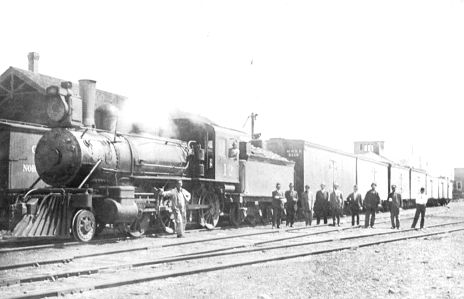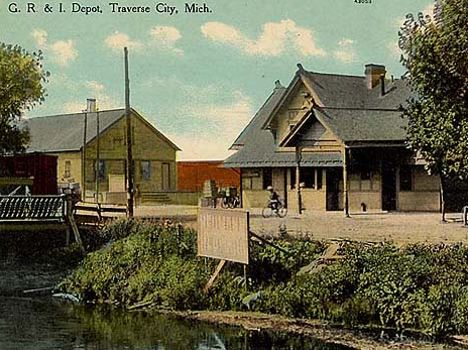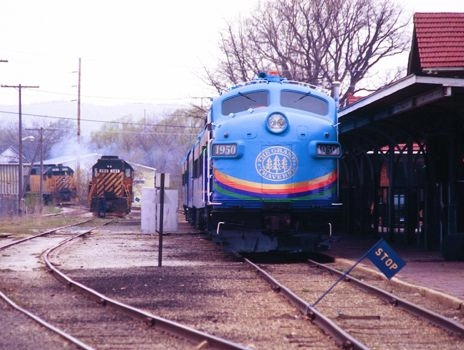 Traverse City was settled early by French explorers. The first white settlers arrived in 1847 and were loggers. The town settled first in 1851. It was incorporated as a village in 1881 and a city in 1895. [MPN]
Traverse City was served by three railroads. The Grand Rapids & Indiana (later PRR) came up from Grand Rapids via Walton Junction and terminated along the lake. The Chicago & West Michigan (later Pere Marquette and C&O) came up from Grand Rapids via Baldwin and then headed east and north to Elk Rapids and Petoskey. A third railroad line north from Traverse City into Leelanau County operated under various owners over the years, but most notably as the Manistee & Northeastern.
Photo Info: Top, the Pere Marquette Traverse City depot. Note the cantilevered signal tower, which protects the Pennsylvania railroad interlocked crossing just to the rear of the photographer. [Alan Loftis collection], 2nd photo, a map of downtown Traverse City noting railroad lines. 3rd photo, a 1976 view of the depot. Note the searchlight signal in front, possibly used as a train order signal or an approach to Kerry Tower crossing just east of the depot. [Charles Geletzke Jr. photo]. 4th photo, a Manistee & Northeastern mixed train at the PM depot in 1909. [Charles Showalter collection], 5th photo, a postcard view of the Grand Rapids & Indiana Traverse City depot [Alan Loftis collection], and 6th photo, the Grand Traverse Dinner Train which is being served in front of the former PM depot in 1996. TSBY units work the yard/industry just west of the depot. [Mark Andersen]
---
Notes
The PM depot shown on this page is the second PM depot. The first was south of the Boardman river at Sixth and Union Streets. [SBM-1890]
Traverse City had a interlocking tower fitting of some in the big cities, at the crossing of the GR&I and PM. It was called Kerry and it was located just east of the PM depot. The tower was later removed and replaced by gates.
---
Time Line
1909. As a result of the war raging between the commission fruit men and the Pere Marquette road on one side, and the steamboat line and the Manistee & Northeastern railroad on the other, a pile driver sank two big hemlock ties between the rails of a PM spur near the dock, and fruit coming in by boat has to be carried nearly a block to reach the cars. [AR-1909-0722]
1919. August 20. A head on collision of two trains at Betner, 4 miles south of Traverse City kills 6 and injures 37. ICC Report [PDF]
---
Industry
Oval Wood Dish Co. (xxxx ← 1906 → xxxx) - has two engines and 10 clothespin machines. [AML-1/6/1906]
Bibliography
The following sources are utilized in this website. [SOURCE-YEAR-MMDD-PG]:
[AAB| = All Aboard!, by Willis Dunbar, Eerdmans Publishing, Grand Rapids ©1969.
[AAN] = Alpena Argus newspaper.
[AARQJ] = American Association of Railroads Quiz Jr. pamphlet. © 1956
[AATHA] = Ann Arbor Railroad Technical and Historical Association newsletter "The Double A"
[AB] = Information provided at Michigan History Conference from Andrew Bailey, Port Huron, MI