Vanderbilt, MI - MC Coaling facility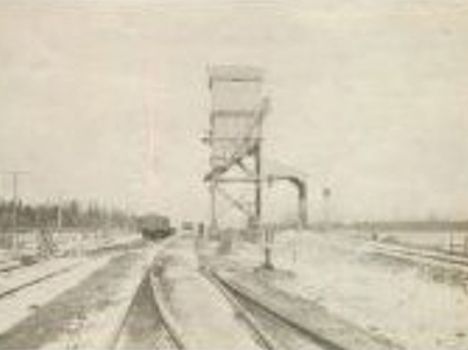 The Michigan Central provided coal to its locomotives on their long route to and from Mackinaw City, Michigan from Bay City. A helper unit was also reportedly stationed nearby to assist trains over hilly terrain.
Though no details are known, this was a very intimidating structure for northern Michigan.
It had a loading track at the right. The dock is gone and the entire area is forested now.
Bibliography
The following sources are utilized in this website. [SOURCE-YEAR-MMDD-PG]:
[AAB| = All Aboard!, by Willis Dunbar, Eerdmans Publishing, Grand Rapids ©1969.
[AAN] = Alpena Argus newspaper.
[AARQJ] = American Association of Railroads Quiz Jr. pamphlet. © 1956
[AATHA] = Ann Arbor Railroad Technical and Historical Association newsletter "The Double A"
[AB] = Information provided at Michigan History Conference from Andrew Bailey, Port Huron, MI