Station: Russell, MI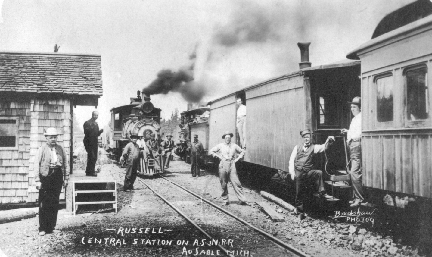 The town of Russell, in Alcona county was created by the narrow gauge Au Sable and Northwestern Railroad, which was a logging railroad in northeastern Michigan.
The AS&NW's base location was on the Au Sable River at Potts, and the route went northeast into the woods, originally to this lumber village. After cutting and dragging lumber on skids to the rail, the lumber was loaded and brought down the AS&NW to Potts, where it was dropped into the Au Sable River and floated to the lumber mills in the towns of Au Sable and Oscoda on Lake Huron.
Photo Info: An early view of the AS&NW narrow gauge line at Russell. It appears that two trains are passing here. On the right is a mixed train taking on passengers and express at the makeshift depot. At left is a single engine or short logging train. The station agent is on the raised platform in front of the station. Around 1900.