Location: Jackson, MI - M.A.L. Crossing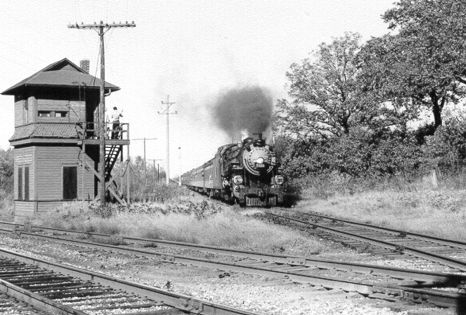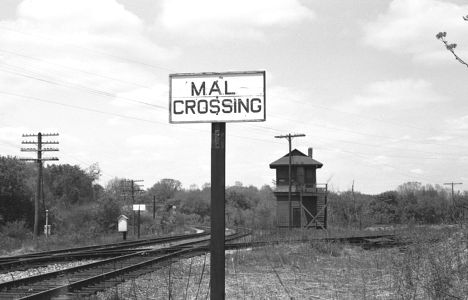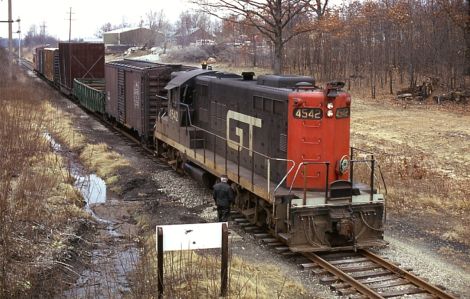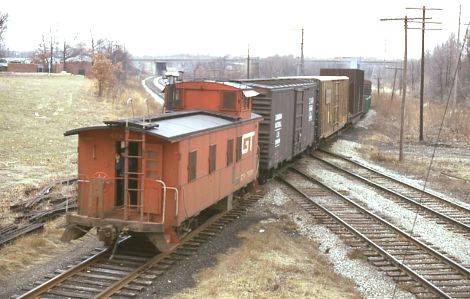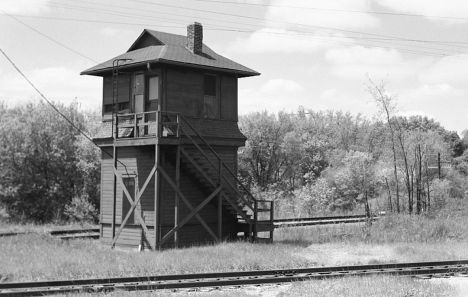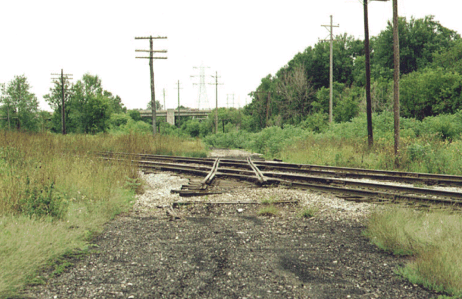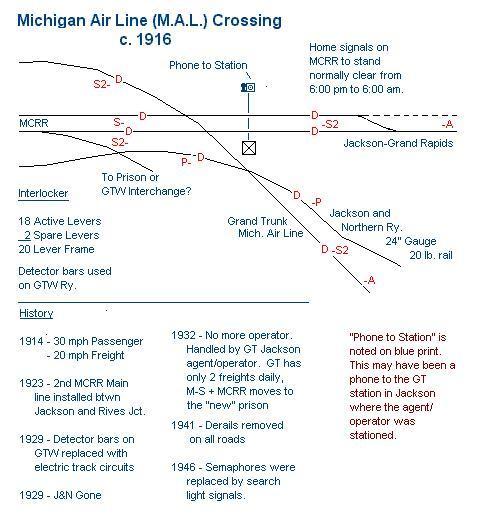 M.A.L. Crossing (known as MC crossing on the GTW) was just north of Jackson. An interlocking tower was here to control the MC Grand Rapids/Saginaw branches and the GTW Jackson Branch. The crossing also controlled the Jackson & Northern industrial line which crossed the GTW here. An interurban bridge crossed the MC tracks here but did not cross at grade.
The Michigan Air Line railroad was the original owner of the right-of-way of this branch line which was intended to go from Niles to Pontiac via Jackson. Before the south end was finished, that portion was sold to the Michigan Central. The north section north and east of Jackson was sold to the Grand Trunk Western. The GTW referred to this crossing as Michigan Central crossing, or " MC" crossing. The Michigan Central called it Michigan Air Line Crossing.
The tower was probably staffed initially, but it was operated for years by the station agent at Jackson, who would drive up the road and throw the signals for the GTW train and then return them to the MC and close up. At other times, the train crew would line up the route in the tower. This tower was just north of the I-94 overpass and you could see the northbound signals and the tower from the freeway.
Photo Info: Top, the interlocking tower at M.A.L. Junction just north of Jackson. The steam powered passenger train is heading south towards downtown on the GTW and is a Michigan Railroad Club excursion on October 19, 1968. [Doug Leffler collection]. 2nd photo, another view of the crossing looking north. [Doug Leffler]. 3rd photo, GTW 4542 west stops for instructions at the tower before heading into Jackson. 4th photo, the caboose brings up the rear of the short train, 1974. [Both, Doug Leffler]. 5th photo, the tower in 1963, at the time boarded up but still in use. 6th photo, a view of the crossing shortly after the GTW was pulled up. September, 1975. [Jim Sinclair]. 7th photo/map, a drawing of the Michigan Air Line Crossing, c. 1916 taken from blueprints in the State of Michigan Archives. [Dale Berry]
---
From its installation around 1878 until it was upgraded around 1915, M.A.L. crossing had an early mechanical interlocking which used five wheels and wires to control locks, derails and signals. It was installed by the Union Switch & Signal company and was said to be one of the earliest examples of a tower interlocking in the United States.
To view a 1914 article from The Signal Engineer about this interlocking, click here.
---
Time Line
1914. The GTW installed a 24-lever mechanical interlocking plant in the tower here. [TSE-1/1915]. Railway Review says that the new plant was 20 levers, with 18 working. [RR-1915-0102]
1923, The MPSC allows changes in the interlocking to allow for a second main track on the MC. [MPSC-1923]