Station:  Malta Tower, Lowell, MI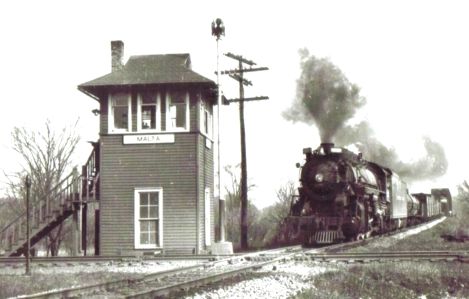 Malta interlocking tower was located on the south edge of Lowell in Kent County. It was a crossing of the north-south Pere Marquette branch from Elmdale to Saginaw and the east-west branch of the Grand Trunk Western. 
Doug Hefty, an operator and dispatcher for the C&O in the 1970's wrote on 12/22/2005:  After the tower at Malta was closed, it became an automatic interlocking.  There were approach signals (normally yellow, or "approach") before the crossing, and absolute signals (normally red, or "stop") at the crossing.  The approach signals were not merely distant signals, but actually showed block occupancy to the diamond, so ABS (automatic block signal) rules applied from the approach to the diamond.  The automatic interlocking system was first come, first served.  For example, as a C&O train came up to the approach signal, if the GTW was not occupying the interlocking or approaching, the signals would clear for the C&O movement.  If for some reason there was a stop signal at the diamond and nothing on the GTW, there was an emergency release in the box at the crossing to be operated by the train crew.  If that also failed, they could flag across the diamond.  No permission from the dispatcher was necessary because it wasn't a controlled crossing and the rules in effect beyond the signal allowed for movement on their train order authority.  (Note:  If it were CTC, the train crew would have first had to get authority from the dispatcher to pass the stop indication, and then comply with any special instructions for emergency release and flagging the diamond. In CTC, the dispatcher actually controls movements on BOTH lines.  Flagging is not necessary).
Photo Info/Credit: The interlocking tower at Malta, south of Lowell, MI. [Jack Simmons collection]