Station: Lapeer, MI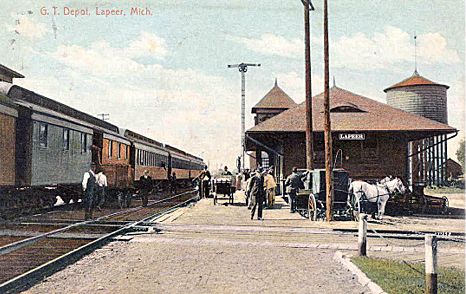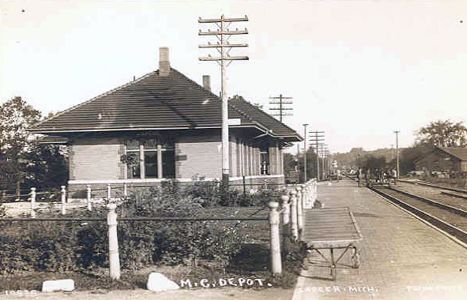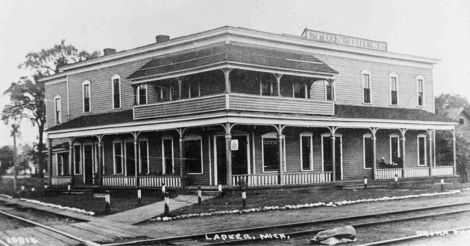 The City of Lapeer is the county seat for Lapeer County. Lapeer was settled in 1831 and became a village in 1858 and a city in 1869 [MPN].
Lapeer was the location of the crossing of the Michigan Central's line from Detroit to Bay City, and the Grand Trunk Western's main line from Port Huron to Flint. These lines crossed at Lapeer Jct. The Lapeer House was also located at Lapeer Junction. In the early years, the hotel served passengers of both railroads, with both food and lodging.
The Grand Trunk came to Lapeer first, in December, 1871, followed by the Detroit & Bay City in November, 1872. The latter route became the Michigan Central and later the New York Central and Penn Central. The MC also had a branch line to North Branch (called the Lapeer & Northern) which was built in 1872.
The Lapeer & Northern branch, mostly used for logging, was removed in 1883, and the Penn Central line was removed in 1976, except for a short branch south to an elevator which is operated by the Lapeer Industrial Railway, a part of the Adrian and Blissfield railroad group. The GTW line remains today as an active main line that also has daily Amtrak service. It is now under Canadian National ownership.
Photo Info/Credit: Top, a postcard view of the Grand Trunk Western depot. Note the Michigan Central tracks crossing in the foreground of the photo. [Charlie Whipp collection]. 2nd photo, the Michigan Central depot in the 1930's. 3rd photo, the Lapeer Junction House Motel, which was located at the crossing of the GTW and the MC. [Charlie Whipp collection]
---
Timeline:
1917, The MC had an agent-operator at the depot here around-the-clock. [TRT]
1918. The Grand Trunk had an agent here during the day and an operator around the clock. [TRT]