Station: Cement City, MI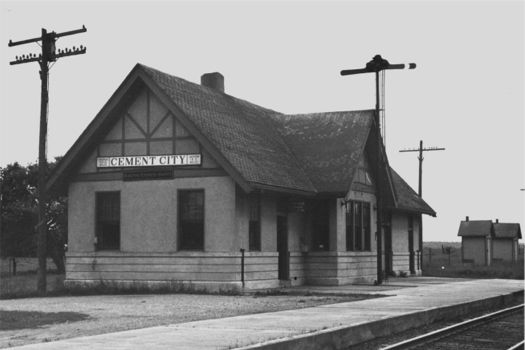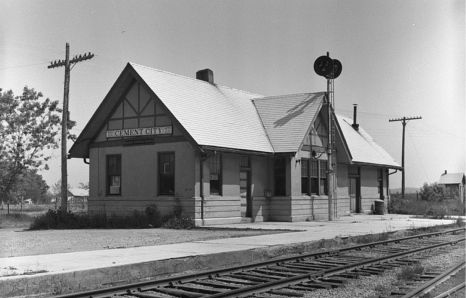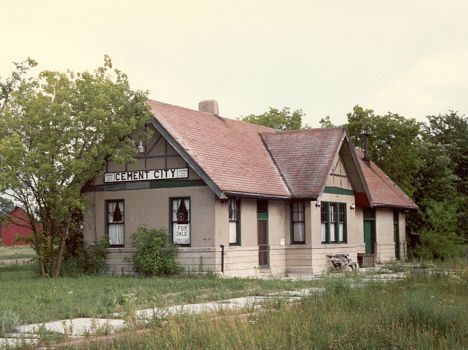 Cement City was settled about 1838 in Lenawee County and was also known as Woodstock, Kelly's Corners, and Cement. It was changed to Cement City in 1901. It was incorporated as a village in 1953 with territory in both Lenawee and Jackson County. [MPN]
Cement City was a station on the Cincinnati Northern (later the Big Four, NYC, Penn Central and Conrail). Cement City station was set up to handle two double deck stock cars. By the 1940's, this stock loading facility was gone. The major industry at Cement City was the Peninsular Portland Cement Company, south of town. In 1928, 1,615 cars were delivered/picked up at Peninsular. [HCN]
The CN crossed over the top of the Ypsilanti Branch of the LS&MS just south of town near the cement plant. There was also an interchange at this location near the plant.
According to the Jackson Citizen Patriot, Cement City was originally named Kelley's Corners and later Woodstock. It changed to Cement City in 1900, the namesake of the Peninsular Portland Cement Company. The town began near Cary and Cement City roads and had a general store, blacksmith shop and a few houses. The town was surrounded by farms. Orson Kelley (of Kelley's Corners) operated the general store. The LS&MS was the first railroad to serve the village (their Detroit, Hillsdale & Southwestern route) and the Cincinnati Northern railroad came in 1896. The CN depot landed in Jackson County. Nearby Goose and Silver lakes contained significant marl, a combination of clay and calcium carbonate that is necessary to make cement. The Peninsular Portland Cement Company was founded by a group of Jackson men in 1889. The plant was begun in fall, 1899 just west of the LS&MS on Goose Lake. It was the first factory in the world to have its machinery and lights completely powered by electricity.
The cement industry dusted the area with grit for more than 60 years before closing in 1961. More than 100 men were laid off that December, affecting more than half of the village's population. Much of the plant sat idle until the 1990's, when is was cleared for redevelopment. The redevelopment did not come to fruition and the site remains idle today.
Photo Info/Credit: Top, the Cincinnati Northern depot, from the 1940's. [Mark Dobronski collection]. 2nd photo, the same depot in 1963. Note the 3-color train order signal heads. [Doug Leffler]. 3rd photo, a 1995 view. [Dale Berry]