Station: Tecumseh, MI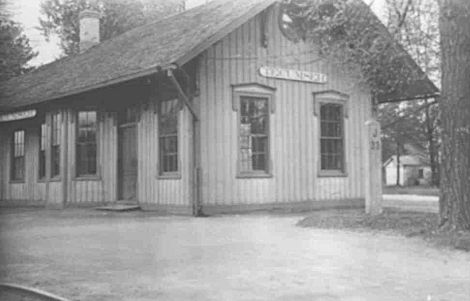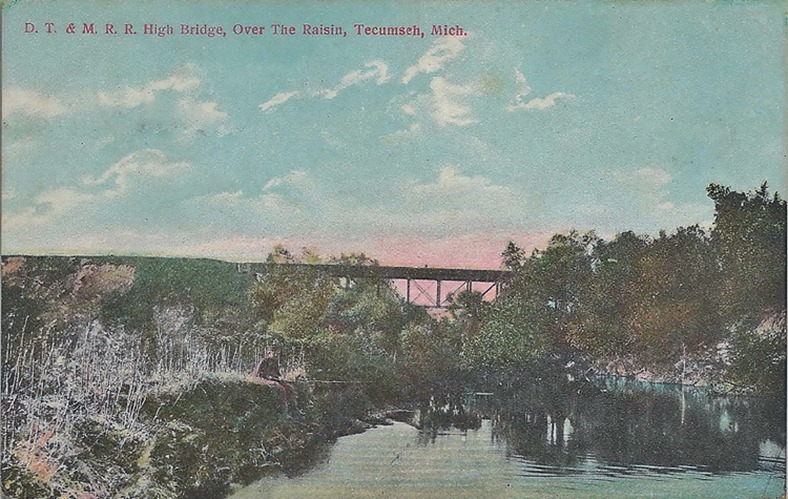 Tecumseh was settled about 1824 and was the first county seat of Lenawee County from 1826 to 1837. The town became a village in 1837 and a city in 1953.
The town was home to three different railroads. The E&K's Tecumseh Branch came through here in the 1840's and was later absorbed by the Lake Shore & Michigan Southern and renamed the Jackson Branch for its new terminus to the north. The Detroit, Toledo & Milwaukee came through here next in the 1880's on its line from Allegan to Dundee. The third line into town was the Detroit & Lima Northern which came up from Lima, Ohio via Adrian. This line ended in Tecumseh and they used trackage rights on the DT&M to reach Dundee and points east to the Delray area of southwest Detroit.
Photo Info/Credit: Top, the Lake Shore depot at North Yard in Tecumseh. [Kirk Hise collection, courtesy of Cynthia Givens, Southern Michigan Railroad Society] 2nd photo, a postcard view of the DT&M bridge over the Raisin River, 3/4 mile east of downtown Tecumseh. This bridge was used by the DT&M, DT&I and LSMS railroads at one time or another.
1930. The DT&I had a two track yard at Tecumseh, south of the wye parallel to their main line. They had a team track near the NYC wye and former DT&M depot (which in 1930 was Hayden Fuel & Supply.)
Industry:
American Steel & Wire Co. (LSMS) 1912
Anthony Fence Co. - woven wire fence (LSMS) 1907
C. L. Temple & Co. coal, wood, automobiles (LSMS) 1922
Cyclone Fence Co., Div of U.S. Steel.
Gratz Grain & Milling Co. elevator (DT&I) 1922
Hayden Milling Co. (1930) on old DT&M line. Served by DT&I.
H Brewer & Co. Foundry and machine shop. 1888 (later Carson Foundry & Mfg. then Bruce Foundry)
Heesen Bros. & Co. feed cookers, hog rings, holloware (CJ&M) 1899
Lake Shore Elevator, Slayton & Son, prop. North of Chicago St.
Lenawee Lumber and Supply Co. (1930) Side track off the DT&I near the south wye track.
Lenawee Sand & Gravel - south of city on LSMS and DT&I - 1935
Quaker Oats Co. manf. macaroni and spaghetti noodles (LSMS) 1922
Slayton & Sons coal elevator N. Evans (LSMS)1912
Standard Oil Co. of Indiana. (1930) Side track off the DT&I near the south wye track.
Tecumseh City Water Works - receive coal (CJ&M) 1899
Tecumseh Sand & Gravel Co. (2 miles s/town) (LSMS and DT&I) 1935
Tecumseh Products Co. automotive parts, elec. refrigerator parts - 1935
Temple & McClure Planning Mill Co. (LSMS) 1883
Tiffany Iron Works (LSMS) 1893
White Star Refining Co. (Moreland Bros.) bulk oil & gasoline (DT&M) 1935, later Socony Vacuum Oil Co.
Wm. Hayden Milling Coi. flour mill and elevator (DT&M) 1935
Uncle Sam's Macaroni Co. (LSMS) 1912