Station: Copemish, MI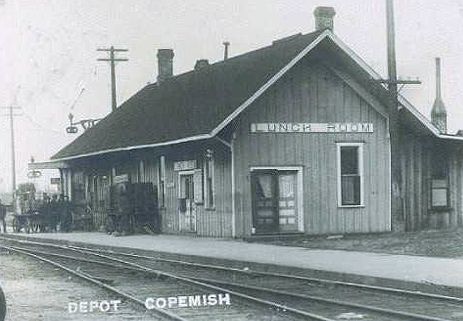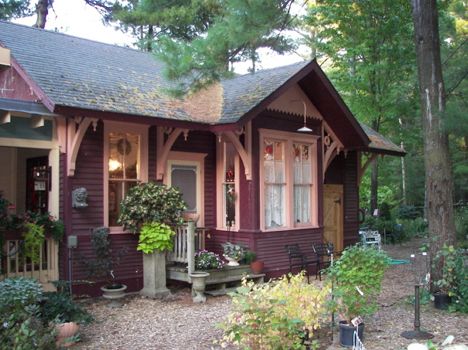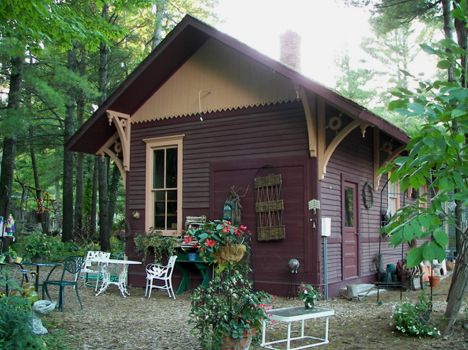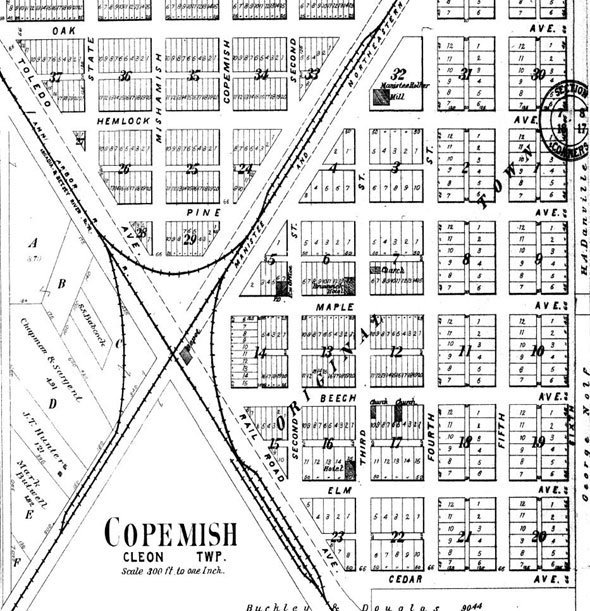 Copemish was settled about 1883 by the Buckley Douglas Lumber Co. as a campsite. It was a railroad junction point in northeast Manistee County, being served by the Ann Arbor Railroad, the Manistee & North Eastern, and the Arcadia & Betsey River railroads. It became a village in 1891.
Comment from Jim Rafferty: In light of the position of the two train order signals in the top photo and the known angle of the crossing of the AA and M&NE railroads, I think it is almost certain that the station was used as a 'Union" station, by both roads.
Photo Info/Credit: Top, the Copemish depot, including its "lunch room" to feed the passengers on early trains. 2nd and 3rd photo, these are reported to be the former Copemish station which is now a private residence in Glen Arbor. Taken in 2005. [Alan Loftis]. 4th photo, a map of Copemish with railroads shown.
---
Timeline:
1890. The Detroit Free Press reported that Copemish was the liveliest, if not the largest city on the line of the Toledo, Ann Arbor & Northern railroad. It was platted three months ago by Ed Buckley, or Buckley & Douglas, owners of the Manistee & Northeastern railroad. The Name Copemish, from an Ottawa work meaning beech, or beech tree ground, was given it by Harry W. Ashley, General Manager of the TAA&N railroad. The town was reported as being forty miles from Cadillac and "in the opinion of railroad men" bound to be the great railroad center of that section of the Lower Peninsula. [DFP-1890-0104]
The same article described "riding the railroad line from Cadillac to Copemish on the engine which drew the passenger train was an experience out of the usual order.
"The tall, dense timber on either side of the track occasionally changed from evergreen pine to the deciduous hardwood, now leafless and sturdy in appearance. Everywhere the shadows were heavy, and though no underbrush cumbered the woods the trees stood so close together than eyesight failed to penetrate more than a short distance.
"The snow-fall, sheltered by the adjacent timber, marked a straight line upon one side of the track, extending far into the distance and cut off by somber trees marking a turn in the road.
"From lonely log houses near the track women and children came out to see the passing train. They hailed it with waving handkerchiefs. It cheers them in its daily passage, and they welcome it as the only event that varies the monotony of a settler's life in the wilderness. [DFT-1890-0104]
1909. The two railroads here had a joint water tower, with access by either road.
1915. ICC valuation says that the crossing is protected by a movable gate. Maintenance cost is 50% for each railroad.
---
Industry:
Chapman-Sargent Co.